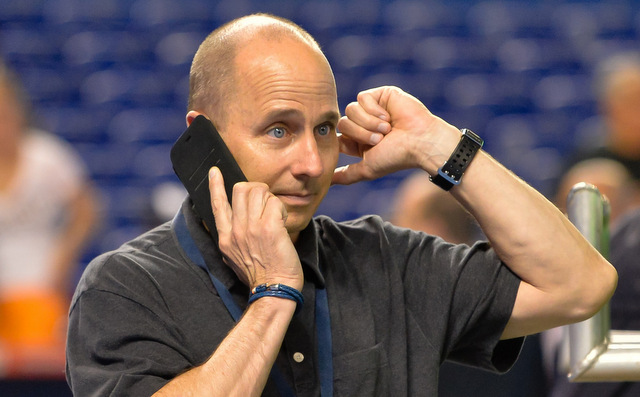 One week ago yesterday, the Astros clinched the first World Series championship in franchise history. There are now three months of offseason to go before Spring Training begins. Free agents are free to sign with any team as of Tuesday morning, though it'll be a few weeks before the hot stove really picks up. That's how the offseason usually goes.
So, with the offseason still young, it's time to put together our official RAB Offseason Plan. Last year's plan was dumb. Among my moves: signing Mark Melancon, trading Luis Severino (and more!) for Sonny Gray, and trading Brett Gardner for Jaime Garcia. Why does anyone read this website? On the bright side, I nailed the whole "Gray and Garcia could be fits for the Yankees" thing. Yay?
Last offseason we had to make some assumptions about payroll. That is not the case this year. We know the Yankees are going to get under the $197M luxury tax threshold in 2018. They wanted to get under the threshold a few years ago, but it didn't happen. The Yankees won't miss out on another opportunity. Our payroll limit for next year is $197M. That part is easy. No more assumptions.
One thing I will not do in this post is hire a new manager and coaching staff. Evaluating a manager — or a pitching coach, or a third base coach, or a bullpen coach — is basically impossible as an outsider. I'm not even going to attempt to cobble together a coaching staff. It's a waste of energy. That's all I have to say about the coaching staff. Let's get on with the offseason plan, shall we?
Rule 5 Draft Protection
Not the sexiest place to start, but a place to start. The Rule 5 Draft protection deadline is the next upcoming offseason deadline anyway. The Yankees got a head start on their Rule 5 Draft protection this year by calling up Clint Frazier and Tyler Wade at midseason. There are still several others who need to be added though. Here's my protection list:
Add to 40-man: Albert Abreu, Domingo Acevedo, Thairo Estrada, Billy McKinney, Gleyber Torres
Leave exposed in Rule 5 Draft: Abi Avelino, Nestor Cortes, Rashad Crawford, J.P. Feyereisen, Mike Ford, Anyelo Gomez, Johnny Loaisiga, Alex Palma, Stephen Tarpley
There seems to be some confusion about Gleyber's Rule 5 Draft status. Some are saying he's not eligible and others (me) are saying he is. Rule 5 Draft status can be confusing for international players. In this case, we have an easy reference point. Mets shortstop Amed Rosario signed at 16 on July 2nd, 2012. He was added the 40-man roster last offseason because he was Rule 5 Draft eligible. Torres signed at 16 on July 2nd, 2013, so he should be Rule 5 Draft this offseason. Rosario is the benchmark here. Gleyber's going on the 40-man roster.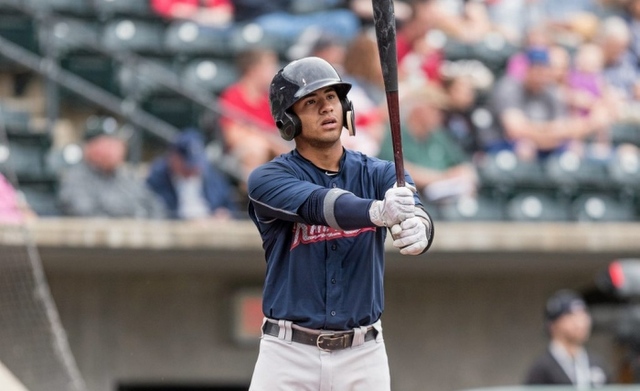 Abreu and Acevedo are two of the best pitching prospects in the system, so they're getting protected. Teams are more willing to grab a Single-A kid and stash him on the MLB roster all season no matter how poorly he performs (coughPadrescough), which is why Abreu has to be protected. In the past, he'd be someone you could leave unprotected because you know he'd be coming back even if he did get picked. McKinney seemed to come into his own this season and after having success at Triple-A, he's prime Rule 5 Draft fodder. Can't lose him for nothing. He gets protected. Estrada is a personal favorite, but beyond that, he's a strong defensive middle infielder who can hit a little, and had success at Double-A in 2017. That's someone I want to keep. Give me those up-the-middle athletes.
Among the players I'm leaving exposed, the only tough-ish decision for me was Johnny Lasagna. He's been getting a lot of hype lately, but, at the end of the day, he has a lengthy injury history and he's thrown exactly 2.1 innings above the short season leagues. If a team wants to pop Loaisiga in the Rule 5 Draft and see whether he can stick next year, let them. Odds are he'll be offered back at some point. Feyereisen and Cortes will both get selected, I think. I could see Cortes throwing like 140 innings for his hometown Marlins next year. I just don't have room for either guy on the 40-man. Gomez is the sleeper here. He had a great 2017 season (1.92 ERA and 2.19 FIP at four levels) and has lively stuff (mid-90s heat, good changeup). I bet someone grabs him. When you have a really good farm system, you can't protect everyone. C'est a la vie.
At the moment the Yankees have two open 40-man roster spots, so we need to open three more to accommodate our five Rule 5 Draft protections. To open those spots, I am outrighting Austin Romine, Garrett Cooper, and Chasen Shreve. Romine will elect free agency should he clear waivers. Cooper and Shreve have never been outrighted before, so they can't elect free agency if they clear waivers. Shreve will get claimed because he's left-handed and breathing. Cooper probably slips through. (I prefer Tyler Austin as my righty first base bat.) Either way, those are my three 40-man roster casualties.
Arbitration
Given the plan to get under the luxury tax threshold, arbitration is a pretty big deal this offseason. I mean, it is every offseason, but especially this one. The Yankees have a pretty significant arbitration class and these guys will chew up a sizeable chunk of the payroll. Here are my arbitration payouts:
Didi Gregorius: Five years, $72.5M with a $17M club option ($2.5M buyout)
Sonny Gray: $6.6M
Dellin Betances: $4.4M
Adam Warren: $3.1M
Aaron Hicks: $2.9M
Tommy Kahnle: $1.3M
It is extension time for Gregorius. I gave him a five-year deal worth $42.5M as part of last year's offseason plan, but since that didn't happen in real life, we've got to try again this offseason. Jean Segura's five-year, $70M deal with the Mariners is the template here. Segura was coming off a better season when he signed that deal, but Didi has the better overall body of work, and there's a year's worth of inflation to consider. Shortstops who are above-average on both sides of the ball and are still only 27 are worth long-term investments. It's time.
Everyone else's arbitration salary is set at their MLBTR projection. Easy enough, right? Maybe there's some wiggle room here — could the Yankees get Gray at, say, $6.3M instead of $6.6M? Maybe. I'll stick with the MLBTR projections. Romine and Shreve would've been arbitration-eligible too, had we not cut them loose to open 40-man roster space for Rule 5 Draft players.
Free Agents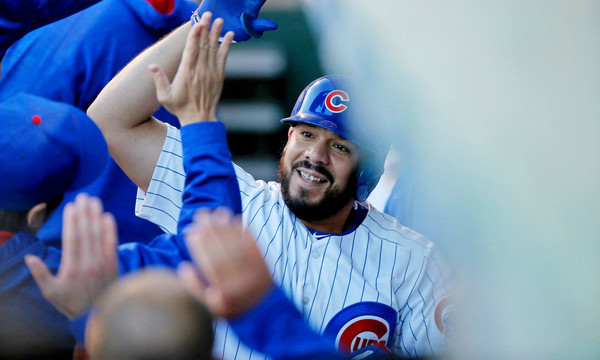 Okay, now comes the fun stuff. This offseason the Yankees don't need a major shopping spree to bolster the roster. They only need a few tweaks. "Is there a lot of heavy lifting necessary? No. But we're always trying to be better," said Brian Cashman the other day, which is how I see things. The core is in place. We're looking for complementary players. A supporting cast. I'm making only three Major League free agent signings this winter:
CC Sabathia: Two years, $20M.
Yusmeiro Petit: One year, $3M.
Rene Rivera: One year, $2M.
Boring! Sorry if you were hoping for Yu Darvish or J.D. Martinez or Wade Davis or something. This isn't a great free agent class, and with the luxury tax threshold a consideration, there's not much payroll room for a big signing. Not once Masahiro Tanaka decided to stick around. Here's my rationale.
1. Meeting Sabathia halfway. The Sabathia deal is all about compromise. I was originally penciling him in for a one-year deal worth $14M or so, but I get the sense he's going to push for two guaranteed years. I'm reluctant to do that. With Sabathia talking so much about how much he wants to stay in New York — "This is my home. I want to see this thing through. I want to come back here and finish things off. This is where I want to be," he said after the ALCS Game Seven loss to the Astros — he's got to meet me halfway. I'm trading that second guaranteed year for a lower average annual value (and luxury tax hit). Sabathia's made a fortune already. This is money his kids and his kids' kids won't even be able to spend. He trades a little less cash for the second guaranteed year, the comfort of home, and playing for an upstart contending team.
2. Filling out the bullpen. As things stand, six of the seven bullpen spots are taken. There are the Plan A relievers (Aroldis Chapman, David Robertson, Chad Green) and the Plan B relievers (Betances, Kahnle, Warren). It would be easy — and understandable — to leave that seventh spot open for a younger bullpen arm and treat it as a shuttle spot. Maybe Ben Heller gets it, or Domingo German, or Nick Rumbelow, or whoever. I'd rather sign Petit, who threw 91.1 innings with a 2.76 ERA (2.85 FIP) and great strikeout (28.5%) and walk (5.1%) rates for the Angels this year. He'd give the Yankees another multi-inning reliever along with Green and Warren, which will come in handy should the team decide to take it easy on their starters given their workloads this year. Petit's done it all over the years. Start, long man, middle reliever … he even closed some in 2017. He's had a tough time getting contracts the last few offseasons — last year he didn't sign his minor league deal with the Angels until February — but I really like the idea of him as the seventh reliever. Besides, you know there will injuries. The young guys like Heller and German will still get their chances.
3. A new backup catcher. No, Rivera is not the most exciting choice for backup catcher, but … it's the backup catcher. The 34-year-old spent time in the Yankees farm system years ago — while with Double-A Trenton in 2010, Rivera hit the first ever professional home run allowed by Stephen Strasburg — and he's a veteran dude who can kinda sorta hit (91 wRC+ in 2017) while doing things well behind the plate. His arm is strong (37% caught stealing) and his overall defensive numbers have been very good in recent years. Plus Rivera has a reputation for working well with young pitchers. Noah Syndergaard credited Rivera for helping him become a better pitcher after he served as his personal catcher in 2016. And who knows, maybe he'll mentor Gary Sanchez and get him to take his defensive game to the next level too. That'd be neat. If nothing else, you can count on Rivera to be very good behind the plate, and he might even hit a little too. That represents an upgrade over what Romine gave the Yankees in 2017.
Trades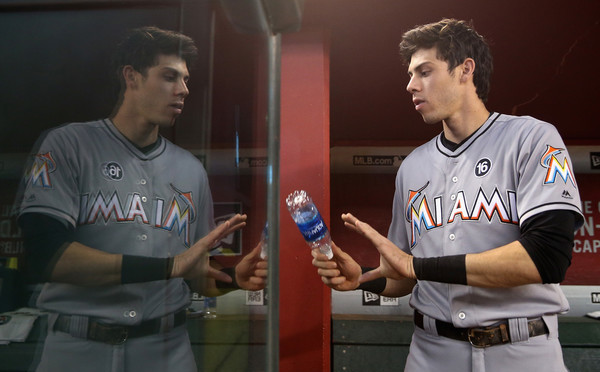 Gosh, I love trades. They're so fun. They're essentially a challenge — I think the players you're giving me will help me more than the players I'm giving you — and there are so many more roster ramifications to analyze. You're adding players and subtracting players at the same time. Trades are fun! Here are my offseason trades:
Clint Frazier, Chance Adams, Domingo Acevedo, and Nick Solak to the Marlins for Christian Yelich.
Jacoby Ellsbury and $53.7M ($17.9M per year from 2018-20) to the D'Backs for Kirby Bellow.
Jonathan Holder to the Cardinals for Breyvic Valera.
Bryan Mitchell to the Pirates for Daniel Zamora.
(Reminder: my trade proposals suck.)
One blockbuster, one salary dump, and two minor trades. Let's break these down.
1. Capitalizing on the Marlins' fire sale. Everyone is focused on Giancarlo Stanton and understandably so. He's awesome and pairing him with Aaron Judge would be a lot of fun. I'm looking at Miami's other stud outfielder though. Yelich is very good himself and, to me, he fits the Yankees better than Stanton. Stanton adds more strikeouts to the lineup and another corner bat. Strikeouts aren't the end of the world, but I'd like fewer of them in the lineup going forward, not more.
Yelich is two years younger, substantially cheaper, and more well-rounded than Stanton. And not as good! But he's still really good himself. Yelich turns 26 next month and he hit .282/.369/.439 (115 wRC+) with 18 homers, 16 steals in 18 attempts, 11.5% walks, and 19.7% strikeouts in 2017. And it was his worst MLB season. In Yelich, the Yankees would be getting an all-fields left-handed hitter …
Source: FanGraphs
… who doesn't need a platoon partner, is starting to figure out how to pull the ball for power, adds a lot of value on the bases, and plays good center field defense. He's a rich man's Gardner, basically. And you're getting him in the prime of his career — I think he's on the cusp of becoming a .300/.400/.480 guy who goes 25/25 — and on a very favorable contract. Yelich is owed $7M in 2018, $9.75M in 2019, $12.5M in 2020, and $14M in 2021. His contract also includes a $15M club option ($1.25M buyout) for 2022. It's a $44.5M guarantee for his age 26-29 seasons from 2018-21, plus you get the 2022 option. Sign me the hell up.
My original plan coming into this exercise was to add Edinson Volquez to the Yelich trade to lower the prospect cost. The Marlins are looking to shed significant payroll this winter — they reportedly may get it down to $55M or so (yikes!) — and the last thing a team looking to cut payroll wants is a $13M pitcher who won't pitch. Volquez had Tommy John surgery in August. He won't pitch next year. I was thinking we'd take on Volquez and, say, $10M of his $13M salary, and give up a prospect like Freicer Perez rather than Adams. It just doesn't work financially though. We can't fit Volquez under the luxury tax threshold. I mean, we could, it would just mean no Gregorius extension and no Petit. No Volquez means there's even some leftover cash to use on a bat, though I don't love the available low cost bats this winter.
Given their plan to slash payroll and strip the roster down, I imagine the Marlins want cheap MLB ready young players in return in any trade. In this deal they'd be getting an MLB ready player (Frazier), a damn near MLB ready player (Adams), a two close to MLB ready players (Solak, Acevedo). I feel like the offer is a little light, but according to MLB.com, the Yankees would be giving up their No. 2 (Adams), No. 6 (Acevedo), and No. 8 (Solak) prospects in addition to Frazier, who was a top 25 global prospect before exhausting his rookie eligibility late this year. The Yankees are still loaded with prospects even after this year's graduations and trades, plus I'm not the world's biggest Adams fan given his inability to get ground balls (41.4% in Triple-A) and less than stellar numbers against lefties (42/35 K/BB in 2017), so I'm using that prospect depth to get Yelich. I worry Adams is in for a world of hurt once he gets to Yankee Stadium. I'd rather use him to get a cornerstone type bat in Yelich, who is a two-way impact player that fits in perfectly with the youth movement and gives the Yankees what I think the lineup needs (another lefty bat and more contact).
(Here's the other thing about Yelich: he wouldn't stand in the way of signing Bryce Harper next offseason. The 2018 season is the final guaranteed year on Gardner's contract. Depending how his season goes, the Yankees could move on from him, then add Harper to the cost controlled Yelich and still dirt cheap pre-arbitration Judge. I don't think you can do things this offseason designed to make room for Harper. But adding Yelich wouldn't stand in the way of signing Harper. Trading for Stanton would given his contract and the fact he's another corner outfielder.)
2. Goodbye, Jacoby. Realistically, there's no way to trade Ellsbury without it hurting. Either the Yankees have to eat a lot of money or take on a bad contract in return. I'm just looking to unload the salary, and the proposed trade turns him into a $4M a year player for the Diamondbacks. Bellow is included in the trade only because the Yankees have to get something in return per league rules. He's a 25-year-old fringe lefty reliever prospect who had a 3.63 ERA (3.58 FIP) in 39.2 innings between High-A and Double-A in 2017. I'm hoping Ellsbury accepts a trade to the D'Backs, a contending team that could put him in the lineup right away given J.D. Martinez's free agency. And, with A.J. Pollock due to hit free agency next year, there's a path to Ellsbury staying in center field too. I dunno. I'm out of ideas. Maybe the Mariners make more sense? I feel like Ellsbury would only approve a trade to a no-doubt contender, and Arizona did win 93 games this year, so yeah. Point is, I'm eating all that money to save $4M a year from 2018-20. getting Bellow back is a non-factor. Trading Ellsbury opens a roster spot and basically clears enough payroll space under the luxury tax threshold to extend Didi.
3. What is a Breyvic Valera? Valera is a personal favorite. He's a rich man's Ronald Torreyes, basically. Switch-hitting contact machine who can play anywhere. Valera hit .314/.368/.450 (113 wRC+) with eight homers, eleven steals, 7.2% strikeouts, and 8.1% walks in Triple-A this past season, and he's played every position other than pitcher or catcher in his career. He's only 25 too. Baseball America (subs. req'd) ranked Valera as the No. 29 prospect in the Cardinals' system prior to 2017, and their scouting report called him "compellingly average at everything." I thought that was amusing. St. Louis really needs bullpen arms and Holder has a chance to pitch in this league for a long time. Maybe they'll turn him into the next Wade Davis or something. He fits their needs. Valera makes a ton of contact and has some power, and any time a guy can do that, he has a chance to really contribute. Add in the switch-hitting and defensive versatility and it's a no-brainer for me. In all likelihood Valera is a utility player long-term. Every once in a while a guy with this skill set turns into Ben Zobrist or Jose Ramirez though.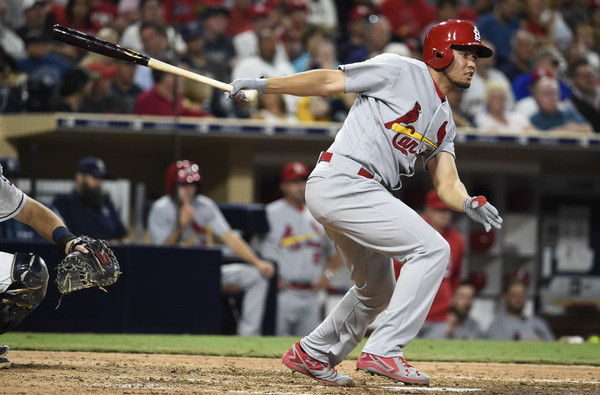 4. The obligatory Pirates trade. Gotta make a trade with the Pirates right? The Yankees and Pirates get together for a deal every offseason, it seems. Mitchell is on the 40-man roster chopping block and the Pirates love love love their live arm reclamation projects. He fits their mold. Zamora, 24, is a slightly better than fringy left-on-left reliever prospect. That's about Mitchell's trade value at this point. The Pirates selected Zamora in the 40th round of the 2015 draft and he had a 1.76 ERA (2.60 FIP) in 56.1 innings split between High-A and Double-A in 2017. Lefties hit .232/.284/.261 with a 33.3% strikeout rate against him. Here is a free scouting report from Baseball Prospectus. Slider seems workable. Maybe the Yankees can unlock a little more velocity? Getting Zamora is better than putting Mitchell on waivers and getting nothing.
All told, those trades open three 40-man roster spots. We traded five 40-man players (Frazier, Acevedo, Ellsbury, Holder, Mitchell) for two 40-man players (Yelich, Valera). Those three open spots go to our three free agent signings (Sabathia, Petit, Rivera). We'll have to open space every time we add a player from here on out.
Minor League Contracts
Everyone's favorite part of the offseason. The Yankees, like every other team, sign stashable Triple-A depth players to minor league deals throughout the winter. Fans complain when they sign, complain when they play in Spring Training, complain when they get called up, and complain when they get designated for assignment because they hit a home run that one time. Seen it a thousand times.
Based on the depth chart as well as my offseason moves, the Yankees don't need much in Triple-A. There are no glaring lineup needs. The projected starters right now:
Catcher: Kyle Higashioka
First Base: Ford (or Cooper if he clears outright waivers)
Second Base: Torres/Wade/Thairo Estrada rotation
Shortstop: Torres/Wade/Estrada rotation
Third Base: Miguel Andujar plus some time for the Torres/Wade/Estrada rotation
Outfield: McKinney, Wade, Jake Cave, Mark Payton, Zack Zehner
Rotation: Luis Cessa, Ronald Herrera, Caleb Smith, Brady Lail (Justus Sheffield?)
Prospects at nearly every position! The RailRiders need a backup catcher and a utility guy who can play anywhere and sit for a few days at a time without disrupting his development. Also, I'd rather sign a veteran innings dude than stick Sheffield in the Triple-A rotation right out of the gate — a little more Double-A time wouldn't be the end of the world for him — and I don't want guys like Will Carter and Brody Koerner to be Plan A in the Scranton rotation. Here are my minor league signings (here's the minor league free agents list):
RHP Christian Binford: Former Futures Gamer! Binford prior to the 2014 Futures Game: 2.53 ERA (2.71 FIP) in 266.2 innings. Binford since the 2014 Futures Game: 5.31 ERA (4.99 FIP) in 456.1 innings. Yikes! Binford is only 24 and he's thrown 140-ish innings in four of the last five seasons, so he fits as the innings guy. Plus he's young and had prospect shine with the Royals once upon a time. Squint your eyes and there's some upside.
RHP Brandon Cumpton: Cumpton had a 4.02 ERA (3.14 FIP) in 100.2 innings for the Pirates from 2013-14, then he had Tommy John surgery in March 2015 and missed the entire 2015 and 2016 seasons. He finally got healthy and returned to the mound this year. His pre-Tommy John stuff was good. I'd stick him in the bullpen and see what happens.
UTIL Cito Culver: Might as well bring back Cito, right? He's been the utility guy at Triple-A Scranton for a few years now and he's done the job well enough to keep getting re-signed, so I might as well re-sign him again.
LHP Paco Rodriguez: I've always like Rodriguez. He's got a funky delivery and a good enough breaking ball to be a potential left-on-left matchup option. Rodriguez had Tommy John surgery in October 2015 and his stuff hasn't returned all the way yet.
C Jackson Williams: Can't hit a lick — he's a career .220/.303/.319 (70 wRC+) hitter in over 3,000 minor league plate appearances — but he can defend. Williams is a veteran dude (age 31) who's settled in as a Triple-A backup the last few years. That's what you want. Someone who knows and accepts the role.
Don't like the minor league contract guys? Well, too bad. Not sure what to tell you. For the most part these guys are filling thankless but necessary roles. Injuries and call-ups are inevitable, and someone has to step in and pick up the slack.
The Shohei Otani Situation
I suppose it's about time we get to the biggest prize of the offseason, huh? I saved Otani for the end because the Yankees — or any other team, for that matter — can't and shouldn't plan their offseason around him. I explained all that the other day. He's only going to make the league minimum next season, so we don't need to earmark a big chunk of change under the luxury tax threshold for Otani.
So anyway, yes, I'm going full court press here as part of my offseason hypothetical. Give Otani every last international bonus dollar and make one hell of a sales pitch. Get Tanaka involved. Get Hideki Matsui involved. Get Reggie Jackson involved. Sell the Yankees for what they are: an up-and-coming powerhouse in a great city loaded with young talent, and a team with a history of paying their best players top of the market dollars. The short version:
"We just got to within one game of the World Series. Our rookie right fielder hit 52 homers. Our 24-year-old catcher missed a month and still hit 33 homers. We have a 23-year-old righty who's going to finish third in the Cy Young voting. We have the No. 1 prospect in baseball, per MLB.com. We'll let you hit and pitch. Have you seen the short porch? Imagine what it'll do for you power numbers. No team in baseball can offer you the chance to pitch and DH with the kind of young core, plus we pay well."
Sound good? Now, because the financial playing field is relatively level, we can't just assume the Yankees will sign Otani as part of this little exercise. I mean, we could, but we have to be somewhat realistic. Otani will make his decision based on his personal preferences and we have no idea what they are. Maybe he wants to go to a veteran team. Maybe hitting isn't that big a deal for him. Maybe he wants to go to the West Coast. Who knows.
Anyway, since we are pursuing Otani aggressively, we have to come with an answer here. Does he sign with the Yankees, yes or no? Let's ask the Magic 8 Ball.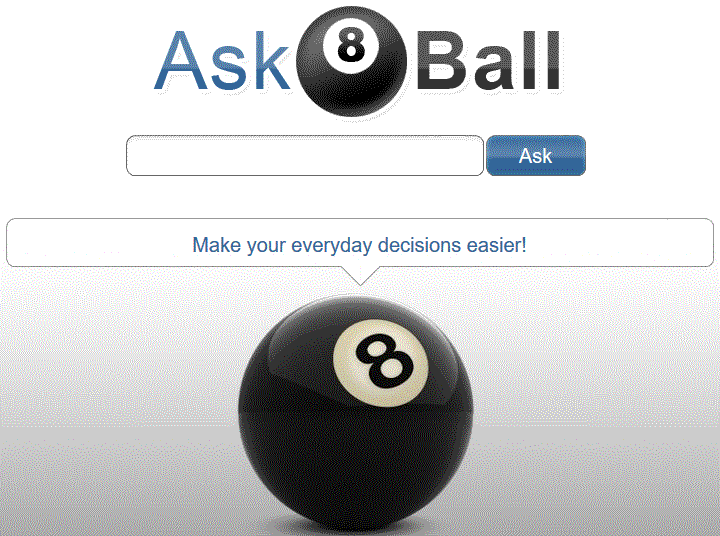 WELP. So much for that. Too bad, Otani would've slotted nicely into the open bench spot. We tried. Gave it our best effort. Offered as much money as possible and made the best sales pitch we could. Ultimately, Otani decided to go to [other team] and that's baseball. He was free to make his own decision. It'll be fun beating him on the field.
Final Product
Okay, so after going through all that, I have the luxury tax payroll at approximately $189.3M going into 2018. Here's my payroll spreadsheet. There's some wiggle room there with the pre-arbitration salaries, but generally speaking, we are left with $7.7M for in-season additions. Is that enough? I dunno. Every time you call someone up, it adds to the payroll. Just say, for example, Kahnle pulls a Mitchell and breaks his foot covering first base in Spring Training. Now you have Kahnle and the call-up who replaced him counting against the luxury tax payroll. Hopefully $7.7M is enough. Here's the 25-man roster I ended up with.
| Catchers | Infielders | Outfielders | Rotation | Bullpen |
| --- | --- | --- | --- | --- |
| Gary Sanchez | 1B Greg Bird | LF Brett Gardner | Luis Severino | Aroldis Chapman |
| Rene Rivera | 2B Starlin Castro | CF Christian Yelich | Masahiro Tanaka | David Robertson |
| | SS Didi Gregorius | RF Aaron Judge | Sonny Gray | Chad Green |
| | 3B Chase Headley | OF Aaron Hicks | CC Sabathia | Dellin Betances |
| | IF Ronald Torreyes | UTIL Breyvic Valera | Jordan Montgomery | Tommy Kahnle |
| | 1B Tyler Austin | | | Adam Warren |
| | | | | Yusmeiro Petit |
On the 40-man and in the minors (15): RHP Albert Abreu, 3B Miguel Andujar, OF Jake Cave, RHP Luis Cessa, IF Thairo Estrada, RHP Gio Gallegos, RHP Domingo German, RHP Ben Heller, RHP Ronald Herrera, C Kyle Higashioka, OF Billy McKinney, RHP Nick Rumbelow, LHP Caleb Smith, IF Gleyber Torres, UTIL Tyler Wade

My 2018 Yankees look an awful lot like the 2017 Yankees, huh? Swapping out Ellsbury for Yelich is the major change. The rest is just rearranging furniture. Keep in mind the Yankees will have Gray, Kahnle, and Robertson for a full season in 2018. That will hopefully lead to several wins worth of improvement. A few thoughts on the roster I wound up with.
1. For all intents and purposes, the Austin and Valera bench spots are shuttle spots. It would've been awfully nice to have Otani in one those spots, but alas. He signed with [other team]. And again, I really don't love any of the projected low cost free agent bats. Adam Lind? Mark Reynolds? Austin Jackson? Meh. I'm going to say in house and show some faith in the kids. Those two shuttle spots give the Yankees some flexibility. If the Red Sox are coming to town with Chris Sale, David Price, and Drew Pomeranz scheduled to pitch the three games, Austin's righty bat would come in handy. If you're going to an NL park, someone like McKinney could come up to serve as a lefty bat off the bench. Or the Yankees could use one of those spots to carry an eighth reliever on occasion, or if they want to bring up a spot sixth starter to give the regular starters an extra day of rest. The Yankees don't have to be locked into Austin and Valera for the 24th and 25th roster spots. That's just who I'd put there to start the season. Those spots can be used to tailor the roster as necessary throughout the season. Sooner or later the best players will step up and seize those spots.
2. Gosh, I love the lineup possibilities. We talk a lot about versatility, and usually when we talk about versatility, we talk about positional versatility. Guys who can play multiple positions. There's also something to be said for lineup versatility too. Yelich can hit leadoff or cleanup. Hicks has the profile to hit basically anywhere. Gregorius fits well in the middle of the order or at the bottom. Here's how I'd line 'em up:
LF Brett Gardner
RF Aaron Judge
CF Christian Yelich
C Gary Sanchez
1B Greg Bird
SS Didi Gregorius
2B Starlin Castro
DH Aaron Hicks (the plan is a DH rotation, not Hicks at DH full-time)
3B Chase Headley
Hitting Bird third and Yelich fifth works too. So does hitting Yelich second and Judge third. Or Yelich leadoff, Hicks second, Gregorius third, Judge fourth, Sanchez fifth, and Gardner ninth. The new manager, whoever it ends up being, will have a lot of flexibility with that group of players. Some hitters only fit into certain lineup spots because of their skills. This roster has a lot of well-rounded players who don't look out of place anywhere.
3. No lefty reliever is no problem as far as I'm concerned. Robertson, Green, and Warren can all get out lefties. So can Betances when he's right. In a close game with a big lefty bat at the plate, I want one of those high-end late-game righties on the mound, not some random southpaw just because he happens to throw with his left hand. I have Smith and Rodriguez stashed in Triple-A, plus Bellow and Zamora (and James Reeves) as additional lefty depth, just in case the Yankees determine at some point it's imperative to have a lefty reliever. I don't think it's necessary. Take the best and most talented arms. Don't worry about handedness.
4. I like the pitching depth more than I thought I would. I let go of a lot of pitching during the offseason. Adams, Acevedo, Holder, Mitchell, and Shreve are all gone. And yet, even after all of that, we still have Cessa, Gallegos, German, Herrera, Rumbelow, and Smith as immediate 40-man roster call-up candidates. We did lose a potential impact call-up candidate in Adams, though a) that's what it takes to get a guy like Yelich, and b) I'm not sold on his ability to come up and be an immediate impact guy anyway. I wouldn't push Sheffield aggressively — he's such a good pitching prospect, just let him develop at his own pace rather than try to rush things — though he could debut at some point in the second half. Point is, even after all my hypothetical offseason moves, the Yankees would still have enough arms stashed in Triple-A that they could shuttle guys in and out as necessary, and also use spot sixth starters on occasion if they're worried about workloads.
5. So what did this offseason plan accomplish, exactly? The goal every offseason is to get better, and I think I did that considerably by going from Ellsbury and Romine to Yelich and Rivera. Otherwise we replaced Todd Frazier and Matt Holliday with Austin and Valera, and, uh, that doesn't sound great. The 2018 rotation is exactly the same as the end of 2017 rotation, so any improvement will have to come from a full season of Gray and less awfulness from Tanaka. I expect Petit to have an understated impact as well. His ability to go two or three innings at a time allows our new manager to take it easy on the starters, and also save the high-leverage guys for the next day.
Trying to stay under the luxury tax threshold — remember, the Yankees can't spend right up to the $197M threshold this winter, they must leave space for in-season additions — was a real challenge, especially since I have no idea what would be an appropriate amount to leave for midseason additions. I left $7.7M. Would $5M have worked? Or $2M? Maybe we really need $15M? I don't know. For this luxury tax plan to work — and by work I mean get under the threshold and remain competitive — the Yankees will need their cheap young players to produce, and I'm not just talking about Judge, Sanchez, and Severino. The secondary pieces like Montgomery, Heller, German, and even Torres will have to help as well. In a way, they're the key to this whole plan.