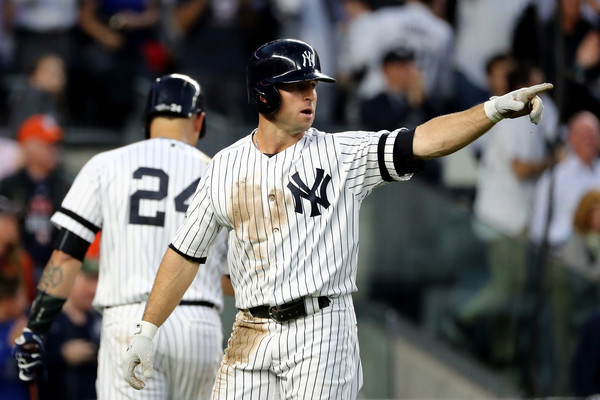 It seems strange to think of Brett Gardner as the old man on the Yankees, but that was essentially the role he filled this season. He's the longest-tenured member of the team, and, of the 51 players that suited-up for the Yankees this season, only Chase Headley, CC Sabathia, Matt Holliday, and pub trivia tidbit Erik Kratz are older. And, despite that, he's still a high-quality starter in left field.
It All Starts with Defense
A few years ago it seemed as though Gardner was losing a step in the outfield. His numbers went from scale-breaking in his first few seasons to between average and very good thereafter, and it is never shocking when a player reaches his 30s and slows down. This season, however, was something of a blast from the past. Twenty-three players put in at least 500 innings in left field in 2017, and Gardner led them all in Defensive Runs Saved, with 17, and fielding percentage, as he went errorless in 1024 innings. He also finished fourth in UZR/150, and ranked near the top in every Inside Edge Fielding category.
And, while fielding metrics are occasionally fickle, Gardner won the Fielding Bible Award for left field, and was named as a Gold Glove finalist. Both awards represent a blend of advanced metrics and the good ol' fashioned eye test, so it stands to reason that Gardner was really that good.
An Asset in the Leadoff Spot
Gardner batted .264/.350/.428 (108 wRC+) this year, and he hit a career-high 21 home runs. Those 21 dingers represent exactly 25% of his career output, but I wouldn't read into it too much – after all, 117 players hit 20-plus home runs this year, up from 111 in 2016, and 64 in 2015. It is worth noting, though, that Gardner's bump in home runs wasn't solely a product of Yankee Stadium, as 11 of his bombs came on the road. And there's no overstating his ability to work the count.
There was a great deal of talk about Gardner's clutchness in the postseason (more on that in a bit), but he came through in big situations all season long. The difference in his overall production versus his numbers in late and close situations was negligible, and he slashed .302/.393/.566 with 4 HR in 61 PA with runners in scoring position and two outs. As a result of this he led the Yankees in WPA, and finished second in FanGraphs' Clutch metric (behind Jacoby Ellsbury, of all people).
He Can Still Run, Too
We as fans have been oscillating between loving Gardner for his high-efficiency base-running and lamenting his lack of stolen base attempts for years now. He averaged 58 stolen base attempts per 162 games in his first four seasons, as compared to 29 since he lost most of 2012 to injury. His 23 steals and 28 attempts this year were his most since 2013. That being said, with the modern style of play those 23 steals were good for 17th in all of baseball.
It isn't just about raw steal totals, though. Gardner's 82.1% success rate is well-above the break even point (and league-average is 73%), and within the top-20 among players with at least 15 SB attempts. He also ranked 11th in the game in FanGraphs' BsR, which factors in stolen bases, caught stealing, taking the extra base, or making an out on the basepaths on a batted ball. As per Baseball-Reference, he took the extra base 49% of the time, which is comfortably above the league-average of 40%. For the sake of comparison, Jose Altuve took the extra base 48% of the time this year, and Dee Gordon did so on 60% of his opportunities.
Surprising Durability
Despite having the feel of a player that's perpetually banged-up, Gardner has appeared in at least 145 games and racked up at least 609 PA in each of the last five seasons. This season represented a career-high of 682 PA for the 34-year-old, and 583 of those came from the top of the order. Given his hot and cold spells, it might make sense for Gardner to sit out a few more games – but his reliability in the field and on the bases combined with his ability to play almost every day is extremely valuable to the team.
The Playoffs
Gardner's bat was largely silent in the ALCS, but he came through several times in the Yankees 13 game playoff adventure. The most memorable, for me at least, was his absolutely epic 12 pitch at-bat against Cody Allen in the decisive Game 5 of the ALDS. I highly recommend Jeff Sullivan's detailed account of that at-bat, which could serve as a fine 'Exhibit A' of a nebulous 'professional hitter' presentation.
Well, that, or Gardner's go-ahead home run in the Wild Card game, which included an uncharacteristic (and wonderful) stare-down of Ervin Santana:
When you drop the bat like that … you know. #WildCard pic.twitter.com/pLTZnUqs3Y

— MLB (@MLB) October 4, 2017
How awesome was that? The swing, the bat-drop, the stare, the crowd … amazing.
The Bottom Line
As per Baseball-Reference, 2017 was the second-best season of Gardner's career, as he posted a fantastic 4.9 bWAR. That put him in the top-five at the position, which is kind of amazing in and of itself. Were it not for Aaron Judge towering over the game like a colossus, Gardner would have easily been the team's MVP.
2018 Outlook
Gardner is perpetually brought-up as a trade candidate, and we may well see more of the same this off-season. Judge has right field on lock, Aaron Hicks was quite good in center, Clint Frazier is ready for an extended look, and Jacoby Ellsbury has an albatross of a contract in center. And Gardner is eminently movable, given his $11.5 MM salary for 2018 and affordable $12.5 MM team option in 2019. It would be much, much better to send Ellsbury packing – but it's a veritable guarantee that one of the two need to be moved.
That being said, Gardner is a bargain in 2018, and I would be happy to see him in left field for the Yankees on Opening Day. I don't know how confident I am that that will happen, though.