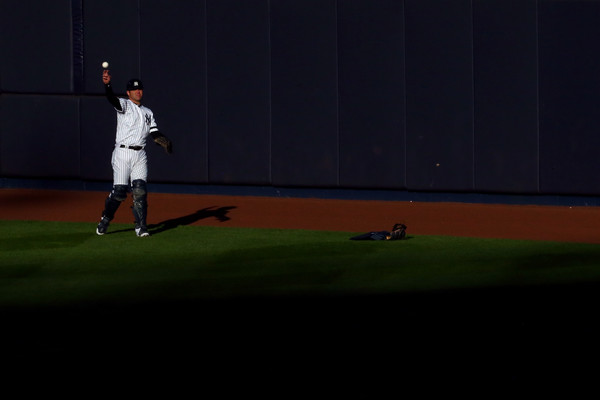 If you would've told me that the Yankees would spend most of April with both Gary Sanchez and Didi Gregorius on the disabled list, I would have been shocked to learn that they were arguably the best team in baseball in the first month of the season. And, amazingly enough, that was the case. That was largely due to Aaron Judge, Aaron Hicks, Starlin Castro, Chase Headley, and Matt Holliday tearing the cover off of the ball for those four weeks – but Austin Romine and Ronald Torreyes did their part, too.
Austin Romine
Gary Sanchez left the game after straining his right bicep on April 8, and ended up spending twenty-one games on the disabled list. Romine was pressed into full-time duty as a result, and he did just about as well as one could expect. He slashed .281/.314/.406 (88 wRC+) with a couple of home runs while Sanchez was out, and garnered praise for his defense and handling of the pitching staff; whether or not that was earned is another story, of course. But I digress.
Romine was relegated to the bench when Sanchez returned, and his offense slipped dramatically in the more sporadic role. He hit just .194/.256/.248 (34 wRC+) in 182 PA the rest of the way, failing to go deep even once. Romine ended the season with a .218/.272/.293 slash line, and his 49 wRC+ and -0.6 fWAR were tied for the worst among the forty-nine catchers that amassed at least 200 PA. That didn't stop some from calling for him to be the starting catcher, though, given Sanchez's defensive woes and Romine's reputation as a stout defender.
Is that reputation fair, though?
Baseball Prospectus breaks down catching into several categories, including framing runs, blocking runs, and throwing runs. Romine's struggles with the running game are well-known, so it is no surprise to see that he was worth -1.2 throwing runs. However, he was also a negative in terms of blocking the ball in the dirt, as evidenced by his -0.3 blocking runs – and that's a trend that has followed him from Triple-A to the majors. In reality, framing is Romine's only real strength; and, as valuable as that is (he picked-up 4.1 runs last year, which is a borderline elite mark when adjusting for playing time), framing alone does not make a great catcher.
The ability to handle a pitching staff is kind of a nebulous quality. Pitch framing is a portion of that, as is calling the game – but the latter is all but impossible to measure. One factor that people tend to bring up in that regard is catcher ERA, flawed as that may be. For what it's worth, Romine sported a 4.23 CERA last year, as compared to 3.45 for Sanchez.
All that being said – would it be an exaggeration to say that the most memorable aspect of his season was the punches he threw in August's brawl against the Tigers?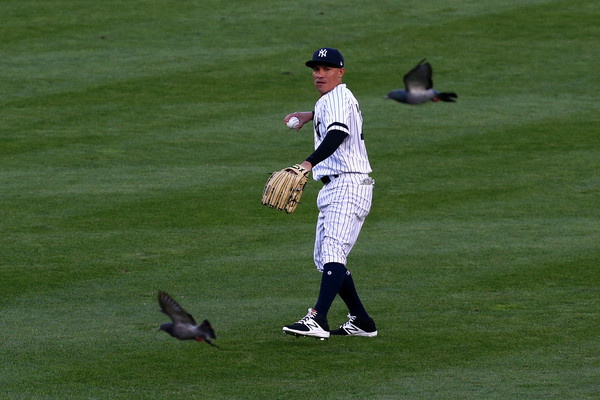 Ronald Torreyes
Unlike Romine, Torreyes opened the season knowing that he would be starting for a stretch. Gregorius opened the season on the disabled list following a shoulder injury in the WBC, and Torreyes was in the lineup on Opening Day. He started 18 of the 20 games that Gregorius missed, batting .308/.308/.431 (93 wRC+) with a home run in 65 PA. He didn't take a walk in that entire stretch, swinging at 61.9% of pitches along the way; for comparison's sake, the league-average swing rate is 46.5%.
Torreyes moved back to the bench when Gregorius returned, but he ended up starting an additional 67 games the rest of the way, most of which came at second base while Castro was on the mend. And he did his best work at the keystone, slashing .327/.353/.426 (107 wRC+) in 177 PA while starting there. It's difficult to take much, if anything, away from that – but most players do perform better with more consistent playing time. Torreyes has a limited ceiling on offense, to be sure, but he rose to the occasion with the Yankees needed him to start for an injured teammate.
He ended the season with a .292/.314/.375 (82 wRC+) slash line in 336 PA.
The defensive metrics all paint Torreyes as somewhere around average at second, third, and short, and that's perfectly acceptable for a utility player. It's difficult to fully trust the numbers, given the sample sizes, but that matches the eye test, as well. He's a bit miscast as a full-time shortstop, but he's far from an embarrassment there.
And who can forget the TOE-Night Show?
2018 Outlook
Austin Romine will be heading through arbitration for the second time, and MLBTR projects a $1.2 MM salary. I suspect that the Yankees will be looking to replace him this off-season in an effort to add a back-up that moves the needle in one way or the other, be it someone with a solid bat that can DH in a pinch (maybe Alex Avila), or one that is a legitimately strong defensive presence. I wouldn't be surprised if he was in the organization on Opening Day, but that almost certainly isn't the team's plan.
And Torreyes may well be a lock to stick with the team for the time being. He can hit a little and play decent defense at the non-1B infield positions, and he's still pre-arbitration. There might be upgrades available, but I don't think the team will look to add salary for a position (or positions) that could be filled by Gleyber Torres. Torreyes' time with the Yankees might be limited once the season begins, though.