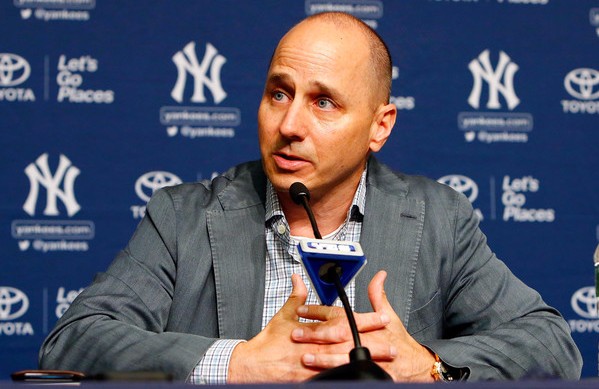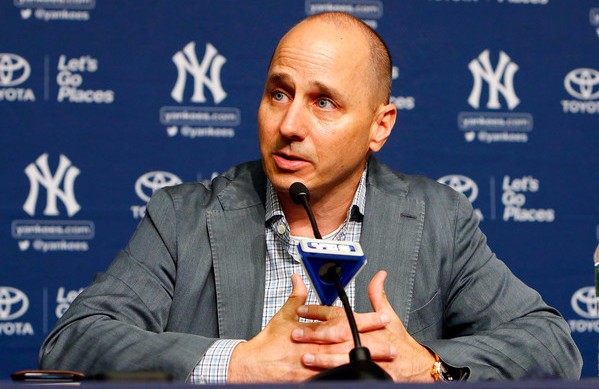 Last night the Astros won the first World Series championship in franchise history with a Game Seven win over the Dodgers. Game Seven was a bit of a dud, but the series sure was exciting overall. And the Yankees came so close to playing in it as well. Just one win away.
Anyway, now that the World Series and the 2017 baseball season are over, the offseason is officially underway. There are a ton of important dates and deadlines coming up these next few weeks, plus some not so important ones as well. Here is the offseason calendar and what each of these dates means for the Yankees.
Today, November 2nd: The start of free agency, kinda
As of 9am ET this morning, all eligible players became free agents. Once upon a time players had to file for a free agency, which was a waste of time, so now it happens automatically. Todd Frazier, Jaime Garcia, Matt Holliday, Michael Pineda, and CC Sabathia all became free agents this morning. That opens four 40-man roster spots. (Pineda was on the 60-day DL and didn't count against the 40-man.)
Saturday, November 4th: Option decisions due
In most cases option decisions are due three days following the end of the World Series. Some contracts set an earlier date for the option decision — Jimmy Rollins' contract stipulated the Phillies had to exercise his option for the 2011 season following the 2009 season, for example — though that doesn't happen all that often anymore. Three days after the World Series is pretty standard around the league now.
The Yankees have one option decision this offseason and it is a big one: Masahiro Tanaka's opt-out. He can opt out of the final three years and $67M remaining on his contract and test the free agent waters. Most RAB readers expect that to happen. We'll get a definitive answer by the end of the weekend.
Monday, November 6th: Qualifying offers, roster deadlines, awards finalists
Five days after the World Series, teams must decide whether to offer eligible free agents the $17.4M qualifying offer. Tanaka is New York's only qualifying offer candidate. Frazier isn't eligible because he was traded at midseason. Even if the Yankees want to re-sign Sabathia, they, can probably do so for less than the qualifying offer. They're trying to get under the $197M luxury tax threshold next year, remember. Every dollar counts.
Also on this date, players must be activated off the 60-day DL. Aside from Pineda, who came off the roster when he became a free agent today, the only player on the 60-day DL is Luis Cessa. So those four open 40-man roster spots I mentioned early? One is going to Cessa on Monday. Oh, and eligible players become minor league free agents on this date. Jake Cave is the Yankees' most notable minor league free agent, and he'll reportedly be added to the 40-man roster. Other notable impending minor free agents include Dante Bichette Jr. and Daniel Camarena.
And finally, the various awards finalists will be announced on this date. A few years ago MLB started announcing three finalists for each major award as a way to build hype and stay in the news, and hey, it's worked. The Yankees have several awards candidates this year. Aaron Judge will win Rookie of the Year and figures to be among the MVP finalists. Luis Severino could be the third Cy Young finalist along with Corey Kluber and Chris Sale. Could Joe Girardi be among the Manager of the Year finalists? It wouldn't surprise me at all.
Tuesday, November 7th: Start of free agency, Gold Gloves announced
The five-day exclusive negotiating period expires on this date, so starting next Tuesday, free agents will be truly free. They can negotiate and sign with any team. MLB free agency is a slow slog, however. There aren't a rush of signings on the first day like in the NFL, NHL, and NBA. Those are salary cap leagues and players want to make sure they don't get left out in the cold when cap space runs out. MLB free agents have no such concerns, so they're patient.
Also on this date, the 2017 Gold Glove award winners will be announced. The Yankees have two Gold Glove finalists this year: Judge and Brett Gardner. Gardner has a pretty good chance to win his second straight Gold Glove in left field. He's up against Alex Gordon, who's lost a little something off his fastball, and Justin Upton. Judge probably won't beat out Mookie Betts, but never say never.
Wednesday, November 8th: Silver Sluggers announced
Judge is going to get an outfield Silver Slugger and I have to think Gary Sanchez will win the Silver Slugger behind the plate. He led AL catchers in basically everything. Salvador Perez and Welington Castillo are Gary's only real competition. I can't believe I just wrote three sentences analyzing Silver Sluggers.
Monday, November 13th: Qualifying offer decisions due
Players get seven days to mull over the qualifying offer. Should Tanaka opt-out, he'll decline the qualifying offer. He's not opting out of three years and $67M to take the one-year, $17.4M qualifying offer. We've seen a few players accept the qualifying offer the last few offseasons, so I'm sure it'll happen somewhere around the league this winter.
November 13th to 16th: GM Meetings in Orlando
The GM Meetings are held to handle various off-the-field matters, but, in recent years, more and more transactions are going down at the GM Meetings. I guess that's inevitable when you get stick all 30 GMs in one place for a few days. Two years ago the Yankees and Twins made the Aaron Hicks-John Ryan Murphy trade during the GM Meetings.
Also during these days, the major awards will be announced. Awards week will start with Judge and Cody Bellinger being named the Rookies of the Year on Monday. Managers of the Year will be announced Tuesday, Cy Youngs will be announced Wednesday, and MVPs will be announced Thursday.
November 20th: Deadline to set 40-man roster for Rule 5 Draft
Given the depth in the farm system, this is one of the most important days of the offseason for the Yankees. This is the day they must add players to the 40-man roster to prevent them from being exposed in the Rule 5 Draft next month. A partial list of Rule 5 Draft eligible players:
Pitchers: RHP Albert Abreu, RHP Domingo Acevedo, LHP Nestor Cortes, RHP J.P. Feyereisen, RHP Jonathan Loaisiga, RHP Stephen Tarpley
Position Players: IF Abi Avelino, OF Rashad Crawford, IF Thairo Estrada, 1B Mike Ford, 1B/OF Billy McKinney, OF Alex Palma, IF Gleyber Torres
Abreu, Acevedo, and Torres will definitely be added to the 40-man roster because they are three of the best prospects in the system. Also, it's already been reported McKinney will be added to the 40-man as well. I think the Yankees will add Estrada — middle infielders who can hit a bit are worth keeping around — and I'm curious to see what happens with Loaisiga. He's been getting a lot of hype lately, though he's thrown only 103.2 innings in parts of five seasons due to injuries, and none of those innings have come above Low-A. I think you leave him exposed.
December 1st: Non-tender deadline
Usually the non-tender deadline — that is the deadline to submit a contract offer to all pre-arbitration and arbitration-eligible players — is December 2nd, but December 2nd falls on a Saturday this year, so they moved it up to December 1st. Specifically, the deadline is 8pm ET on December 1st. A whole new batch of free agents will hit the market on this date.
Aside from Erik Kratz, who figures to be dropped from the 40-man roster long before the non-tender deadline, the Yankees don't have any real non-tender candidates. Perhaps they'll non-tender someone like Kyle Higashioka or Ronald Herrera, then re-sign him to a minor league deal? They've done the non-tender/re-sign trick many times over the years. That allows teams to drop a player from the 40-man roster without exposing him to waivers.
December 10th to 14th: Winter Meetings in Orlando
The busiest week of the offseason. Historically, the biggest deals of the winter go down during the Winter Meetings. That includes trades and free agent signings. Last year the Yankees signed Holliday and agreed to re-sign Aroldis Chapman during the Winter Meetings. The year before that they made the Starlin Castro and Justin Wilson trades during the Winter Meetings. This is always a busy week. Even if deals don't get done, there are gobs of rumors. It's fun.
December 14th: Rule 5 Draft
The Rule 5 Draft marks the unofficial end of the Winter Meetings. Everyone heads home afterward. The Yankees have a strong farm system and there are only so many 40-man roster spots to go around, so they're going to lose players this year. That's just the way it goes when you have a lot of quality prospects. Last year the Yankees lost four players in the Rule 5 Draft: Tyler Jones, Caleb Smith, Luis Torrens, and Tyler Webb. The Padres kept Torrens all year. Jones, Smith, and Webb were all returned before the end of Spring Training.
As a reminder, players picked in the Rule 5 Draft have to remain on their new team's 25-man active roster all next season, or be placed on waivers and offered back to their original team. The Yankees have not made a Rule 5 Draft pick since taking Cesar Cabral and Brad Meyers back in 2011. There's no reason to think they'll pick someone this year. They barely have enough 40-man space for their own players. There's not enough room to stash another club's fringe big leaguer.
January 13th: Deadline to submit salary arbitration filing figures
This is the day teams and their arbitration-eligible players file salary figures with MLB. The player files what he thinks he should earn in 2018 and the team counters with what they think he should earn. Most players will sign a contract before exchanging figures. The Yankees for the longest time signed all their players before the filing deadline, though in recent years they've exchanged figures with a few players, only to sign them shortly after the deadline. Not a big deal, really. For the most part though, arbitration-eligible players sign before this date. Only a small percentage wind up filing salary figures.
Mid-January 2018: 2018 Hall of Fame class announced
Next summer's Hall of Fame class figures to be at least four players deep: Vlad Guerrero, Trevor Hoffman, Chipper Jones, and Jim Thome. Omar Vizquel might get in this year too. Eh. Chipper and Thome will be on the ballot for the first time. Vlad and Hoffman fell only a handful of votes short last year, and should get over the hump this year. Barry Bonds, Roger Clemens, Edgar Martinez, and Mike Mussina have slowly been gaining support in recent years, though probably not enough to make it this year.
Among the former Yankees on the ballot this year are holdovers Clemens, Mussina, and Gary Sheffield, and newcomers Johnny Damon, Andruw Jones, Hideki Matsui, Carl Pavano, and Kerry Wood. I'm curious to see what happens with Andruw. I don't think he'll get in this year and maybe not ever, even though his peak was incredible and he is on the very short list of the best defensive players in history. Damon had a long and very productive career, but falls short of Cooperstown for me.
Early-to-mid-February: Arbitration hearings
Last year the Yankees went to their first arbitration hearing since beating Chien-Ming Wang back in 2008. The Yankees went to a hearing with Dellin Betances last offseason, won the ruling, then president Randy Levine needlessly took shots at Betances. How stupid. Generally speaking, teams and players try to avoid arbitration hearings because they can get messy and awkward, so they work out a contract beforehand.
With Dellin though, there is clearly some level of bad blood here. He wasn't happy with Levine last year and rightfully so. The smart money is on the Yankees avoiding hearings with all their players, because that's usually how it goes. Betances might take them back to a hearing though, if he thinks he has a better case this year. Lots of walks won't hurt much in arbitration. Certainly not enough to negate the ten extra saves he picked up this year and the fourth straight All-Star Game selection. We'll see.
Mid-February: Spring Training begins!
Hooray for that. The Yankees haven't announced their reporting dates yet, though that'll come soon enough. No team has announced their reporting dates yet. Spring Training is going to be a little different next season because the Yankees will have a new manager, potentially a new coaching staff, and wildly optimistic expectations.
March 29th: Opening Day!
The Yankees open next season on the road against the Blue Jays. Also, the season starts on a Thursday next year, not a Sunday or Monday as usual. The MLBPA pushed for a few more days off during the season in the latest Collective Bargaining Agreement, so Opening Day was moved up a bit to accommodate the extra off-days. The Yankees open on Thursday in Toronto then come home for the Yankee Stadium opener the following Monday.