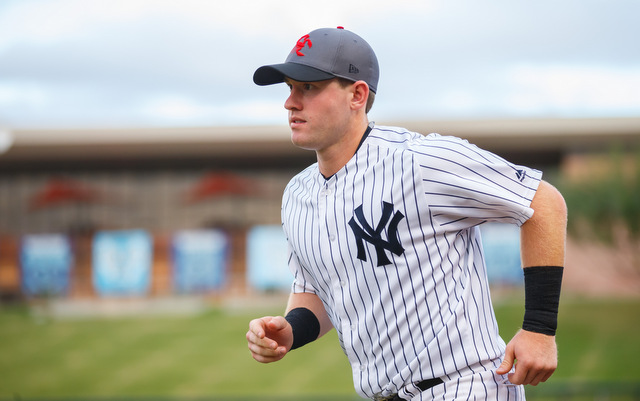 It has been three weeks since the Astros won the World Series and we're still waiting for something exciting to happen this offseason. Yesterday was the deadline for teams to add players to the 40-man roster to protect them from the Rule 5 Draft, and that's the most exciting thing that has happened so far this winter. I'm going through hot stove withdrawals here. Would be cool if something fun happened soon. Anyway, I have some thoughts.
1. Last night the MLBPA announced they have extended their (completely arbitrary) deadline to figure out a posting agreement for Shohei Ohtani, and the fact they extended the deadline leads me to believe the sides made good progress yesterday, and the finish line is in sight. Supposedly one of the pending issues is the posting window. The MLBPA wants to shorten the period in which NPB teams can post their players. Right now they can be posted any time between November 1st and February 1st. MLBPA wants to cut it down to two weeks in November so it doesn't hold up the rest of the free agent market. That seems like something they can work out, right? I hope so. The union really botched this. They agreed to this posting system and the international hard cap, and now they don't like. Speak up at the table next time, fellas. Maybe hire a labor professional to negotiate on your behalf rather than give the job to an ex-player everyone likes? Could be cool. Hopefully everything gets worked out today and Ohtani gets posted soon. The sooner Ohtani comes over, the better it is for MLB and the MLBPA.
2. I was a little surprised Jonathan Loaisiga was added to the 40-man roster yesterday, protecting him from the Rule 5 Draft. Loaisiga is clearly talented, though he's had a lot of injuries in his career (103.2 innings total in five years), and has only thrown 2.1 innings in a full season league. In the past, you could leave a guy like Loaisiga unprotected in the Rule 5 Draft and not think twice about it. Even if he got picked, he'd come back at some point. Nowadays rebuilding teams are more open to selecting talented low level kids, sticking them on their MLB roster all season, then sending them back to the minors the next year to continue their development. The Padres did that not only with Luis Torrens last year, but also Allen Cordoba, who had never played above rookie ball prior to last season. A few weeks ago Cardinals president of baseball operations John Mozeliak told Derrick Goold they need to rethink their Rule 5 Draft protection strategy after losing Cordoba, and I think that applies to the Yankees too. They probably don't protect Johnny Lasagna this year had they not lost Torrens from their Low-A roster last year.
3. Two things about the 40-man roster space clearing trades prior to the Rule 5 Draft protection deadline. One, I'm pleasantly surprised the Yankees were able to open space exclusively through trades. They got something back for their players (Garrett Cooper, Caleb Smith, Nick Rumbelow, Ronald Herrera). They're not going to lose them for nothing on waivers. Even the 37th, 38th, 39th, and 40th guys on the 40-man roster had some trade value. Cool. And two, I didn't expect Bryan Mitchell and Chasen Shreve to survive the 40-man roster purge, but perhaps I should have. Shreve may be out of minor league options, but he's left-handed and he's had some success in the big leagues. That's not someone you cast aside unless absolutely necessary. As for Mitchell, he has a really great arm, even if the results haven't been there yet. His curveball spin rate (2,750 rpm) the last two seasons is well above the league average (2,477 rpm), and these days curveball spin rate is all the rage. The Astros used curveball spin rate to find Charlie Morton. Tom Verducci is writing about it. This is a copy cat league. Other teams are going to start emphasizing curveball spin rate now. Maybe that's enough of a reason to keep Mitchell. Or, at least it's enough of a reason to hold onto him for the time being to see if a better trade offer than what was available prior to yesterday comes around.
4. Speaking of the Astros, I think it's kinda funny that, after hearing for however long that a strong bullpen is necessary to win the World Series, they won the World Series with that disaster of a bullpen. Their bullpen allowed 37 runs in 61.2 innings in the postseason. That's a 5.40 ERA. Their best relievers in the playoffs were starters. Lance McCullers Jr. had the four-inning save in ALCS Game Seven, Brad Peacock had a 3.2 inning save in World Series Game Three, and Charlie Morton had a four-inning save in World Series Game Seven. Houston's bullpen was a mess and they won the World Series anyway. Does that mean having a strong bullpen is not as important as generally believed? Nah. Sign me up for dominant bullpen all day, every day. Timing is everything though. The Astros got good relief work (mostly from starting pitchers) in the games they really needed it. There is no magic formula for winning the World Series. Pitching by itself doesn't win championships. The best way to win the World Series is to be good at everything. Hitting, pitching, defense, baserunning, everything. Do as many things well as possible and things will work out. For the Astros, their depth starters came through when their regular relievers did not.
5. With each passing day I am talking myself more and more into trading for Giancarlo Stanton. Don't get me wrong, he's awesome, but I never felt like he was someone the Yankees would pursue aggressively for a variety of reasons. The luxury tax plan, their crowded outfield, the farm system, etc. And yet, I am more and more coming around on the idea of making a serious push to get him. Dan Szymborski put together long-terms ZiPS projections for Stanton with the various trade suitors and his projections with the Yankees are just bonkers: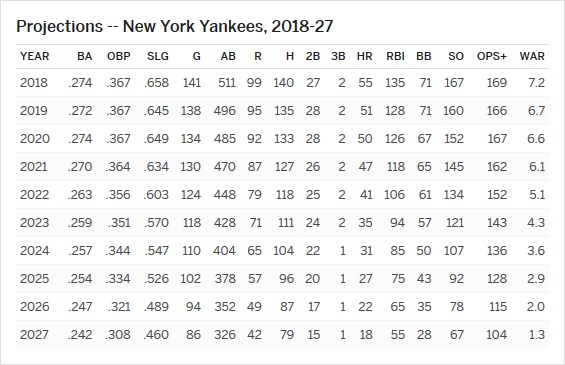 That's a .639 slugging percentage and 48.8 homers per season from 2018-22, Stanton's age 28-32 seasons. Goodness. And who know what's crazy? It doesn't seem outrageous. I can totally buy Stanton hitting like that the next five years. The Yankees almost certainly won't trade for Stanton for the reasons I listed above, but gosh, if they can get him for something less than full price in terms of prospects, I'd be all for it. I know Bryce Harper will be a free agent in a year and available for nothing but money, but Harper doesn't help you win in 2018, and chances are Harper's eventually contract will make Stanton's look pretty good.
6. I was not at all surprised Jose Altuve won the AL MVP and I don't think the lopsided voting results — Altuve received 27 first place votes while Aaron Judge received only two — reflects the feelings of the voters either. My guess is an awful lot of those voters had Altuve and Judge basically neck-and-neck for the award, but when it came time to separate them, most sided with Altuve because Judge slumped the first few weeks of the second half. The 27-2 split in first place votes makes it seem like this was an easy decision. I don't think that reflects reality though. Just about all the voters who put out columns explaining their votes said Altuve and Judge were close. And, the weird thing to me, I've seen a lot of people explaining why they didn't (or wouldn't have) vote for Judge rather than why they voted for Altuve. The biggest separator in the voting is not something Altuve did. It's something Judge didn't do, and that's be consistent, which is apparently a factor in MVP voting now? Judge had the slump and still made fewer outs than Altuve and hit for way more power this season, and if you believe the metrics, he was a more valuable defensive player too. Eh, whatever. Winning AL Rookie of the Year unanimously and finishing second in the AL MVP voting is above and beyond anything I expected from Judge this year.
7. I am weirdly indifferent about the managerial search. I don't have a favorite managerial candidate and there's no one I absolutely do not want the Yankees to hire either. I felt this way going into the search and I thought things would change once some names came out, but nope. Still don't feel strongly about any of the candidates, one way or the other. Among the candidates, I guess my favorite right now is Hensley Meulens because he has extensive coaching experience and spent a lot of time working under Bruce Bochy, a truly great manager. I do think the whole "he speaks five languages" thing is getting overblown. It's a valuable skill, sure, but speaking five languages doesn't help if you don't know what you're talking about in the first place. (Also, Meulens is not fluent in Japanese. He supposedly can speak some words and phrases, mostly baseball related, but it's not like he's at the conversation level.) After Meulens, I am really intrigued by Chris Woodward, who seems to be highly regarded within baseball and has risen up the coaching ranks rather quickly. That doesn't happen unless a lot of people think you're really good at what you do. We'll see where this goes. Like I said, I do not have a personal favorite right now. I'm kinda ambivalent about the whole thing.