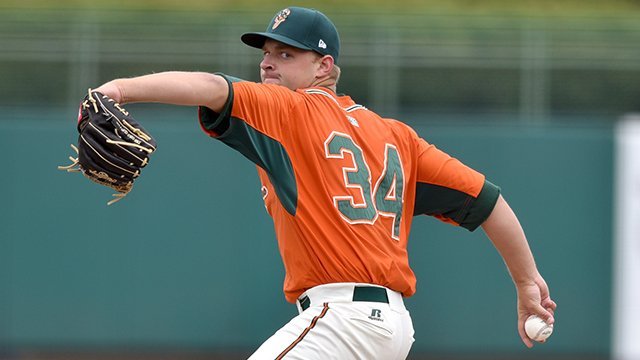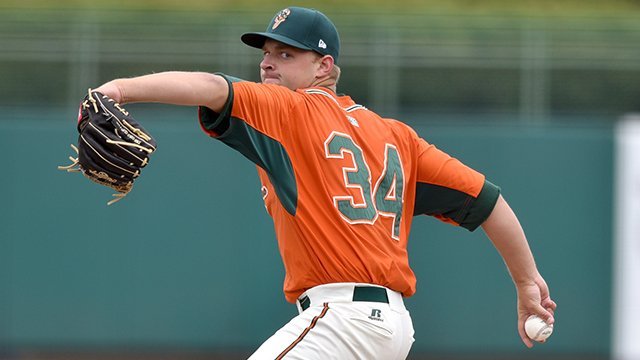 The Yankees have made another trade as they continue their 40-man roster purge. Tonight they traded Garrett Cooper and Caleb Smith to the Marlins for pitching prospect Mike King and an undisclosed sum of 2017-18 international bonus money, the team announced. This trade plus the Nick Rumbelow trade and Ronald Herrera trade give the Yankees six open 40-man roster spots before they have to protect players from the Rule 5 Draft.
King, 22, was selected by Miami in the 11th round of the 2016 draft out of Boston College. He threw 149 innings this season, all at Low Class-A, where he had a 3.14 ERA (3.97 FIP) with 17.8% strikeouts and 3.5% walks. MLB.com did not rank King among the top 30 prospects in the Marlins system, which is arguably the worst in baseball. Here is a snippet of Baseball America's pre-2016 draft scouting report (subs. req'):
The 6-foot-3 righthander doesn't have overwhelming stuff, but he commands an upper 80s fastball with sink, touching 92 mph. King mixes in a short-breaking slider that is difficult to square up but not an above-average offering. He pitches to contact but is a plus competitor and has above-average command.
The Yankees have had a lot of success getting their pitching prospects to add velocity in recent years. If King adds a few ticks to his heater, he could be really interesting given his slider, command, and competitiveness. Also, a move to the bullpen could be in the cards. King could move real quick as a reliever.
The international bonus money is the more notable addition here because it means more money for Shohei Ohtani, should he come over. It had been reported the Yankees already maxed out their bonus pool — teams are allowed to trade for an addition 75% of their original pool ($4.75M for the Yankees) — but apparently not. Maybe they're maxed out now? Hmmm.
Both Cooper and Smith were up-and-down depth players for the Yankees this summer. Cooper, 27 next month, hit .326/.333/.488 (113 wRC+) in 13 games as a fill-in first baseman. That includes a four-hit game against the Blue Jays. The Yankees acquired Cooper from the Brewers for Tyler Webb at midseason. He didn't receive a September call-up, which was a pretty good indication his 40-man roster spot would be jeopardy.
Smith, 26, spent most of the season in Triple-A. He had a 7.71 ERA (5.62 FIP) in 18.2 big league inning spread across two starts and seven relief appearances. The Marlins hired farm system head Gary Denbo away from the Yankees a few weeks ago, and he is no doubt very familiar with Smith. I wonder if he'll get a chance to crack their rotation next year. Either way, both Smith and Cooper figure to get better opportunities with the Marlins than they would've with the Yankees, so good luck to them.
Update: Buster Olney says the Yankees received $250,000 in international bonus money from the Marlins, and are now maxed out. It was reported earlier this month they had $3.5M in available international bonus money to offer Ohtani, so now it's $3.75M.