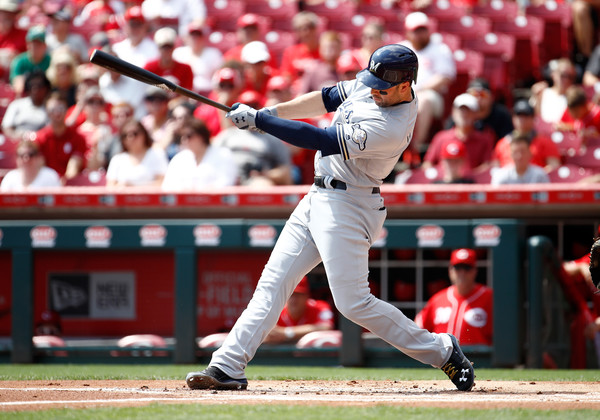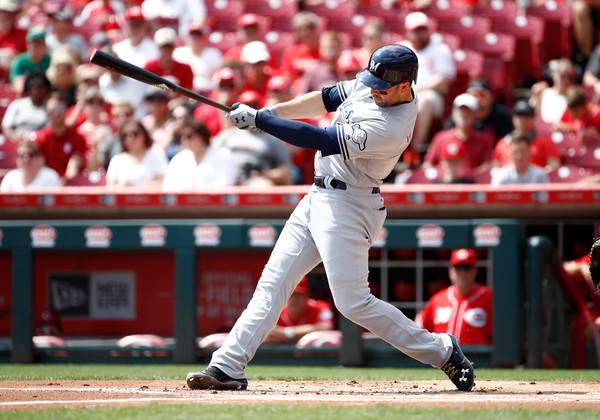 The Yankees have (for the best of reasons) unexpectedly found themselves in need of a second baseman and/or a third baseman. That is, unless you expect them to go into 2018 with a rookie at one of those positions, and Ronald Torreyes at the other; suffice it to say that I don't. Barring a trade for Manny Machado, the free agent market may be the best place to go for a short-term and palatable solution. And Neil Walker – who the Yankees allegedly backed out of a deal for at the trade deadline – is probably the best option.
Offensive Performance
Walker has rather quietly put together a solid eight-year career. A switch-hitter, he owns a career .272/.341/.437 line (115 wRC+) in over four-thousand plate appearances, and he hasn't posted a wRC+ below 106 since his 40 PA cup of coffee in 2009. He's been rather consistent, too, with his wRC+ checking in between 106 and 130 in each of his full seasons. And the last two years have been no exception:

The discrepancy in his power and walk rate do stick out a little bit, but those represent the largest swings in his career. Moreover, neither is the negative sort of outlier that suggests a decline, or anything of that nature – and his .174 ISO in 2017 was still a tick above his career ISO, so it isn't as if his power is disappearing.
Walker's performance against LHP does stick out like a sore thumb, and does appear to make a liar out of me, regarding his consistency. However, 2016 is the outlier here, as he has always been much better against righties. He has a 121 wRC+ against righties for his career, as compared to a 91 against southpaws. Walker might be best-suited as a platoon option, and that's essentially how he has been used over the last several seasons.
It's as a LHH that Walker hits for most of his power, and he does so to the pull side. Take a look as his spray chart as a LHH for the last two seasons: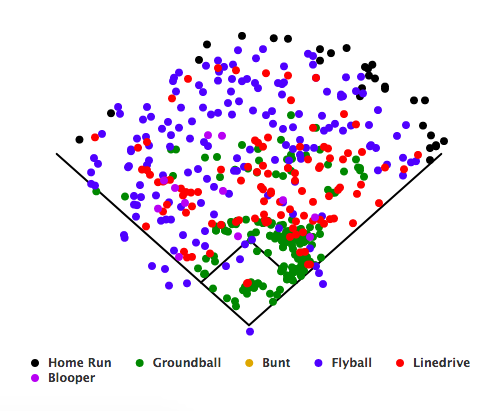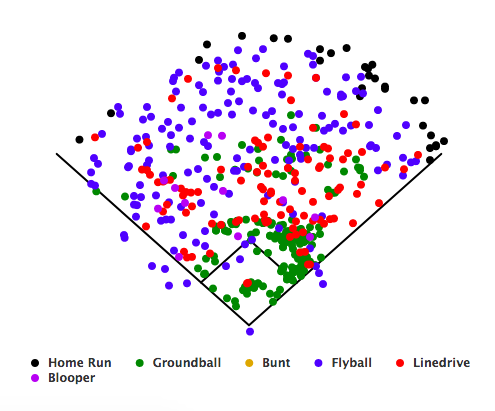 Just under 45% of his batted balls go to right or right center, but he's still tough to shift against as he is more than capable of driving pitches back up the middle. As per FanGraphs, he's only see the shift in 414 PA for his career, and he has a career .323 against it (including .285 last year). Both points suggest that his bat would play well in Yankee Stadium … and he does have 2 HR and a 1.031 OPS in 21 PA there.
Defensive Performance
Walker is a second baseman by trade, and the metrics are all over the place. He has been a tick below-average there overall, with career rates of -2 DRS/150 and -3.7 UZR/150. He hasn't been consistent on that side of the ball, though:
2015: -2 DRS, -8.8 UZR/150
2016: 0 DRS, 11.1 UZR/150
2017: -5 DRS, -2.1 UZR/150
Over the last three years he has been anywhere between awful and awesome, and the two go-to defensive metrics disagree with each other within each season. The reality is likely that he is a tick below-average but competent at the keystone.
He is somewhat versatile, as well, having logged 86.1 innings at first and 34.1 innings at third this year. It was his first time playing a position other than second since 2010, but he played both positions in the minors. Walker actually came up as a third baseman, and has played 444 games at the hot corner in his professional career. The sample sizes at the big league level are small and spread out over several years, so it's tough to take much away from them (they're not good, though). Whether or not he could be counted on to play either position for an extended period of time is an open-ended question.
Injury History
The Yankees backed out of the deal for Walker due to his slow recovery from a partially torn hamstring, which kept him out for about six weeks over the summer. That wasn't his first brush with the injury bug, either, as he missed the last month of 2016 with a back injury, which required surgery. Walker has missed time in almost every season with nagging injuries, but those are the two big baseball-related ones. This is probably the biggest knock against him as a free agent, as he's 32 and has missed a month and change with injuries in back-to-back seasons.
Contract Estimates
Walker is said to be looking for a four-year deal, but there are no dollar figures tied to that just yet. MLB Trade Rumors went with 2-years, $20 MM, and FanGraphs' Crowdsourcing projected 3-years, $39 MM. Last year's market saw just two non-first base infielders get multiyear deals: Sean Rodriguez (2-years, $11 MM), Luis Valbuena (2-years, $15 MM), and Justin Turner (4-years, $64 MM). If the market unfolds similarly, one has to imagine that he'd be closer to Turner than to Valbuena or Rodriguez. Given that and his injuries, I think the FanGraphs number is close to the mark.
Does He Make Sense for the Yankees?
Walker checks pretty much every box if the Yankees are looking for a veteran at second – he hits, he works the count, he hits for power, he's a capable defender, he's a switch-hitter, and he might have some defensive versatility. The injuries would need to be looked into thoroughly, and his struggles against lefties might mean that Torreyes plays more than we'd like – but I don't think either is a dealbreaker.
The issue is money. Brian Cashman has $30+ MM to play with, which means that he could easily fit in this year, even with a $13 MM price tag – and I could even see next year working out, with some finagling. But adding a third year is undoubtedly out of the question. If he's available for the MLBTR projection, I'd be all-in; if he won't settle for anything less than three-years, I'd be out. And I'm confident that the Yankees will be, too.