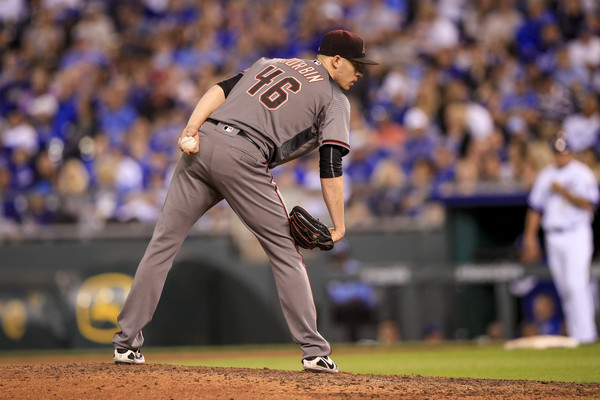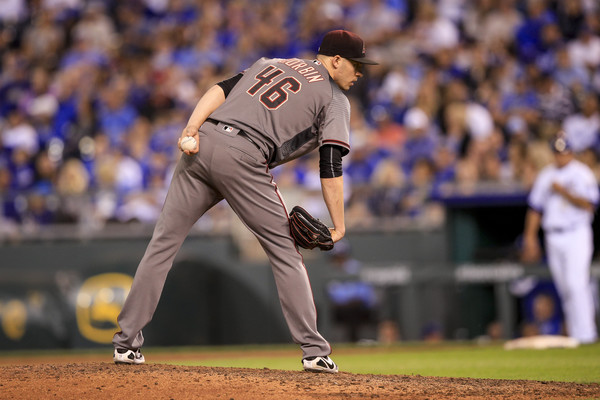 The Yankees have been linked to the Diamondbacks and Patrick Corbin several times over the last couple of days, and it has become clear that adding a starting pitcher is their top priority. Mike wrote about a bit about Corbin as a potential trade target last off-season, but another season of data post-Tommy John Surgery has shifted the calculus a bit.
Current Performance
Corbin was viewed as something of a buy low candidate this time last year, as his first full season removed from elbow surgery had less than inspiring results, and the Diamondbacks appeared to be going nowhere fast. And now, twelve months later, Corbin had a healthy, above-average season, and the Diamondbacks made it to the NLDS. There's no indication that he isn't available, though. Let's take a look as these last two years:

Keeping in mind that Chase Field is a big-time hitter's park, Corbin's 2017 was impressive on several levels. His 4.03 ERA translated into a 119 ERA+, which was tied for the 10th best in the National League, and in the top-30 in all of baseball. Corbin improved across the board in 2017, with only his groundball rate taking a step back – and, even then, it ranked 8th among all qualified starting pitchers. His strikeout and walk rates were above-average, as well. When you put that all together, he was basically the same pitcher that he was before 2016's ugly campaign.
There were plenty of improvements that don't show-up in traditional stats, too. His hard contact rate dropped from 38.5% to 31.6%, and his exit velocity went from 89.3 MPH to 87.3 MPH. While there are still some questions about the usability of this data regarding performance, it boils down to both rates going from comfortably below-average to right around league-average.
So, in short, Corbin became harder to hit in 2017, and, when he was hit, it was with far less authority. That's a good precursor for success.
Current Stuff
Corbin is a four-pitch pitcher, working with a low-90s four-seamer, a low-90s sinker, a low-to-mid 80s change-up, and a low-80s slider. Take a look: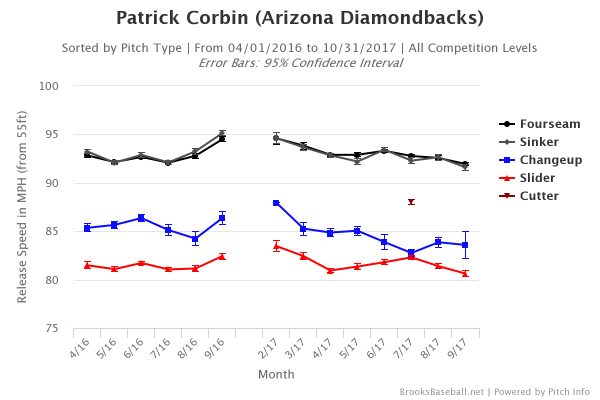 There is something of a warning sign within this graphic, and that's the noticeable dip in velocity over the coure of 2017. Corbin's velocity ticked up throughout 2016, and he started 2017 in the same range; by the time the season was over, though, he had lost about 2.5 MPH from his heater. That's not ideal, and it did appear to have an impact on his success. Corbin ran a 9.00 ERA in May, which stands out more than most anything – but he posted his worst walk rate (by far) in September, alongside big drops in strikeouts (7.0 K/9) and grounders (47.1%).
Could that have been a result of Corbin tiring? Absolutely. He underwent Tommy John surgery in 2014, missing the entire season, tossed 102 IP between rehab and the majors in 2015, and then 155.2 IP in 2016. The 189.2 IP he threw this year represented a big increase in workload, and it was the most innings that he had thrown since 2013 – so may've been straight-up gassed. It's nevertheless something that any interested team will be thinking about.
Corbin throws all four of his pitches to both righties and lefties, with his slider being his primary weapon against right-handed hitters. He threw it about a third of the time last year, an increase of nearly 11 percentage points against 2016 – and righties hit just .179 with a .309 SLG against it. They basically tee-off against all of his other pitches, though, and that has been an issue throughout his career.
Injury History
As I said above, Corbin had Tommy John surgery in 2014, which kept him out for all of that season and much of 2015. And that's something that you can't ignore. However, he has otherwise been healthy throughout his professional career, which dates back to 2009.
Contract Status
Corbin is entering his final year of arbitration, which makes him a rental. MLB Trade Rumors projects an $8.3 MM salary for 2018.
What Would it Take?
The most comparable case of a deal for a starting pitcher with one year of arbitration eligibility remaining is probably Jeff Samardzija. He was coming off an All-Star appearance in his age-29 season, having posted a 2.99 ERA (125 ERA+) in 219.2 IP. The then-30-year-old was dealt by the A's (alongside Michael Ynoa) to the White Sox for Marcus Semien, Josh Phegley, Chris Bassitt, and middling prospect Rangel Ravelo prior to the 2015 season.
Semien was the prize of the deal, as a former top-100 prospect (ranked 91 by BA heading into 2014) that had scuffled a bit in his first extended look in the majors. Phegley was viewed as a back-up catcher, Bassitt a back of the rotation starter or reliever, and Ravelo as a potential platoon player. It was viewed as a solid but unspectacular return, for what it's worth.
The buzz around Samardzija then was almost certainly more than it is for Corbin now, but the difference in their production wasn't all that different. A similar package from the Yankees is hard to cobble together, but it might start with a couple of guys in the back half of their top-10 (Thairo Estrada and Miguel Andujar?) and Luis Cessa. My trade proposal sucks.
Does He Make Sense for the Yankees?
Maybe. He will undoubtedly cost less than Michael Fulmer, Gerrit Cole, and Chris Archer, given his impending free agency, but he was as good or better than all three my some measures last year. If the Yankees are looking to bolster their odds of winning this year without dipping into their top-level prospects, Corbin may be the best of the bunch. And I am not too concerned about the drop in velocity (particularly when you see the warts on the other players they've expressed interest in).
That being said, if the Yankees are playing for the short and medium term – which they seem to be – then Corbin doesn't make much sense, unless they're holding their bullets for another move…