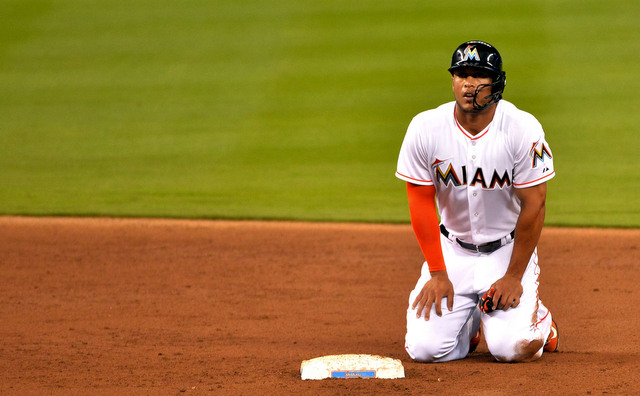 A year and a half or so ago, the Yankees traded Andrew Miller, Aroldis Chapman, and Carlos Beltran. A year and a half ago, the Yankees were looking at a rebuilding process that, hopefully, wouldn't be too painful. A year and a half ago, the present reality of the Yankees seemed completely unfeasible. But here we are: after a season of unexpected success from unexpected avenues, the Yankees made their biggest splash in an already splashy year by acquiring Giancarlo Stanton from the Marlins for Starlin Castro and two prospects.
With Stanton aboard and Castro gone, there's plenty to sort out, but let's start with the emotions of this. Hell, yeah, huh? A week ago, it seemed like Stanton would land in San Francisco or St. Louis, but as the week went on, that all went away and we got word he'd listed the Yankees, Dodgers, Cubs, and Astros as his preferred destinations. Even then, I thought that there was little or no shot he'd actually end up on the Yankees. To say this was a pleasant and invigorating surprise would certainly be an understatement. Thanks to my son being sick, I was up for most of the morning hours on Saturday and caught a lot of the development of the trade that way. I woke up with him at around 2 AM and didn't bother trying to go back to sleep–I didn't want to miss anything.
This felt like a slower version of what happened when the Yankees signed Mark Teixeira out of no where in 2008. Were the Internet the way is now back then, I'm sure the Alex Rodriguez trade would've felt the same, too. Regardless of the comparison, the level of shock that this actually happened is sky high. I can't wait to see what Stanton does in this lineup. Speaking of, things are a bit crowded now, aren't they?
Even before acquiring Stanton, the Yankees were probably heavy one outfielder. Aaron Judge, Brett Gardner, Aaron Hicks, Jacoby Ellsbury, and (maybe? Probably?) Clint Frazier were all going to have to figure out how to share time in the field and at DH.  As has been the looming case for a while, it seems that time has run out for one of Ellsbury and Gardner as well; if the Yankees–and, I'm willing to bet, most of us–get their way, Ellsbury will be gone with Gardner, Hicks, Judge, and Stanton as the main outfielders and DHs. Perhaps they let Frazier hang on the bench and fill in depending on matchups, as I've suggested in the past. Or, they could send him to AAA again and let him get every day at bats there.
Minus Starlin Castro, the Yankees now have a void at second base. Enter Gleyber Torres? Eventually. Unless he has a Spring Training like Aaron Judge did last year, I don't see him breaking camp with the team. If he doesn't, though, the Yankees could sign a stop gap for one year, or run a platoon of Tyler Wade and Ronald Torreyes out there, or run a competition between those two during Spring Training. No matter what they do, the Yankees won't need to get much production out of second, given what the lineup will look like with Stanton included now.
I'm still in shock this trade happened, frankly, but it's a damn good shock. And even when the shock wears off, the feeling will be great, grand, wonderful. In a cliche of cliches, the Yankees have certainly given their fans an early holiday gift; given the surprise of this one, I can't help but wonder if more is in store.