Luis Severino was a highly-touted prospect coming up to the bigs. He had the stuff, could throw strikes, had youth, etc. However, there always were question marks following him (size, durability concerns and delivery, mostly). His solid 2015 showing was encouraging, but in 2016, Severino put many in doubt by putting up a 5.83 ERA in 22 appearances (with an ugly 8.50 ERA in 11 starts as a starter). Some felt that his long-term destination is in bullpen due to his flaws taking over his performance.
However, the Yankees were not just going to give up their starting pitcher plans for a 23-year-old. Severino entered 2017 as one of the candidates for the last spots of the rotation. He went out, showed some marked improvement in Spring Training, and earned a spot. As you know, since then, he never looked back. He put up one of the best seasons… ever… by a young starter in an illustrious Yankees history.
The full-season dominance
Severino made his first start of the season on April 7 versus the O's. He went 5 innings, allowed 4 earned runs but walked 1 and struck out 6. Okay, okay. Not the best outcome but there were encouraging things. The next start, he struck out 11 in 7 IP while allowing 2 runs against the Rays. He followed it up with a strong losing effort vs. the White Sox (8 IP, 3 ER, 10 K). And we gradually started to think this: is this for real?
As we know, the answer was a resounding yes. Severino became a very reliable starter in the first half (3.54 ERA in 17 games with 124 K/27 BB in 106.2 IP) and earned the AL All-Star honors. Not so bad for a guy who had to make trips to Scranton/Wilkes-Barre last year, right? In the second half, however, he bulldozed through the hitters: 2.28 ERA in 14 starts with 106 strikeouts and 24 walks in 86.2 IP. To be a bit more specific, after the first ten starts of the season, Severino was just on the next level. Look at this graph and marvel at how consistent and reliable he was after around the tenth start of the season. His season FIP stayed right around 3.00 for the most of it: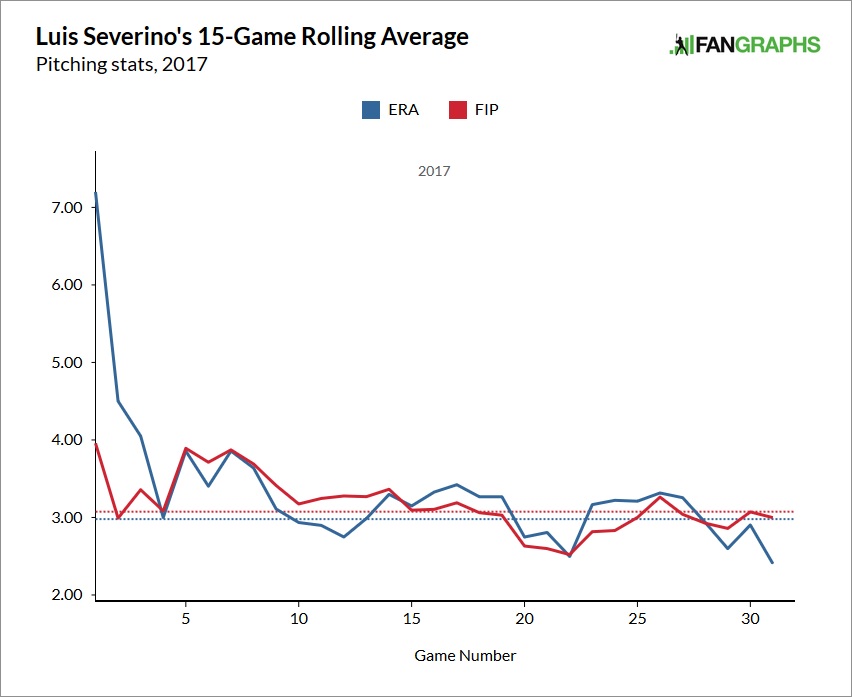 It is remarkable for any pitcher to be able to accomplish this, especially pitching at the Yankee Stadium for half of the season.  To me, he basically had a season that we all envisioned guys like Joba Chamberlain or Michael Pineda having back they were much more promising.
How good was Luis Severino's season in context of the Yankee history? Well, let's take a look at Sevvy's total season numbers:
14-6, 2.98 ERA, 31 GS, 193.1 IP, 150 H, 21 HR, 51 BB, 230 K
We'll get some help from the Baseball Reference Play Index here. How many Yankee starters in the history had an ERA lower than 3.00 while throwing more than 175 innings and striking out at least 200 in a season?
1904 Jack Powell
1904 Jack Chesbro
1910 Russ Ford
1978 Ron Guidry
1979 Ron Guidry
1992 Melido Perez
1997 David Cone
2011 CC Sabathia
2017 Luis Severino
Alright, alright. That's a pretty great company Sevy's associated with. Take out the Dead Ball Era guys and the group is even more exclusive. Now, how many of those guys were not yet 25-years old in those seasons?
That's it. Severino was also the only starter under 25 in all of ML in 2017 to accomplish the feat. In 2016, it was Jose Fernandez and Noah Syndergaard. 2015? Madison Bumgarner and Gerrit Cole.
Basically, in 2017, the Yankee fans got to witness not only one of the greatest seasons put up by a young Yankee starter, but also a young ML starter in 2017.
Baby's first postseason
With the Yankees pretty much destined to take the first AL Wild Card spot, the team brass started to monitor Severino's workload to get him prepared for the Game 163 versus the Twins. Start your best starter in a winner-take-all game, right? No one refuted that logic but things just didn't work out for Sevy. He overthrew, missed his spots and failed to go beyond recording one out in his Wild Card Game start (0.1 IP, 4 H, 3 ER, 2 HRs) – by far his worst showing in 2017, especially given the circumstances! Fortunately for the Yankees, they pounced on Ervin Santana and the Twins bullpen to advance to the ALDS, but Severino, once again, had questions from detractors. Can he handle the bigger spotlight? Are the innings catching up to his arm?
Fortunately for the Yanks, Severino rebounded in the ALDS. In Game 4, with the Yankees down 2-1 in the best-of-five series, the team needed a win to force the Game 5 and he pitched to a tune of 3 ERs in 7 IP with 9 strikeouts and a walk against the dangerous Indians lineup. It also helped that the hitters absolutely jumped on Trevor Bauer, but Severino did his part to keep the Indians bat in check.
Against the Astros though, things were a bit dicier. Severino started the Game 2 of the ALCS and lasted only four innings after exiting with a shoulder issue. He insisted that he was fine and wanted to pitch more, but what kind of chance can you take with a young starter whose workload increased steeply this year? Joe Girardi pulled him out of the game and the Yankees suffered a walk-off loss. Later in the series, in the Game 6, Severino was back out against the Minute Maid Park for a rematch against Justin Verlander. It went less than stellar – 4.2 IP, 3 ER, 4 BB, 3 K and a loss. The Yankees dropped the game and, later, the series.
Severino finished his first postseason with a 5.63 ERA in 4 starts. I would not point much finger at him though. It is a lot to ask any pitcher to go out and dominate the Indians and Astros lineups (oh, and the Twins too, they were No. 6 in all MLB in the team wRC+). A guy like Severino will definitely see a plenty of playoff actions in his career and this could be a valuable learning experience.
With a little help from our former enemy
So how did Severino transform from a fifth starter candidate to No. 3 in AL Cy Young voting? A popular narrative regarding his improvement is that he worked with none other than Pedro Martinez over the offseason to tweak the mechanics. When I talked to Severino, he told me that what Martinez taught him was nothing more than a simple adjustment.
"You know, the thing was that (last year), I was starting with my hands right here," Severino told the Sporting News, as he emulated his old hand position. Severino held his hands a bit away from his torso, as you can see below from a game from last year: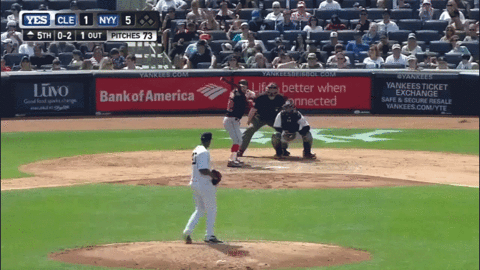 "(Martinez) told me to keep my hands closer to my body and just go over my pitches," Severino said as he brought his hands nearer to his torso. You can see the change in the gif below: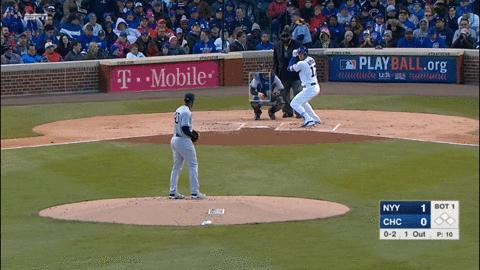 By starting the delivery with his hands closer to the body, there is less movement for his arm to get to the high-cocked position, simplifying the process.
Simple enough, right? Well, don't attribute everything to this one weird trick. Severino also worked hard over the offseason to work on his changeup. In my opinion, the changeup is the most underrated pitch. It is not the sexiest but it helps with what pitching is supposed to be, which is upsetting hitter's timing. Severino increased his changeup usage from 9.8% in 2016 to 13.6% in 2017. While fastball and slider are his bread and butter, having a changeup that he can throw in any count makes you a more formidable being on mound.
If you want to know what #shoving looks like, here are all the pitches thrown by Severino in his June 10 start vs. the Orioles.
2018 Outlook
Unlike how it was back in February, Severino will have a spot locked hard in the Yankee rotation, and many hope that would be the case for a long, long time. Assuming he stays healthy and can maintain the 2017 excellence… man, the Yankees have an absolute gem.