It came together so quickly. Less that 24 hours after the Giants and Cardinals publicly declared themselves out on Giancarlo Stanton, the Yankees swooped in to grab the reigning NL MVP and MLB home run king over the weekend for the bargain price of Starlin Castro, Jorge Guzman, and Jose Devers. Pretty incredible. The press conference is at 2pm ET today. I imagine it'll be on MLB Network and MLB.com. (Update: YES will have it for sure.) There's a lot to say about this trade. More than should be squeezed into one post. Let's start with some miscellaneous thoughts.
1. Know what I love about this trade? The Yankees are back to being the Evil Empire. They went out and got the biggest name and the best player available even though they didn't really need him. It was an old school George Steinbrenner move made with those new school "wow the Yankees got a great deal" smarts. Didn't trade top prospects, didn't give up draft picks, didn't blow up the luxury tax plan, nothing like that. The Yankees used to be a rich team that threw money at everything. Now they're rich and smart. I truly believe it is good for baseball when the Yankees are a great team and everyone hates them. The Yankees being the villain is good for the sport, and the Yankees are back to being that villain. It's also good for baseball that a player like Stanton is now in the game's largest market. This past season a lot of outsiders fell in love with the young plucky underdog Yankees, though that was never going to last. The Evil Empire is back and it is glorious.
2. This is the epitome of a "too good to pass up" trade. I don't think the Yankees had any intention of seriously pursuing Stanton when they went into the offseason, even after asking about him at the trade deadline. Another corner outfielder and more right-handed power was hardly a priority. The Yankees did what they always do. They kept an eye on the market, and if the stars aligned and they could get themselves a good deal on a great player, they'd pounce. And that's exactly what happened. Stanton backed the Marlins into a corner with his no-trade clause, and with Miami's leverage basically non-existent, the Yankees took advantage. That's pretty much all there is to it. Stanton fell right into their laps. It takes a perfect storm for a deal like this to come together. It takes a great player, a team desperate to unload him, and an opportunistic team ready to take advantage. Brian Cashman & Co. are nothing if not opportunistic.
3. Speaking of being opportunistic, the Stanton trade is eerily similar to the Alex Rodriguez trade. During the 2003-04 offseason, A-Rod had just completed his age 27 season, in which he led the league in home runs and was named MVP. Yet his team was so desperate to unload his contract that they traded him to the Yankees for pennies on the dollar and ate money to make it happen. Stanton just completed his age 27 season, a season in which he led the league in homers and was named MVP. And yet, his team was so desperate to unload his contract that they traded him to the Yankees for pennies on the dollar and ate money to make it happen. Both contracts included an opt-out clause too. Stanton can opt out in three years. A-Rod opted out four years after the trade. Pretty freaky how similar the A-Rod and Stanton situations are, huh? The A-Rod trade was great. The problem was giving him a ten-year contract at age 32, after he opted out. Stanton is signed "only" through age 37, and his salary for luxury tax purposes is more favorable than A-Rod's was during his contract. I would be quite surprised if the Yankees give Giancarlo a massive A-Rod contract should he opt out in a few years, though let's not get ahead of ourselves.
4. Let's take a second to remember how this all came together. It took a series a moves — a series of opportunistic moves, to use that word again — to get from Point A to Stanton. Here's a recap:
Traded Adam Warren to the Cubs for Castro, who'd been pushed out by Ben Zobrist.
Traded four prospects no one misses for Aroldis Chapman, who's trade value was kaput.
Traded Chapman to the Cubs, who were contending thanks in part to Zobrist, to get Warren back.
Re-signed Chapman as a free agent after the season.
Traded Castro to the Marlins for Stanton, who were desperate to unload his contract.
Pretty ridiculous. There are some other branches on the trade tree — the Yankees traded Brian McCann to the Astros for Guzman, who is going to the Marlins in the Stanton — but that's the gist of it. This started as Warren (and Brendan Ryan!) for Castro and ballooned into Giancarlo (joining Warren!) in pinstripes. What the what.
5. So apparently I've been calculating luxury tax salaries wrong for traded players all these years? I was under the impression that once a player is traded, his luxury tax hit is recalculated based on the remainder of his contract. That is not the case though. Stanton's huge 13-year, $325M contract has a $25M average annual value (and thus luxury tax hit). There are ten years and $295M left on the contract, so I thought his luxury tax hit going forward would be $29.5M. Apparently not. It is still $25M. Huh. That means I've been wrong all these years with guys like Nick Swisher, Curtis Granderson, and Castro, who the Yankees acquired in the middle of multi-year contracts. My bad, folks. Anyway, Ken Rosenthal says Stanton's luxury tax hit going forward will be $22M because the $30M the Marlins will pay Stanton if he doesn't opt out reduces the luxury tax burden on the Yankees. The Yankees might never actually see a dime of that $30M because Stanton may opt out, but they still get the tax credit. Pretty awesome. The Yankees have Stanton with a $22M luxury tax hit, and when you subtract out Castro, they only increased their 2018 luxury tax payroll roughly $11M with the trade. They still have about $20M in payroll space before reaching the $197M luxury tax threshold, though keep in mind they have to leave some of that open for midseason call-ups and additions. There's still enough money to make more moves though. The Yankees just gave up a painless package for the largest contract in the sport, and it doesn't even blow up the luxury tax plan. Amazing.
6. To state the obvious, assuming a ten-year contract and $265M in salary obligation is quite risky. The luxury tax hit may only be $22M a year, but the Yankees are on the hook for $265M in real dollars once you subtract out the $30M they'd get from Miami should Stanton not opt out. The good news is Giancarlo is only 28 — he turned 28 last month, so he'll spend all of next season at that age — so the contract doesn't take him into his 40s. That's still a lot of years and a lot of money. It's risky. That's just the way it is. At same time, Stanton's contract is probably going to look pretty good about 14 months from now, after Bryce Harper signs his inevitable monster contract. Think about it. The Yankees have Stanton at $22M against the luxury tax. Harper could end up at $40M against the luxury tax. Is Stanton as good as Harper? No, I don't think so. I'd take Harper's next ten seasons over Stanton's next ten seasons, no question. But is the difference between Stanton and Harper on the field as great as the difference between Stanton's contract and Harper's upcoming contract? Almost certainly not. As big and as scary as Stanton's contract is, it's going to look a whole lot better once Bryce gets his payday.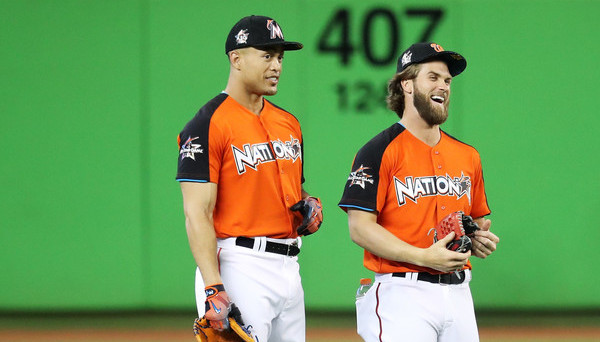 7. It stands to reason adding Stanton will take the Yankees out of the running for Harper next offseason. I mostly agree with that — I'd never completely rule out the Yankees pursuing a generational talent like Harper — though I don't think the Stanton addition means the Yankees will automatically steer clear of another monster contract. Instead of Harper, they might instead shift their focus next winter to Manny Machado, who'd address an obvious long-term need at third base. After all, second base is wide open for Gleyber Torres now. I'm a Miguel Andujar fan. You know that if you've read RAB long enough. But you don't let a guy like Andujar stand in the way of adding Machado. I'm getting ahead of myself here. Let's see how the season goes for everyone, what the payroll and luxury tax situations look like going into next winter, then circle back and talk about Machado (and Harper).
8. So what's the best outfield alignment? Given their size, both Stanton and Aaron Judge are deceptively good defensive right fielders. Stanton is at +23 DRS over the last three seasons, including +10 DRS in 2017. Judge was at +9 DRS this year. Left field is pretty spacious at Yankee Stadium, so, in a perfect world, the Yankees would keep Brett Gardner out there. There's more to range than pure speed (reads and routes are important too), but Statcast's sprint speed says Judge (27.7 feet per second) is slightly faster than Stanton (27.5 feet per second), so that doesn't help us figure out who is better suited for left. Stanton has played right field exclusively in the big leagues. So has Judge, though at least he played seven games in left field in Triple-A last year. Right now, I have no idea whether it would be best to keep Judge in right and move Stanton to left on the days they both play the field, or keep Stanton in right and move Judge to left. This might be one of those things the Yankees have to figure out in Spring Training. Get them both some looks out in left field during Grapefruit League play and see who is more comfortable. Chances are the players will make the decision for the Yankees.
9. It is entirely possible the best outfield alignment has Stanton at DH, but not for defensive reasons. For health reasons. He's had some injury problems in his career, most notably a series of lower body injuries (groin in 2016, knee in 2012, hamstring in several years), and giving him the majority of the at-bats at DH could keep him healthy, both short and long-term. The Yankees have a lot invested in Stanton financially. They want to get as much out of him as possible, and the key to a more productive Stanton down the road could be giving him more DH time now. The same is true of Judge. These are two massive humans — Judge is listed at 6-foot-7 and 282 lbs., and Stanton isn't far behind him at 6-foot-6 and 245 lbs. — and the more running around they do, the worse it'll be for their legs. The Yankees would surely love to use the DH spot to get Judge off his feet regularly as well, but the fact of the matter is Stanton has to be the priority because of his contract. The Yankees don't have much invested in Judge. If things ever go south in the future, they can non-tender him if necessary. There's no walking away from Stanton. Given his history of leg injuries, giving Giancarlo the majority of the playing time at DH could be the best thing going forward.
10. The outfield alignment is boring. The batting order is much more fun. There is how I would fill out the lineup card if I were manager Aaron Boone (it's still weird writing that):
LF Brett Gardner
RF Aaron Judge
DH Giancarlo Stanton
C Gary Sanchez
SS Didi Gregorius
1B Greg Bird
CF Aaron Hicks
3B Chase Headley
2B TBD
Don't get too hung up on the outfield spots and the DH spot. I'm not worried about who plays where right now, just who hits where. Anyway, yeah, that's my lineup. Judge is the better on-base player and Stanton is the better power hitter, so Judge before Stanton seems the way to go to me, not Stanton before Judge. I've seen some folks in the comments and on Twitter say Bird or Didi should hit third to break up the righties, and while I get it, it seems unnecessary. Among the 111 right-handed hitters who batted at least 300 times against right-handed pitchers this past season, Judge ranked second behind Mike Trout with a 179 wRC+. Stanton was ninth with a 144 wRC+ and Sanchez was 21st with a 130 wRC+. These are not your run of the mill right-handed hitters. These dudes crush righties. I say stack them up high in the lineup and let 'em eat. Maybe Bird will stay healthy and mash, and force a move to the three spot. That'd be cool. Right now though, squeezing Bird or Didi in there to split up the righties, and thus knocking Stanton and Sanchez down a spot, is unnecessary in my opinion.
11. So that TBD I have at second base, what's going to happen there? This is something we're going to have to discuss more in the coming days and weeks, but my guess right now is the Yankees will look for a low cost veteran to plug in for the time being, and if nothing really comes along, they'll stick with their internal options. Those internal options being Ronald Torreyes or Tyler Wade (or Thairo Estrada?) until Torres is ready. If the Yankees don't sign a free agent for second base, boy oh boy are the calls for Gleyber to start at second going to be loud in Spring Training. I think the chances of Torres breaking camp with the team next year are much better than they were this year, though I still think the Yankees would send him down to Triple-A Scranton for a few weeks, for two reasons. One, to make sure he's back up to speed after suffering a major elbow injury and missing half the season. I mean, that's obvious. Give the kid a chance to shake off the rust in a low pressure environment — Torres only had 96 plate appearances with the RailRiders before the injury, and has 235 above Single-A total, so it's not like the extra at-bats would be a bad thing — before asking him to take over second base. And two, service time. The Yankees usually don't manipulate service time, but in this case, it is worthwhile. Two weeks in Triple-A in 2018 equals gaining control of Gleyber's age 27 season in 2024. That is pretty huge. We're talking about buying a peak year of a potentially great player. Possibly his career year. The Yankees didn't manipulate Judge's service time because he's already 25 and under control through his prime. That wouldn't be the case with Torres. There is definitely something to be said for taking the best players regardless of service time. In this case, the potential reward is too great to not send Gleyber down for a bit, second base situation be damned.
12. Literally the only thing I do not like about the trade is that it adds more strikeouts to the lineup, but that is more of a minor nuisance than a major problem. Stanton is effectively replacing Matt Holliday in the lineup and Holliday struck out a ton this season (26.7%). Travis Sawchik wrote a neat post examining some adjustments Stanton made at the plate this past season, specifically the way he closed up his stance, which stops him from flying open and swinging through pitches on the outer half, and the result was a significant drop in strikeout rate: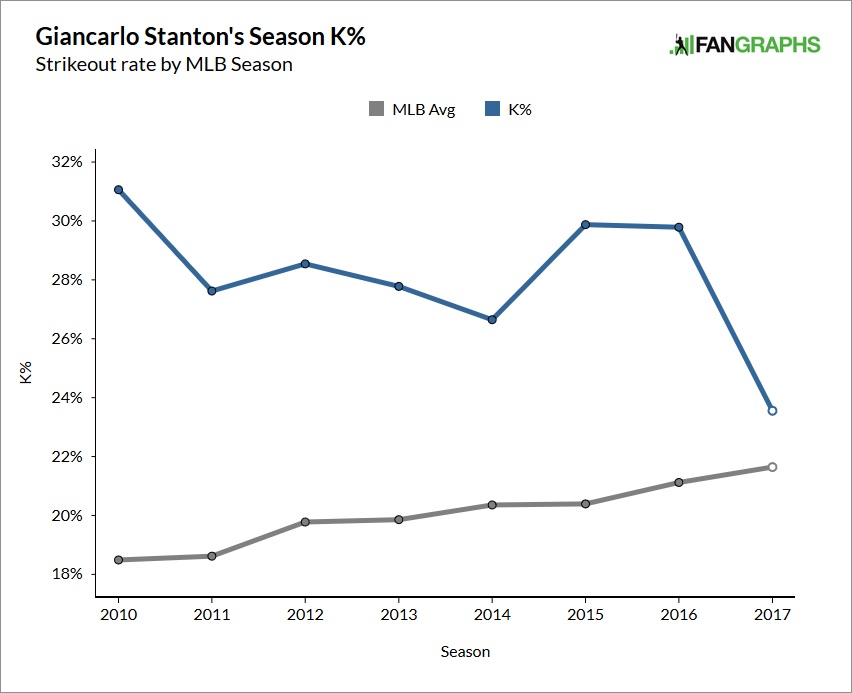 Stanton cut his strikeout rate from 29.8% in 2016 to a career low 23.6% in 2017, which was only a bit north of the 21.6% league average. Two extra strikeouts per 100 plate appearances. Not a huge deal. His previous career low was a 26.6% strikeout rate in 2014. Stanton has made adjustments to cut down on his strikeout rate and that's great. He's still going to strike out a bunch. The Yankees ran into some problems at times last season (especially in the postseason) when they couldn't put the ball in play, and adding Stanton won't solve that. But, when you're getting the game's premier power hitter in his prime, you live with the strikeouts because the reward is so great.
13. I can't help but feel a little bad for Castro. He spent all those years with the Cubs while they rebuilt, got to the NLCS with them in 2015, then was traded away the offseason before they won the World Series. He went through all the rebuilding pain without reaping any of the reward. Now Castro spent two seasons with the Yankees, made it to the ALCS this year, and got traded right before the club looks poised to take off. That must suck. This is a business though. That's the way it goes. I can't imagine Starlin will be with the Marlins long — they're probably going to flip him elsewhere for prospects since he's making real money ($22M total from 2018-19) — so maybe he'll get traded to a contender (the Angels and Mets jump to mind as possible landing spots). The timing just stinks. Castro was with the Cubs and got traded before they won the World Series. He was with the Yankees and now they traded him right when it looks like they're on the verge of being a powerhouse. Poor Starlin.
14. This is another one of those things worth a full post (or a series of posts) at some point in the future, but Clint Frazier is going to shopped around for a starting pitcher now, isn't he? I like Clint, he's pretty awesome, but Stanton and Judge aren't going anywhere, so he is capital-B Blocked as a corner outfielder. It only makes sense to put him out there on the trade market and see what offers come along. The Yankees could try to package Frazier for an established controllable big leaguer like, say, Gerrit Cole or Sean Manaea or Danny Duffy, though I wonder if they'll look to trade him for a pitcher version of Frazier. A young guy with a some MLB time under his belt who is not yet established in the show. A prospect-for-prospect challenge trade, essentially. Someone like Diamondbacks lefty Anthony Banda (they have to replace J.D. Martinez) or Braves lefties Max Fried or Luiz Gohara (Matt Kemp and Nick Markakis are sooo bad) might work. I dunno. Just spitballin' here. A trade doesn't have to happen now. The Yankees could hang on to Frazier and stash him in Triple-A when the season starts, then see what materializes at the trade deadline. This isn't something that has to be taken care of right now, before Spring Training. My point is it's just hard to see where Frazier fits now. Cashman and his staff wouldn't be doing their jobs if they didn't at least put Clint's name out there to see what kind of return they'd get.
15. A cool thing about the trade is that the Yankees gave up lower level prospects in Guzman and Devers. Guzman is really good, he could be a top 100 guy by midseason next year, but he's yet to pitch in a full season league. Devers is in rookie ball. You trade guys that far away from MLB for a dude like Stanton every single time. Anyway, my larger point is that the Yankees didn't give up any of their upper level depth pieces. They kept Frazier, they kept Wade, they kept Billy McKinney, they kept Luis Cessa, they kept guys like that. Are they great? No. But they're useful pieces who are a phone call away. Keeping Cessa means no scrambling for a spot starter at midseason, for example. I thought the Marlins would seek upper level talent in their salary dump trades but that has not been the case. Not with the Stanton trade and not with the Dee Gordon trade. They went with lower level players who aren't particularly close to contributing at the big league level. The Yankees got Stanton and got to keep their depth players. That shouldn't be overlooked. One of the reasons the Yankees look so formidable going forward is the way they've been able to raise their own internal replacement level, if that makes sense. They have quality players waiting in Triple-A as reserves.
16. Beyond his on-field impact, Stanton is going to boost television ratings as well as ticket and merchandise sales massively. The Yankees were already trending up in ratings and attendance. They're going to jump even more now. Stanton is one of the few players in baseball whose value transcends what he does on the field. He puts butts in the seats and gets people to tune in regularly. Know what the Yankees should do now? They should open the gates a little earlier prior to home games so fans can watch batting practice. Gates open two hours before first pitch now, so by time you walk in the door, the Yankees are pretty much done with batting practice. You get to see the bench guys hit their final round and that's it. Open the gates a half-hour earlier and fans will get to see Stanton and Judge do their thing, and as someone who has seen both of them take batting practice multiple times, it is fun as hell. The Yankees wouldn't necessarily make money from that (other than getting 30 extra minutes of concession sales) but it would still be a cool thing to do for fans. If they don't want to do it every single game, maybe do it once a homestand or something. Make these great players more accessible. There's the Judge's Chambers in right field. Put Stanton Island in the left field bleachers or something. Market the hell out of them.
17. And finally, wow does the trade look terrible for MLB and the Marlins. The Bruce Sherman/Derek Jeter ownership group bought the Marlins for $1.2 billion a few weeks ago and now they're crying poor and salary dumping their best players because they came into this venture without much capital. They're already looking for new investors for a cash infusion. They don't have any money and I don't see much of a plan to make the team competitive down the road. Their only focus seems to be eliminating debt. What are the odds the Marlins are going to spend all that revenue sharing money they receive next year on players? The Sherman/Jeter group knew the team's financial situation going into the purchase and so did MLB. They league reviews the finances of every prospective buyer. They knew this fire sale was coming, yet they approved the sale anyway. Pretty terrible. Forget the conspiracy theories about Jeter helping the Yankees. That's nonsense. Stanton would be a Giant or Cardinal if Jeter had his way. But instead, Stanton is a Yankee because instead of turning the franchise over to owners ready to invest, MLB allowed them to be sold to a cash-strapped outfit. Yeesh. Bad look.