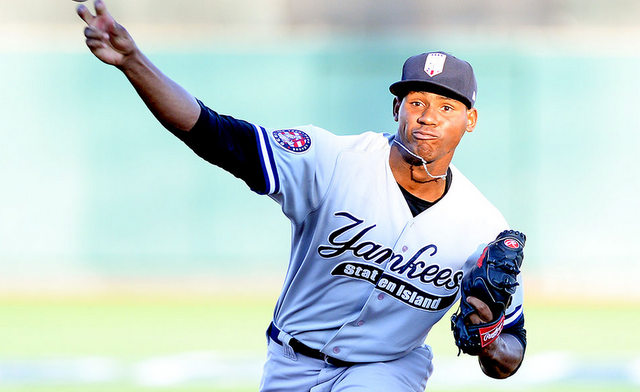 Now that we're a month into the offseason, Baseball America has started their annual look at the top ten prospects in each farm system. They hit on the Yankees yesterday. The list and system overview is free for all. The scouting reports and the chat are not, however. They're behind the paywall.
There are no big surprises in the top ten. The top few spots are as expected — at least the names are as expected, we can quibble about the order until we're blue in the face — before dipping into the plethora of power arms in the system. Here's the top ten:
SS Gleyber Torres
OF Estevan Florial
LHP Justus Sheffield
RHP Chance Adams
3B Miguel Andujar
RHP Albert Abreu
RHP Jorge Guzman
RHP Luis Medina
SS Thairo Estrada
RHP Domingo Acevedo
Quick reminder: OF Clint Frazier is no longer prospect eligible. That's why he's not in the top ten. He exceeded the rookie limit by four at-bats this year. Anyway, nice to see my main man Thairo get some top ten love. It's been fun to watch him climb from sleeper to 40-man roster player. I have some thoughts on the top ten, so let's get to them.
1. This is a pitching system now. I mentioned this as part of the Baseball Prospectus top ten write-up and it is worth repeating. The Yankees are loaded with pitching now. A year ago at this time they were a position player heavy farm system and hey, that's great. I'd rather build around bats long-term than arms. Now though, the farm system is full of power pitchers. Six of the top ten prospects are pitchers, and among the pitchers who didn't make the top ten are RHP Domingo German, RHP Jonathan Loaisiga, RHP Freicer Perez, RHP Matt Sauer, RHP Clarke Schmidt, RHP Dillon Tate, and RHP Taylor Widener. When those dudes are not among the six best pitching prospects in your farm system, you are packed to the gills with pitching. Inevitably many of these guys will get hurt or flame out, but when you have as many quality arms as the Yankees, your chances of landing some long-term keepers is quite high.
2. Guzman's velocity is super elite. It'll be a year or two before the Yankees get some impact from the Brian McCann trade, but so far things are looking good. Both Abreu and Guzman are among their top ten prospects, and, according to the Baseball America scouting report, Guzman "averaged 99 mph with his four-seamer in 2017 and just a tick less with his two-seamer." That is pretty insane. Among qualified pitchers, Luis Severino led MLB with a 97.8 mph average fastball velocity this year. Guzman averaged 99 mph, prompting J.J. Cooper to say he "has a strong argument that he's the hardest-throwing starting pitcher in baseball." There is more to pitching than fastball velocity, of course, but the various scouting reports say Guzman made big strides with his secondary stuff and his command this year, so he's starting to figure some things out. He's not going to average 99 mph forever because no one does, but he's starting from such a high baseline that even after losing some velocity in the coming years, he'll sit mid-90s no problem.
3. Spin rate is a thing in the minors now too. I wrote a little bit about spin rate last week, and while it is still a relatively new concept to fans and analysts, it's been a thing within baseball for a while now. The Baseball America scouting report mentions Medina has a "high-spin curveball," and in the chat, Josh Norris notes RHP Deivi Garcia has a "hook that measures at 3,000 RPMs." Only three big leaguers topped 3,000 rpm with their curveballs this season, for reference (min. 100 curveballs). RHP Drew Finley (curveball) and RHP Nolan Martinez (fastball) both earned notoriety for their spin rates as draft prospects. As I've said, spin rate is like velocity in that it's only one tool in the shed, it's not everything, but clearly it is something teams — the Yankees, specifically — target nowadays. The general belief is that spin is not really teachable. It's either in your wrist or it's not. The Yankees aren't just hoarding pitching prospects. They're hoarding high-spin prospects, the guys who are now very in demand at the big league level.
4. Mechanical changes contributed to Gilliam's breakout. OF Isiah Gilliam, the team's 20th round pick in 2015 and the recipient of a well-above-slot $550,000 bonus, was one of the easiest to overlook breakout stars in the farm system this summer. The switch-hitter spent most of the season at age 20, and he hit .275/.356/.468 (137 wRC+) with 15 homers and 10.8% walks in 125 Low-A games. That's a damn fine season. Norris notes in the chat that Gilliam "saw significant benefits to the changes he made with his stance and swing mechanics," and that's pretty interesting. Amateur and minor league video can be tough to come by, so here's what I dug up on Gilliam's right-handed swing: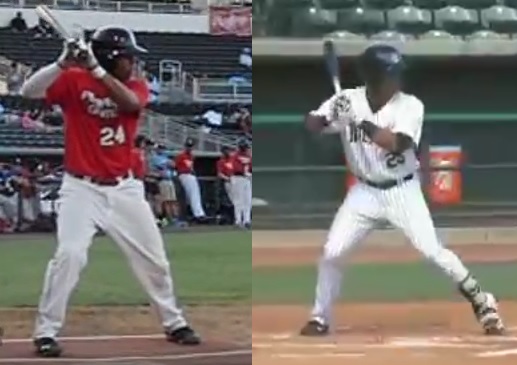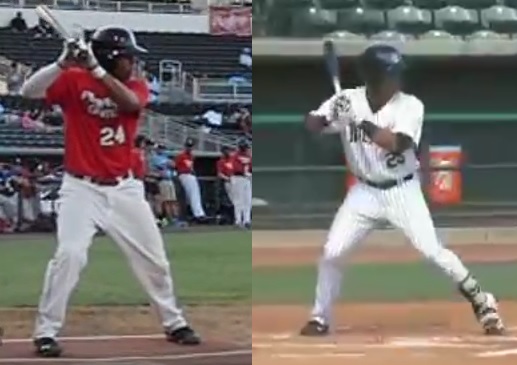 That's Gilliam in high school in 2014 on the left (video) and Gilliam with Low-A Charleston in 2017 on the right (video). I did my best to grab each image at the moment Gilliam begins to lift his front foot as part of his leg kick. Two things stand out. One, Gilliam has a wider base underneath him now. His legs are further apart. I suppose that could just be a camera angle issue, however. And two, his hands are much lower now. There's no funny camerawork there. His hands used to be way up near to head and now they're down by his chest, so yes, he has made some adjustments, at least to his right-handed swing. (There isn't much old video of his left-handed swing, weirdly.) Anyway, Gilliam had a real nice season, and is one of those quality under-the-radar prospects that makes the system so deep.
5. So apparently Wade's stock has dropped. Although he did not eclipse the 130 at-bat rookie limit this year, SS Tyler Wade is no longer rookie eligible because he accrued too much service time this season. Baseball America does not, however, consider service time when ranking prospects, so Wade is still prospect eligible. And yet, he's not in the top ten. In the chat, Norris said Wade "did not come close to (making) this list" even though "he still has a big league future … probably as a utility infielder." I like Wade. Have for a long time. I like the athleticism, the speed, the defense, and the strike zone knowledge. He just hit .310/.382/.460 (136 wRC+) with seven homers and 26 steals (in 31 attempts) in 85 Triple-A games as a 22-year-old. That's really good! I know Wade stunk in the big leagues, but he had 63 plate appearances in 81 days of service time. The kid never played. Last year Aaron Judge got called up, struggled in his brief MLB debut, then tumbled down the prospect rankings. Baseball America ranked Judge as the sixth best prospect in the system coming into this season, behind SS Jorge Mateo (who didn't hit) and RHP James Kaprielian (who was hurt all last year). Now Wade rips up Triple-A, struggles in an insignificant amount of big league playing time, and now he "did not come close" to ranking in the top ten prospects. Eh. I know I'm the high man on Wade, but if he's not close to the top ten prospects, the system is even deeper than I realized.