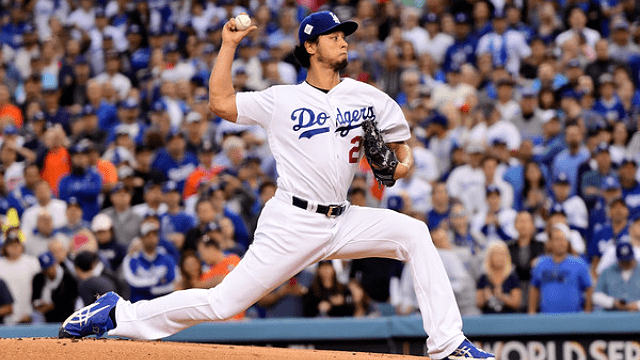 This offseason has been borderline insufferable. Outside of Giancarlo Stanton and Shohei Ohtani moving early, it's been a slow trickle of small signings and few big moves. Even the rumors have been sparse at best.
But one persistent rumor in recent weeks has been the Yankees' interest in Yu Darvish. After adding Stanton and re-signing CC Sabathia, the Yankees have around $22 million to work with in order to fill out their roster under the luxury tax. Darvish, as the best pitcher (sorry Jake Arrieta) on the market, should command an average annual salary north of $20 million, seemingly putting him out of their self-imposed price range.
It's easy to say that the Yankees should ignore the luxury tax and aim for the home run signing or multiple signings in general. The luxury tax shouldn't act as a salary cap and the team has enough revenue to offset yearly luxury tax bills, even the more punitive ones of the most recent Collective Bargaining Agreement. Plus, with few teams active on the free agent market, there is an opportunity to swoop in an find real bargains that were unforeseen in November.
But the Yankees are operating with the luxury tax as their cutoff this year, so staying under $197 million is an imperative that would take them out of the Darvish sweepstakes. That is, unless they decide to shed salary. The most commonly thrown-out name that the Bombers would move to get under their cap is David Robertson. Robertson was arguably the Yanks' best reliever down the stretch last year and will have a suitably big role in their pen this year.
So is it worth dealing a key reliever in order to sign a potential top-of-the-rotation starter? Below is the case for that very move:
1. Yankees have depth in the bullpen: Adding back Robertson was huge for New York last year. He allowed just four runs in 35 regular season innings before the trade and then came through with huge innings in the Wild Card Game and ALDS Game 5. The Yankees likely don't make the ALCS without him.
But with the depth of the Yankees' pen, Robertson may just be expendable. Aroldis Chapman-Dellin Betances-Tommy Kahnle-Chad Green-Adam Warren is still one of the best top five relief corps in the league. It's certainly better than the Chapman-Betances-Warren-Tyler Clippard-Jonathan Holder top five the Yankees had in April last year. It stands to reason that Holder can handle lower leverage innings or one of the other shuttle relievers can emerge as the sixth man in the pen (Ben Heller is my personal fave there).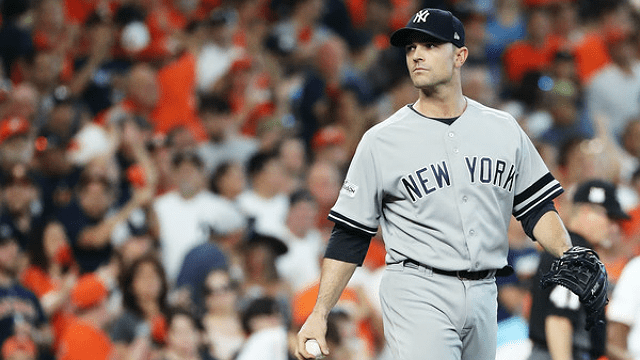 2. They don't have the same depth in the rotation: The argument against Darvish, in general, is that the Yankees have five starters, the same five starters that got them within a game of the World Series last year. That's fair. But those five are all injury risks or question marks for next year. Even Luis Severino, the 2017 ace, faces some hurdles after exceeding his career-high innings total by more than 40 innings last year.
Beyond the top five, what do the Yankees have? Luis Cessa and his perfectly mediocre track record is likely the first up. After him, it's a combination of prospects and Wade LeBlanc. Nothing inspiring, particularly when Cessa and co. will have to make plenty of starts in the average scenario.
Adding Darvish lessens the pressure on every other starter and allows the team to move slower with a Jordan Montgomery or Severino to keep them fresh late in the year. And adding another top-flight starter would allow the Yankees to shift 1-2 of their starters to the pen in October, mimicking what the Astros did in the 2017 but with a better bullpen to boot.
3. Darvish has a chance to be special in pinstripes: This can't be understated. Despite two pitch-tipping marred World Series starts, Darvish has a lot of talent and could be a key positive on the biggest stage.
The 31-year-old starter isn't too far removed from Tommy John surgery, but he's been successful since coming back. His K-BB rate has remained right around his pre-TJ levels, though he's given up more hits and home runs. After making adjustments to his pitch mix after his trade to Los Angeles, his strikeout rate spiked and his results improved.
His age is a concern, even though he fits the Yankees' mold of tall framed pitchers who strike guys out. Signing a starter over age-30 to a long-term deal can end terribly (see: Burnett, A.J.) and we may not see 2013 Darvish again. But even post-surgery Darvish is a valuable piece who can help the team maximize its current window despite a potential tail-off towards the end of any contract.
4. Robertson can get a strong (but not elite) return: While you may see this as exchanging one strength for another and making the bullpen weaker, Robertson can get the Yankees something in return. With just one year left on his deal, D-Rob won't elicit an Andrew Miller-esque return. But you're still talking about one of the better relievers in the game with an end-of-game and postseason pedigree.
Perhaps the Yankees would target an infielder to fill one of their other holes in return. But it's more likely they would be able to add to their stockpile of prospects while opening some room for a lesser free agent infielder.
The team obviously wants to unload Jacoby Ellsbury's contract. It just doesn't seem likely that will happen. Brett Gardner would be another option for a veteran to deal and trading him would open a spot for the Yankees' glut of outfielders. But after multiple OFs have already moved this offseason and plenty remain on the free agent market, it's tough to see what Gardner's market would be.
—
Shedding salary seems perverse for a team playing in the biggest market with ownership that isn't crying poor like their crosstown rivals. But that's where the Yankees are at right now if they want to add Darvish, or Arrieta for that matter. You'd hate to see Robertson leave yet again, but perhaps it may be worth it in this scenario.