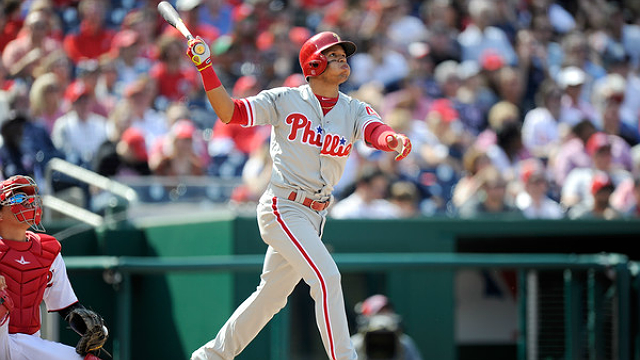 The Yankees continue to have a need on the infield as we enter 2018 and there are plenty of options out there. Among those teams with more infielders than they can handle are the Phillies.
They traded shortstop Freddy Galvis to open a spot for J.P. Crawford, but they likely still want to create room for second baseman Scott Kingery, who hit quite well in Double and Triple-A in 2017. Therefore, current starter Cesar Hernandez has been central to many trade rumors.
Is he a fit for the Yankees? Let's take a look.
Offensive Performance
The 27-year-old second baseman has spent five years in the majors and has been steadily improving since he received the full-time second base job in 2015. Formerly a negative at the plate, Hernandez put together a .294/.373/.421 (111 wRC+) line last season over 577 plate appearances. Furthermore, his walk rate remained at 10.6 percent while he cut down his strikeout rate by half a percent.
While playing 27 fewer games than the year before, Hernandez set career-highs for home runs (nine) and doubles (26). This improvement in power wasn't simply from the juiced ball: he added muscle prior to the season and was noticeably stronger, leading to a career-best .127 ISO. He actually specifically has a swing tailored to hitting the ball on the ground.
If you want to boil down Hernandez to his basics, he's a solid middle infielder with a good control of the strike zone, an above-average hit tool and some improving pop in his bat. He can contribute at the top of the lineup — he was the Phillies primary leadoff hitter last year — and has experience hitting near the bottom as well.
Another positive for 27-year-old? He's a switch-hitter. He has a higher exit velocity (85 mph) from left-side than right-side (83.9) but had higher ISO as a RHB in 2017. He's been slightly better in a smaller sample from the right-side for his career. However, he had the exact same wRC+ from each side facing opposite-handed pitchers in 2017.
He's a positive baserunner overall and converted 75 percent of steal attempts last year. Perhaps his biggest red flag though is that he can be a little over-aggressive and make a few bonehead plays on the bases here and there. In 2016, he was caught stealing on 13 of 30 attempts and needs to be reeled back from running too often.
Defensive Performance
Just like with his hitting, Hernandez has become a better fielder, though the metrics didn't like his 2017 nearly as much as they liked his 2016.
2015: -2.9 DRS, -4.9 UZR/150
2016: 4 DRS, 12.6 UZR/150
2017: -2 DRS, 3.1 UZR/150
He's pretty average at second. I'm intrigued to see what he does next to a worse shortstop as Freddy Galvis was Gold Glove-deserving right next to him. Still, Hernandez passes the "much better than Starlin Castro" test in the field.
Hernandez also provides some versatility. He played 170ish innings at 3rd base in 2014-15 and has been Phils' backup shortstop in a pinch. Hernandez also played 22 games in center field as a rookie. He shouldn't be relied on outside of second base though.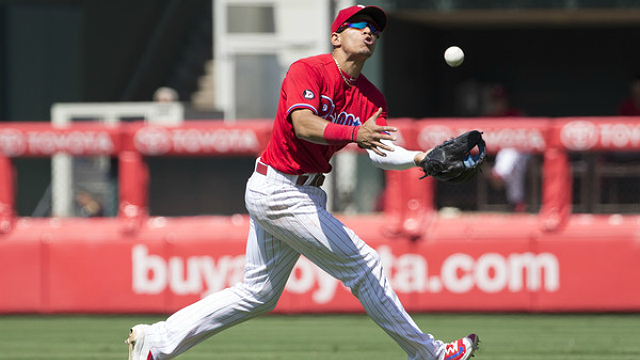 Injury History
Since Hernandez became the Phillies' primary second baseman, he's only been on the disabled list twice. Once was a freak dislocated thumb on a collision with Anthony Rizzo in 2015. The other was last season when he went down with an oblique injury. It kept him out for six weeks.
Contract Status
The 27-year-old second baseman is under team control for three more years and is a Super Two in his second year of arbitration. MLB Trade Rumors has him projected to make $4.7 million in 2018. He is also out of minor league options.
Hernandez's salary would fit well in the Yankees' plan to get under the luxury tax threshold and the three years of control are highly desirable as well.
What Would It Take?
Actual things! Controllable pitching for sure. Philadelphia has no reason to salary dump. Hernandez and his versatility — combined with Maikel Franco's struggles at third base — make it a fine proposition to keep him and make Kingery force the issue. The Phillies' rebuild has a glut of outfielders at the major league level but not nearly enough high-level pitching, so that would likely be the focus of any package.
The Phillies wouldn't be out of left field to request Justus Sheffield or Jordan Montgomery to headline a deal. They'd be giving up three years of a solid 3+ win middle infielder presumably in his prime. Perhaps the Yankees could get the Phils to consider Chance Adams or one of their other young fireballers as an alternative.
Side note: The Yankees and Phillies haven't exchanged players since the Bobby Abreu-Cory Lidle trade in 2006. That, of course, means Brian Cashman hasn't executed a trade with current Phillies GM Matt Klentak, who took over in Oct. 2015. Shouldn't hamper trade talks, just a fact I found interesting.
Does He Make Sense For The Yankees?
Indeed. Hernandez would plug right into the lineup, whether giving them a solid leadoff alternative to Brett Gardner or a consistent presence at the bottom of the lineup. Furthermore, in a lineup full of right-handed hitters, he'd always have the platoon advantage at the plate and his good eye would fit in well. He won't light the league on fire, but he's a stable bat for any team.
Hernandez surely has the talent to hold down second base. He'd be a welcomed change-of-pace in the field compared to Starlin Castro. Adding him would also the Yankees to take their time with Gleyber Torres and delay his free agency by keeping him in Triple-A for a few weeks. The only real question with him is how much it'd cost to acquire and whether the Phillies even want to trade him.