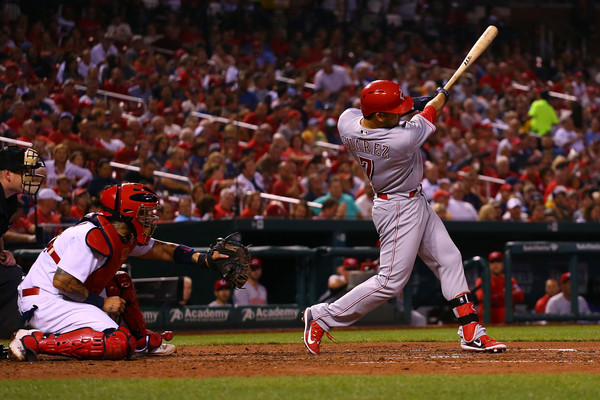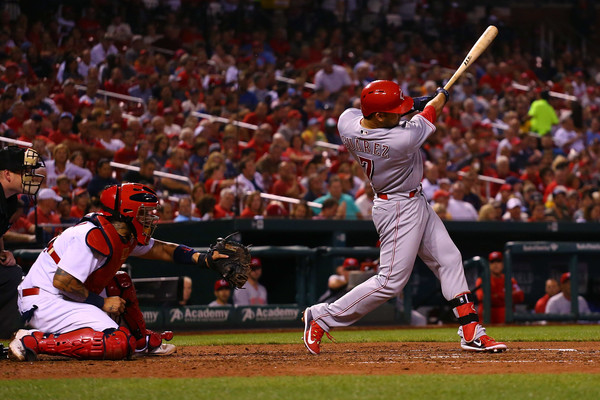 The Reds are entering their third full season of rebuilding in 2018, a course of action that began in earnest when they dealt Johnny Cueto and Mike Leake at the 2015 trade deadline. Over the next year they sent Aroldis Chapman, Todd Frazier, Jay Bruce, and Brandon Phillips packing, allowing the youth movement to begin. They still have a significant amount of work to do, though, with needs all over the field. And with stud third-base prospect Nick Senzel knocking on the door, they may be best-served dealing from their modest infield stockpile to fill some of those needs.
Let's take a look, shall we?
Scooter Gennett
Scooter Gennett briefly became a household name on June 6, 2017, when he hit four home runs in a game against the St. Louis Cardinals:
He was just the 17th player in MLB history to go deep four times in a game, and he may have been the unlikeliest of any of the players who did so (well, him or
Pat Seerey
). Heading into that game, Gennett was a career .279/.317/.422 hitter, with 38 home runs in 1637 AB (a rate of one home run per 43.1 AB); and it isn't as though he showed power in the minors either, as he had 28 HR in 1986 MiLB AB. But I digress.
Gennett, who was picked-up by the Reds on waivers just days before the season began, was hitting a respectable .270/.308/.450 (95 wRC+) before making his way into history – and that's not too far removed from his career norms when adjusted a bit for the juiced ball. That historical day presaged bigger things for him, though, as he hit .293/.344/.516 (121 wRC+) with 20 HR in 345 AB from June 7 forward. All told, he hit .295/.342/.531 (124 wRC+) with 27 HR on the season. And this, in just 497 PA.
Is there something to the breakout beyond the juiced ball? Maybe. Prior to that fateful day, Gennett hit 33.4% of his batted balls in the air, and pulled 34.3%. From June 6 forward, however, he had a 39.1% flyball rate, and a 42.5% pull rate, both of which represent sizable increases. It's a small sample size, to be sure – but, given what we know about the flyball revolution within the game, it stands to reason that he changed his approach over time, and embraced it.
With over 2,000 PA under his belt, Gennett is a .283/.323/.446 (103 wRC+) hitter entering his age-28 season. That is weighted quite heavily by his breakout (or fluke) 2017, but he has been average-ish or better in three of his four full seasons.
Contract Status: Arbitration eligible; under team control through 2019.
Position(s): Primarily 2B (4104 innings); 3B (71 innings in 2017); LF (55 innings in 2017); RF (41.1 innings in 2017)
Is there a catch? Aside from the possibility that this is a massive fluke from a player that was waived by the Brewers in March? Yes – he's not a very good second-baseman. He has -5.2 UZR/150 at the keystone for his career, and DRS has him at -4 per 150. He's played other positions sparingly, so those numbers aren't worth digging into all that much … but they're not good, either.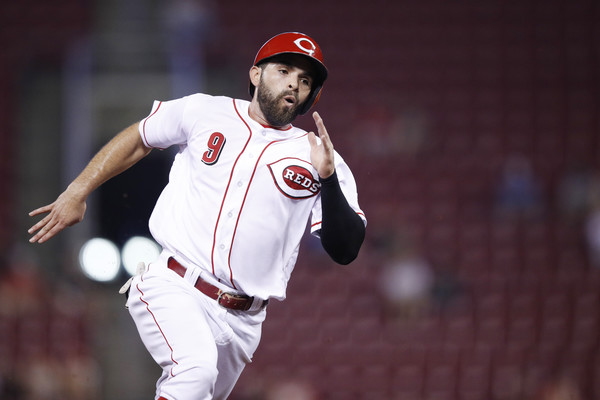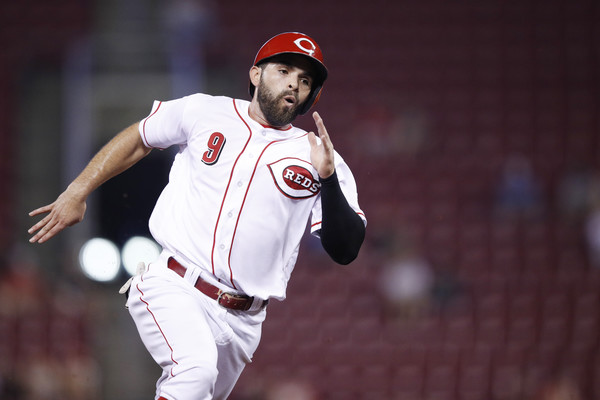 Jose Peraza
Peraza was the prize of the deal that sent Todd Frazier to the White Sox back in the winter of 2015, as a consensus top-100 prospect at an up the middle position (though, the precise position was still up in the air). He did well in his first season in the Reds organization, slashing .281/.333/.375 (104 wRC+) with 2 HR and 10 SB in half a season at Triple-A, and earning a call up in mid-May. Peraza batted .324/.352/.411 (103 wRC+) with 3 HR and 21 SB in 256 PA at the highest level, and seemingly secured his place in the Reds future.
Unfortunately, Peraza struggled tremendously in 2017, batting just .259/.297/.324 (62 wRC+) with 5 HR and 23 SB in his first full season in the majors. He found himself on the bench a few times in deference to Gennett and the since-departed Zack Cozart, and it's difficult to blame the Reds for that – even if he spent most of the season as a 23-year-old. He shuffled between second and short all season, too, with better numbers at the former (6.6 UZR/150 versus -8.7). And now, with Cozart in Los Angeles, the Reds are rumored to be interested in finding a shortstop of the future.
Does this mean that Peraza has fallen out of favor? Or are the Reds trying to motivate him? It might be a bit of both. What we do know is that Peraza will turn 24 in April, and that he possesses excellent base-running skills and the ability to play both second and short (he drew praise for his defense at both, though he always seemed best-suited for second due to a middling arm).
Contract Status: Pre-arbitration; under team control through 2022.
Position(s): Split between 2B (721.2 innings) and SS (672.1 innings)
Is there a catch? Peraza has never been one for patience at the plate. His BB% was below 5% in the minors, and it has been just 3.6% in the majors. There's a lot of upside here, but he has a lot of work to get there – and the Reds may still expect quite a bit given his age, pedigree, and moderate success in 2016.
Eugenio Suarez
A few years ago, Suarez was viewed as a slick fielding shortstop with questionable hitting ability, albeit with a shot at double-digit home runs and steals. He was traded to the Reds for Alfredo Simon prior to the 2015 season, and there were immediate signs that that wasn't an accurate portrait of the player. He hit 13 HR in just 372 AB with the Reds in 2015, and posted a -19.3 UZR/150 and -12 DRS 841.1 innings at short. Suarez was moved to third base in 2016, and he continued to hit for power (21 HR in 565 AB), but his overall production was a bit disappointing.
And then everything seemed to click.
Suarez slashed .260/.367/.461 (117 wRC+) with 26 HR in 2017, and both UZR (5.8) and DRS (5) loved his defense at the hot corner. He was somewhat hot and cold from month-to-month, but the sum of everything was good for 4.1 fWAR. And the fact that he increased his walks dramatically (from 8.1% to 13.3%) while cutting his strikeouts a bit (from 24.7% to 23.3%) is a terrific sign.
So why is the 26-year-old even here? Simple – Suarez plays the same position as the team's top prospect, who is close to ready for a shot, and he's entering arbitration. Of course, there's also a rumor that the Reds might deal him if he won't sign an extension, which kind of cuts both ways.
Contract Status: Arbitration eligible; under team control through 2020.
Position(s): Primarily 3B (2620.2 innings)
Is there a catch? Suarez is sure to be costly. Otherwise, 2017 looks fairly repeatable, given the flashes of potential in 2015 and 2016.
---
The Reds are looking for shortstop help, and pitching is the organization's biggest issue on the whole. That could make the Yankees a reasonable match in a vacuum – Thairo Estrada, Domingo Acevedo, Luis Medina, Dillon Tate, and Domingo German are all outside of the team's top-five prospects, and could conceivably be good fits in a deal. My trade proposal sucks, though, so I won't go much further than that.
I'm not too interested in Peraza as a reclamation project, unless he comes dirt cheap. He doesn't fit the Yankees semi-win now mode, after all. That leaves Gennett and Suarez, both of whom I'm interested in. The flyball heavy, pull-happy, lefty-swinging Gennett could feast in Yankee Stadium, even if he regresses a bit – and I can't imagine the Reds demanding too much, given his track record. Suarez, though, seems far safer, with more upside on both sides of the ball … and that's why he'd undoubtedly cost a sizable return. But, if you squint, you can kind of see a poor man's Manny Machado for significantly less in terms of talent and money.