We've got 14 questions in this week's mailbag. Only two more mailbags before pitchers and catchers report. Hooray for that. RABmailbag (at) gmail (dot) com is where you should send all your questions.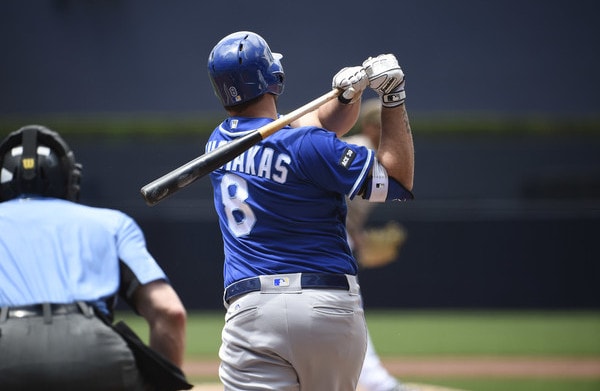 Rob asks: Thoughts on Mike Moustakas here? With the market slowing down, at what price would he make sense for the Yankees?
My problem with Moustakas on a pillow contract is that if his market does collapse to the point where he's willing to take a one-year deal, the Yankees are still hamstrung by the luxury tax plan, and other teams will probably offer more money. Moustakas wouldn't be wrong to want $20M or so on a one-year deal — he turned down $17.4M in the qualifying offer, remember — and that's not going to work for the Yankees. Sign Moustakas and trade David Robertson to clear cash? Yeah, doable, but even that might not be enough.
Given his batted ball profile — Moustakas, a left-handed hitter, pulls a ton of balls in the air — Moustakas would fit Yankee Stadium very well, and he'd give the Yankees an established veteran at third base. At the same time, he's always been a very low on-base player (.314 OBP last year and .305 OBP career), and his defense wasn't so hot last season, after he returned from a torn ACL. And the Yankees would have to give up two draft picks and international bonus money to sign him. Eh. If the Yankees are going to spend money on a third baseman, I'd prefer Todd Frazier to Moustakas. (I'd prefer Miguel Andujar to Frazier or Moustakas, but that's besides the point.)
Andrew asks: How low does JDM's asking price have to go for you to want the Yankees to get involved? Signing him likely would require going over the luxury tax threshold, more teams would get involved the lower his ask goes, and signing him would probably necessitate trading one of Gardy/Ells. But at some price, it has to be worth it, right??
Hypothetically … $12M annually for however many years? The Yankees have nowhere to put J.D. Martinez — they'd have to trade Brett Gardner or Aaron Hicks to clear a lineup spot — and that's money they can't spend on a real need, like an infielder or pitcher. Realistically, this won't happen. Martinez is still going to get paid well and the Yankees don't have the luxury tax space to take on a high-priced DH. At least with the Moustakas hypothetical, it would address an obvious need. Martinez creates an even bigger outfield logjam and doesn't solve any real problems.
Kyle asks: It's well documented (on this site) that the Yankees have a knack for getting pitchers to add velocity after being drafted. Any idea how they do it? Training regiment? Wind up adjustments? Picking players they see room to improve? And at this point, do you think they count on it when evaluating a potential draftee?
It's the result of all of the above. Their throwing program, adjustments, targeting pitchers they believe can add more velocity, all that. I can't find it right now, but Eric Longenhagen has said the Yankees look for a specific arm action because they know they might be able to help those guys add some velocity. (He said the Dodgers, who also have a track record of helping pitchers add velocity, do the same thing.) That doesn't mean the Yankees only look for that arm action, but it is something they scout. I'm not sure this is something the Yankees count on — could you really take a kid in the first round, or as the top piece in a trade, knowing he needs to add velocity to reach his ceiling? that seems pretty iffy — but it is a skill they have, and I'm certain it factors into the pitchers they target.
Pete asks: Under the proposed pitch clock plan, what happens if a pitcher steps off the rubber? Does the clock pause? Reset? Keep running? If it's either of the first 2, that won't necessarily help the "too much time between pitches" problem.
In MLB's proposal, the pitch clock would reset whenever the pitcher steps off the rubber. (That's how it works in the minors.) This is the workaround. If the pitcher is feeling rushed or needs more time to get on the same page as the catcher, he can step off and reset the clock. I don't think the implementation of the pitch clock will be a big deal. Within a year or two most pitchers in MLB will have worked with a pitch clock in the minors. They'll know the routine. If it helps move he game along, great. If not, well then we're right back where we started.
John asks: Is Domingo Santana a good comp for Florial? Seems like they have similar tools as well as weaknesses. I remember Santana being rated in the back end of top 100s lists which seems to coincide with where Florial is being ranked too. If all goes right for Florial, is that what we should expect? Nothing against Santana, but that would seem a far cry from the superstar we're all hoping for.
That's an interesting comparison. Santana was pretty darn good last season. He hit .278/.371/.505 (126 wRC+) with 30 homers and 15 steals (in 19 attempts). Lots of strikeouts (29.3%) and lots of walks (12.0%) too. That's pretty much Florial's offensive profile, right? Power, speed, on-base ability, swings and misses. A key difference here is handedness. Santana is a righty hitter and Florial is a lefty, so he'll have the platoon advantage more often.
Aside from handedness, the biggest difference between Santana and Florial is defense. Santana is a below-average defensive right fielder. Florial is expected to be an above-average center fielder. Pretty significant difference. Santana's raw offensive numbers look like what you could expect from Florial down the line, assuming things work out. Florial has the advantage of being a left-handed hitter and a better defender at a more premium position, however. That's what gives him a chance to be a +5 WAR player whereas Santana is more of a +3 WAR guy.
Dan asks: How will the slow free agency period affect future extensions? Will guys be more inclined to accept them knowing they could be their only payday? Or will guys try even harder to make it to free agency earlier knowing money isn't going to be out there for them when they're 30+?
Players and agents are taking notice of what's happening in free agency, no doubt, and I have to think they will begin to think more seriously about early career extensions. Guys like Bryce Harper and Manny Machado don't have to worry. It's the second and third tier guys who are really going to feel the contract squeeze. Would Alex Cobb have signed an extension a few years ago knowing what he does now? Lance Lynn? Todd Frazer? Gotta think the answer is yes.
Keep in mind this works two ways though. Teams know what's happening in free agency and might be less willing to give out extensions, because their chances of getting a favorable deal on a free agent are greater than they have maybe ever been. Someone like, say, Sonny Gray could approach the Yankees about an extension this spring. If you're the Yankees, and you're seeing what's happening with Cobb and Lynn, why give Gray an extension unless you're getting a sweetheart deal? I dunno. All I know is the MLBPA has to get it's act together.
Dan asks: Would the Yankees or Athletics consider a Clint Frazier for James Kaprielian trade?
I'm certain the Athletics would. MLB ready outfielder with lots of upside for a Single-A pitcher with lots of upside who hasn't pitched much the last two years because of injury, and is currently injured? Of course they'd do that. Why would the Yankees? I know Frazier is blocked, but that's not a good enough reason to trade him for an injured pitching prospect. Trade him for an actual MLB pitcher. The Yankees have plenty of pitching prospects as it is. Frazier for Kaprielian seems like a clear downgrade to me. The organization will be weaker after doing that deal.
Ralph asks: I'm hearing and reading a lot of good things about Nick Solak. If he has a strong camp as a non-roster invitee, is it possible that he could be a major league option for the Yankees, let's say if Miguel Andujar has a slow start, or becomes trade bait, could you envision Gleyber Torres moving to 3rd and Solak as the possible heir apparent alongside Didi?
I can't see it. Not this year. Solak only has a month's worth of Double-A time under his belt and he doesn't have to be added to the 40-man roster for two years. And the Yankees have lots of infielders on the 40-man roster ahead of him on the depth chart. If Andujar or Torres stinks, there's Tyler Wade, then Thairo Estrada, then Jace Peterson, who would be easier to remove from the 40-man roster when a spot is needed than Solak.
Of course, I said all this about about Jordan Montgomery last year. He had limited Triple-A experience and the Yankees had three fifth starter candidates on the 40-man roster and ostensibly ahead of him on the depth chart (Chad Green, Luis Cessa, Bryan Mitchell). Then Montgomery blew everyone away in Spring Training and won the fifth starter's job, even though he didn't have to be added to the 40-man yet. Could Solak shock the world and win the big league second base job in Spring Training? Sure. It's not impossible. It's just highly unlikely.
Andrew asks: Any interest in Detroit's Daniel Norris?
Yes as a buy low candidate. Norris wasn't very good last season (5.31 ERA and 4.39 FIP) and he's been on the disabled list four times in the last three seasons (groin, back, oblique twice). I suppose the good news is his arm is healthy, but still, four DL stints in three years? That's no good. Norris was pretty good when healthy in 2016 (3.38 ERA and 3.93 FIP), though he's never been a ground ball guy (career 38.7%), and that won't mix well with Yankee Stadium.
That all said, Norris will turn only 25 in April, and he is under control for another four seasons. He is exactly the kind of guy I was referring to when I said the Yankees could end up trading for "someone we haven't discussed at all this offseason" the other day. The Tigers stink and are early in their rebuild, so while Norris has four years of control, those four years might not line up with their timetable for contention. It only makes sense to make him available. I'm not trading Frazier for Norris, but if the Yankees could package some of their second tier prospects together, he's worth a shot.
Bob asks: Earlier this week you noted that Justus Sheffield was the only left handed pitching prospect in the Yankee organization. I know he was injured this year, but shouldn't Josh Rogers be considered a prospect? He seemed to be progressing nicely.
I said Sheffield is the only worthwhile left-handed pitching prospect in the system, and by that I mean someone with a chance to carve out a career as an average or better big leaguer. Rogers is still a prospect — he had a 3.24 ERA (3.38 FIP) in 91.2 innings with High-A Tampa and Double-A Trenton this year before needing surgery to remove bone spurs from his elbow — and I was always higher on him than most (he wasn't in any top 30 organizational lists except mine), but there's not a ton of ceiling there. He might carve out of a career as a fourth or fifth starter, someone like that. He's not another Montgomery though. I think his likelihood of success is much lower. Hopefully Rogers proves me wrong and come back strong from elbow surgery. It'd be nice to have another lefty in the pipeline. For now, Sheffield is far and away the best southpaw prospect in the system. Everyone else is kinda iffy.
Dylan asks: Who do you think is a better defender in center, Gardner or Hicks? On days when it's Judge and Stanton in right and DH, what's the best defensive alignment in LF and CF? What would you guess are going to be the top 3 used outfield defensive alignments?
Probably Hicks at this point. Gardner is still a pretty darn good defender, but he is 34 now, and he's surely lost a step with age. Hicks has those fresh just turned 28-year-old legs. I'd rather have him running around center field for a full season. Let Gardner take it easy in a corner. Now, that doesn't mean Gardner can't play center field. He can for sure. It just means that if given the choice between Gardner or Hicks in center field on an everyday basis, Hicks is probably the better option. I'm sure there will be days Gardner is in center flanked by the two big guys in the corners. And really, I'm not sure the Yankees have a bad possible defensive alignment. Gardner in center, Hicks in center, Jacoby Ellsbury in center, Aaron Judge in left, whatever. They'll be in good shape no matter who is out there.
Steve asks: Could the Yankees send a prospect to the Astros for them take on more Brian McCann's salary this year? That could free up about $5.5M of dead money.
They could, sure. There's nothing in the rules preventing this sort of trade. I can't ever remember something like this happening though. Work by Kevin Creagh and Steve DiMiceli a few years ago shows that $5.5M in prospects isn't worth a whole lot. A pitching prospect in the 76-100 range of a top 100 list is worth about $15.6M according to their calculations, and I'm guessing that number has only gone up.
That's all theoretical though. In the real world, the Yankees are a team up against a (self-imposed) payroll limit, and the Astros know that. That $5.5M in payroll space is valuable to the Yankees. The 'Stros won't take a middling prospect in exchange for taking on $5.5M in salary just because that's what surplus value says. They have leverage against the Yankees and would ask for a pretty good prospect. I know I would. I'm not sure how realistic this is. Seems like the two sides would have trouble finding common ground.
Henry asks: Will Arods newfound popularity and with younger writers seemingly more steroid tolerant does he ever get the necessary 75%?
I don't think so. Barry Bonds and Roger Clemens aren't gaining much Hall of Fame traction and those guys never officially tested positive for performance-enhancing drugs or anything. Alex Rodriguez admitted to using banned substances while with the Rangers and was then suspended (an entire season!) because of the Biogenesis scandal. That is far more hard evidence than what we have against Bonds and Clemens. The writers aren't going to change their minds because A-Rod is good on television. Maybe this will change over time — A-Rod joins the Hall of Fame ballot in 2022 and can then stay on for ten years, so we're talking about a debate that could run into 2032 — but I'm not going to hold my breath. There's still a very large segment of the voting body that won't vote for PED guys.
Dan asks: We always talk about how RH heavy the lineup will be, but in particular it's weird to see a Yankee lineup so few switch hitters (zero if Hicks is sitting/hurt). Then again it seems like there are just fewer in general, at least among regular players. Are switch hitters becoming extinct?
Hicks is the only switch-hitter on the 40-man roster, and furthermore, the best switch-hitting prospects in the farm system are Single-A outfielder Isiah Gilliam and rookie ball shortstop Wilkerman Garcia, neither of whom is a top prospect or close to reaching MLB. It does seem like switch-hitting is becoming something of a lost art, so I looked up some numbers.
| | Total PA by SH | % PA by SH | SH with 120 OPS+ | SH with 100 OPS+ |
| --- | --- | --- | --- | --- |
| 2017 | 24,041 | 13.0% | 3 | 9 |
| 2010 | 25,885 | 14.0% | 4 | 6 |
| 2000 | 26,365 | 13.9% | 6 | 11 |
| 1990 | 30,183 | 18.8% | 4 | 14 |
There has been a decline in plate appearances by switch-hitters for sure — there were only 26 teams in MLB back in 1990, remember — though not necessarily a significant drop in overall quality. There seem to be about four great switch-hitters (120 OPS+) and about ten league average switch-hitters (100 OPS+) in a given season, give or take. At least based on my sample of four arbitrarily selected years.
I think we are a very long way off from switch-hitters becoming extinct. It's a valuable skill and instructors and parents still teach their kids to do it. It is very hard to be a productive MLB hitter from one of the side of the plate. Doing it from both sides is pretty amazing in my opinion. Perhaps we'll one day reach the point where pitching is so good that all hitters have to focus on getting better from one side of the plate to have a chance. I think that day is still a long way away.