We've got nine questions in this week's mailbag. RABmailbag (at) gmail (dot) com is where you can send all your questions each week. Fire away.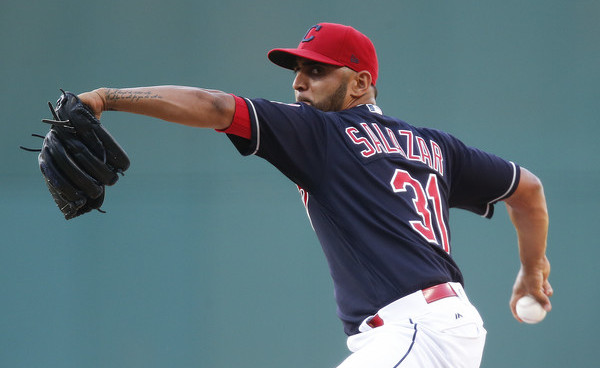 Tom asks: There has been very little 'trade rumor talk' of a trade with the Indians for Danny Salazar. I know there is an injury history tagged to Salazar but of all the pitchers the Yankees are supposedly linked to, Salazar has the most upside. Age, contract, strikeouts, tenacity all fit. Would the Indians consider a trade headlined with Clint Frazier and Chance Adams? Having 5 starters already signed would take a little of the injury fear away right?
Ken Rosenthal says the Indians are willing to move Salazar, presumably as a way to address other needs and open a full-time rotation spot for Mike Clevinger, who had a 3.11 ERA (3.85 FIP) in 121.2 innings last year. Salazar will turn 28 next week and he is under team control for another three years, plus he strikes out a ton of batters (29.9% last two years), so he seems to fit what the Yankees want in a pitcher. It's kinda surprising we haven't heard the Yankees connected to him yet.
The biggest issue with Salazar is the injury history, like Tom said. He is basically this generation's Rich Harden. Dynamite stuff, impressive results, can't stay on the field. Last year Salazar missed two weeks with elbow inflammation and nearly two months with shoulder soreness. Two years ago he missed basically the entire second half with elbow and forearm problems. Also, Salazar had Tommy John surgery back in 2011, so the ongoing elbow woes are especially troubling.
On one hand, the Yankees have the rotation depth (on paper) to give Salazar extra rest now and then, and if they feel he needs a little two-week break at some point(s), they can stash him on the phantom disabled list. On the other hand, his injury history is really scary, and it's possible no amount of extra rest will avoid another blowout. Salazar obviously has a ton of ability. He's a true difference-maker when healthy. I just have so little faith in his ability to stay healthy. I'd have a tough time sending top young players to Cleveland for Salazar given his history of arm problems. Then again, it doesn't matter what I think. It only matters what the Yankees think.
Eric asks: Imagine a Major League Team has an outfield of Clint Frazier, Jake Cave, Billy McKinney and Tyler Wade as a 4 OF. Would they out-WAR any MLB teams this year?
There's a pretty good chance Frazier, Cave, and McKinney are the starting outfielders for Triple-A Scranton this season, with Wade getting spot starts out there. Not a bad little Triple-A outfield, I'd say. There are still six weeks to go before Spring Training and a lot — A LOT — of free agents waiting to be signed, so the current outfield situations around the league can and will change.
Steamer projections have the Frazier/Cave/McKinney/Wade unit at +0.5 WAR in 350 plate appearances in 2018, with Wade accounting for most of that (+0.4 WAR in 245 plate appearances). Don't get mad at me. I'm just the messenger. Last season the average outfield racked up 2,079 plate appearances. Let's call it 2,000 even. Pro-rating that +0.5 WAR in 350 plate appearances across 2,000 plate appearances gives us +7.1 WAR total. Here are the projected 2018 outfield WAR totals, per Steamer:
1. Angels: +13.5
2. Yankees: +12.1
3. Red Sox: +11.8
…
12. Frazier/Cave/McKinney/Wade: +7.1
…
30. Giants: +1.8
Based on our slapped together and not at all meant to be taken seriously calculations, the Frazier/Cave/McKinney/Wade outfield is on par with the Rays (+7.5), Twins (+7.4), and Cubs (+7.1) outfields. I'd take the under. I'm all in on Frazier and Wade. Cave and McKinney? Not so much. Given full-time at-bats, I think the Frazier/Cave/McKinney/Wade outfield would maybe crack +4 WAR next year. Maybe. That's if Wade hits right away.
Update: I'm dumb. I screwed up the calculation somewhere along the line. The Frazier/Cave/McKinney/Wade outfield pro-rates to +2.9 WAR in 2,000 plate appearances, not +7.1 WAR. That makes much more sense to me.
Rich asks: Could Brandon McCarthy be a trade option?
I don't think so. If anything, I think McCarthy would've been a potential CC Sabathia replacement as a veteran back-end guy you know won't give you a ton of innings, but also probably won't kill you with his performance. The Yankees are looking for a top arm now. They're in on Yu Darvish, Gerrit Cole, Michael Fulmer, guys like that. They want a difference-maker. McCarthy's more of a depth arm, and the Yankees have plenty of depth arms.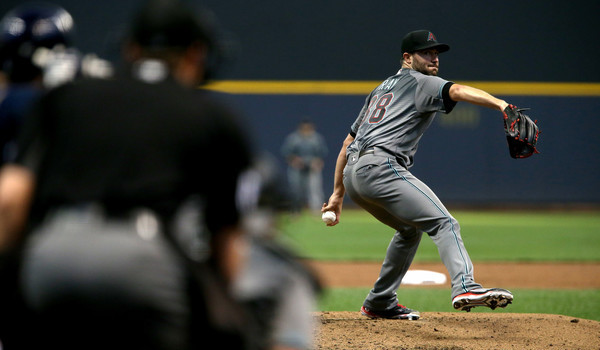 Joseph asks: Hi Mike…your thoughts and chances Yankees can swing a deal for left-hander Robbie Ray…(Justus Sheffield is off limits)? Thanks.
Thoughts: Hell yes. Chances: Close to zero. And why would you make Sheffield off limits? Aren't we all hoping Sheffield turns into Ray, a high-strikeout lefty? Six years of Sheffield for three years of Rays doesn't seem unreasonable to me. Sheffield hasn't pitched above Double-A and Ray is a legitimate All-Star caliber pitcher. You're trading the three extra years of control for the lower risk impact pitcher you can plug right into your rotation.
The Diamondbacks are contending though, and I'm not sure a contending team would be willing to trade their second best starting pitcher. Patrick Corbin will be a free agent next winter and he's an average-ish innings guy. It makes sense that Arizona would be open to trading Corbin. Ray is a stud — he had a 2.89 ERA (3.72 FIP) with 32.8% strikeouts in 162 innings last year — and he's under control three more years. He strikes me as one of the more untouchable pitchers in baseball.
Richard asks: Which Yankees who played in the minors in 2017 are out of options for 2018? Two names in particular are Higashioka and Shreve. If Higashioka is out of options, then wouldn't the Yankees look to trade him (like Mitchell) and also look for a third-string catcher with options? The problem with Shreve would be that the Yankees at this time have six relievers (Betances, Chapman, Green, Kahnle, Robertson, Warren) plus a long-man would push him out of a 7-man bullpen.
Four players on the 40-man roster are out of minor league options: Chasen Shreve, Austin Romine, Gary Sanchez, and Aaron Hicks. They can't go to the minors without first passing through waivers. Sanchez isn't going anywhere and chances are Hicks isn't either. The Yankees don't seem all that interested in replacing Romine, so I think his roster spot is safe. Shreve is the only out-of-options player whose roster spot is truly in jeopardy right now. (Kyle Higashioka has two options remaining.)
The Yankees have those six relievers for seven bullpen spots, plus plenty of young arms for the seventh spot (Domingo German, Ben Heller, Jonathan Holder, etc.), so Shreve could get pushed out in the numbers crunch. I guess it depends on whether they want a middle innings lefty to start the season. My guess is, if the season started today, Shreve would be the seventh reliever in the bullpen until his performance warranted a change. Just a guess.
Anonymous asks: Is there any situation where using 4 actual outfielders would be the best defense?
Sure. In fact, the Cubs used a four-man outfield against Joey Votto at one point last season. He doubled anyway. Here's the video:
The four-man outfield would have to be used against an extreme fly ball hitter, right? Or, really, an extreme non-ground ball hitter. The extra outfielder will help against line drives and pop-ups. Here are the hitters with the lowest ground ball rates the last two seasons (min. 600 plate appearances):
Brandon Belt: 27.7%
Matt Carpenter: 28.7%
Brandon Moss: 29.8%
Mike Zunino: 31.2%
Chris Carter: 31.3%
Few hitters bunt to beat the shift regularly, and I don't think anyone would bunt to beat the four-man outfield regularly either. There are definitely times it could make sense to play a four-man outfield. An extreme non-ground ball hitter with an extreme non-ground ball pitcher on the mound? Sure, why not?
William asks: So the Yankees want another cost controlled start with high upside right? What about Alex Reyes? He has team control for 6 years if I'm not mistaken. He projects as a 1 or 2 starter with swing and miss stuff. I just read the Cards want to make him their closer coming off Tommy John. I would assume his stock isn't as high as before he had Tommy John when he was the best pitching by prospect on the planet. I would definitely send them Clint for him or even trade from strength and send Betances for him? What are your thoughts.
I don't think the Cardinals would sell low on Reyes, who was arguably the top pitching prospect in baseball before he blew out his elbow last Spring Training. He had a 1.57 ERA (2.67 FIP) in 46 mostly relief innings in his big league debut in 2016, and was expected to hold down a rotation spot last season. You're only getting five years of control with Reyes, not six, because he spent last season on the big league disabled list and accrued service time. But still, five years is pretty great, even if 2018 is something of a rehab/get back to normal year.
This is a really unique situation because you're trading for an injured pitcher, but also a young pitcher (23) with considerable upside and five years of team control. I don't love the idea of trading Frazier for two years of Cole, but five years of Reyes? That's a different story, even considering the risk involved with recent elbow reconstruction. I'd trade Clint for Reyes in a heartbeat. (The Cardinals are loaded with outfielders, both at the MLB level and in Triple-A. They don't need Frazier. But that's besides the point.)
If St. Louis trades Reyes, which I think is incredibly unlikely, they're not going to trade him for prospects. They're trading him for MLB help because they want to win right now. Two years of broken Dellin Betances for Reyes? That's not happening. What about Chad Green for Reyes? Five years of a healthy shutdown reliever for five years of an injured top pitching prospect? My guess is the Cardinals would simply put Reyes in the bullpen before doing that.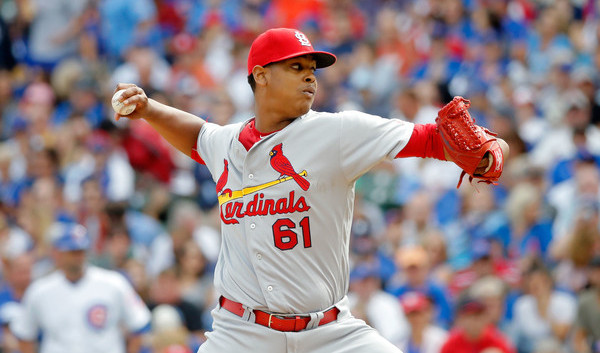 Steven asks: What's your opinion of signing Danny Valencia as a free agent & what do you think it would cost? He can play 3B & 1B. This would give more time for Gleyber & Andujar to become MLB ready.
Huh, I didn't realize Valencia was a free agent. He had a down 2017 season, hitting .256/.314/.411 (95 wRC+) with 15 homers in 500 plate appearances, but as recently as 2016 he hit .287/.346/.446 (116 wRC+) with 17 homers in 517 plate appearances. Even if you think his offense will return to 2016 levels in 2018, there are still two issues with Valencia. One, he's a disaster in the field. He moved to first base full-time last year because he's so bad at third. I don't think the Yankees could look at him as a potential third baseman. He's just too terrible in the field.
And two, Valencia has a reputation for being a pretty crummy teammate. The guy has been pretty productive overall the last few years, yet he's been on four teams in the last four years and seven teams in his eight MLB seasons. It seems like teams pick him up then get sick of him real quick. The Yankees are trying like crazy to build a strong clubhouse. That's basically all Aaron Boone talked about during his introductory press conference. Build good relationships and a positive culture. Fair or not, I think the Yankees would steer clear of Valencia given his reputation, especially now that his production may be slipping.
Anonymous asks: Would it make sense for the Yankees to attempt to bring back Ivan Nova? He wouldn't cost as much as Gerrit Cole and seemed to have a decent "innings eater" year.
I have seen enough Ivan Nova for one lifetime, thanks. He had a 4.14 ERA (4.46 FIP) last season under the tutelage of the brilliant and unimpeachable pitching coach Ray Searage, including a 4.77 ERA (4.85 FIP) in 151 innings after April, which is basically the Ivan Nova we saw too much of in pinstripes. No thanks. He is the same guy he's always been. He just happened to have one of his hot streaks after the trade last year. Look forward, not backward. Forget about past Yankees mediocrity like Nova (and Eduardo Nunez). Nostalgia won't win you anything.