There are nine questions in this week's mailbag. As always, send your questions or comments to RABmailbag (at) gmail (dot) com and I'll get to as many as I can each week.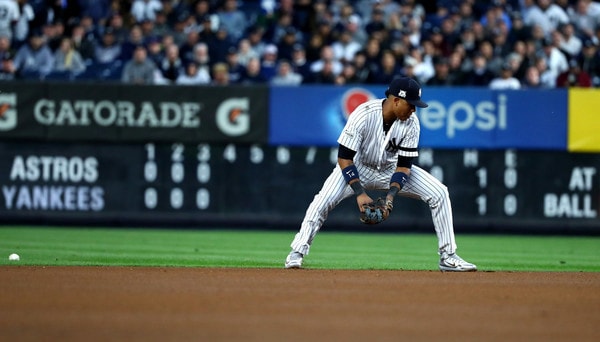 Many asked: What about a Starlin Castro reunion?

Earlier this week Ken Rosenthal reported Castro wants to be traded because he doesn't want to go through another rebuild. I don't blame him. Unfortunately he has no official recourse. Starlin can ask for a trade but the Marlins are under no obligation to trade him. There aren't many teams out there that need a second baseman. The Yankees, Mets, Rays, and Tigers. That's about it. Maybe the Brewers if they've really soured on Jonathan Villar.
In theory, yes, the Yankees could make a trade to reacquire Castro. His salary is the sticking point though. Castro was included in the Giancarlo Stanton trade specifically to offset salary. Now we're talking about the Yankees reacquiring that salary. They could ask the Marlins to eat some money, but then the Yankees would have to give up a higher quality prospect, and who wants to give up a good prospect for Castro?
If there's a way around the money, yeah, I suppose a reunion could make sense. My guess is part of the Yankees' motivation for trading Starlin was opening second base long-term for Gleyber Torres, and bringing Castro (and the two guaranteed years on his contract) back throws a wrench into that plan. Things are shaping up for the Yankees to get a free agent infielder at a bargain rate (Neil Walker?). I'd rather go that route than reunite with Castro.
Brian asks: If the Yankees trade for someone who was offered arbitration do they have to use the previous team's filing offer? Pretending the new team/player don't come to an agreement does the team that acquires Cole have to go with the Pirates offer and do they know that number in any official capacity now?
They'd inherit the former team's filing number. It's like inheriting a contract. Whatever the player's previous team agreed to is what you get. No do-overs. I can't imagine the Yankees or any other team would know what salary the Pirates are filing prior to the filing deadline. Teams don't broadcast their contract negotiations. Keep in mind the Yankees could trade for Gerrit Cole, assume the Pirates' salary filing number, and still sign Cole to a contract of any size. They don't have to go to a hearing with Cole just because the two sides filed salary figures.
Daniel asks: Do the Yankees have any realistic QO free agents after 2018?
The Yankees have four players scheduled to become free agents after the season: Adam Warren, David Robertson, CC Sabathia, and Brett Gardner. Gardner's contract includes a $12.5M club option for 2019 — that comes with a $2M buyout, so it's effectively a $10.5M decision — so the Yankees could bring him back for another year. They won't make him the qualifying offer if they walk away. The Yankees aren't going to pass on the $12.5M option and give Gardner the ~$19M qualifying offer. They'd just pick up the option.
Warren and Sabathia clearly are not qualifying offer candidates. As for Robertson, he could definitely be a qualifying offer candidate if he has a typically excellent Robertson year. He won't get ~$19M annually with his next contract, but his total guarantee should exceed the qualifying offer amount. Maybe two years and $30M? Or three years and $40M? Realistically, Robertson is the only qualifying offer candidate next offseason, unless the Yankees land a qualify free agent on a one-year contract at some point in the next few weeks.
Update: Forget it, Robertson can not receive the qualifying offer. As per the new Collective Bargaining Agreement, players can only receive the qualifying offer once in their careers, and the Yankees gave on to Robertson back when he became a free agent a few years ago. My bad.
Alberto asks: I was wondering and who had a better rookie season between Mark McGuire & Aaron Judge? (Putting aside the HR)
Judge was better almost completely across the board. McGwire struck out less and had a slightly higher batting average, otherwise Judge was better in every way. Here's the head-to-head comparison between 2017 Judge and 1987 McGwire:
AVG: McGwire (.289 vs. .284)
OBP: Judge (.422 vs. .370)
SLG: Judge (.627 vs. .618)
wRC+: Judge (173 vs. 157)
OPS+: Judge (171 vs. 164)
HR: Judge (52 vs. 49)
XBH: McGwire (81 vs. 79)
BB%: Judge (18.7 vs. 11.1)
K%: McGwire (20.4 vs. 30.7)
fWAR: Judge (+8.2 vs. +5.1)
bWAR: Judge (+8.1 vs. +5.7)
Among players who had enough plate appearances to qualify for the batting title, Judge just had the third best rookie season ever by OPS+, behind Shoeless Joe Jackson (193) and Jose Abreu (173). By bWAR, Judge had the fourth best rookie season ever behind Mike Trout (+10.8), Shoeless Joe (+9.2), and Dick Allen (+8.8). Even with the second half slump that undoubtedly cost him the AL MVP award, Judge just put together one of the greatest rookie seasons in baseball history.
Stephen asks: If Ellsbury would waive his NTC, would a trade based on Ellsbury for Desmond work for both teams? Thanks Mike.
Interesting! The total salary commitment is similar. There is $68.5M remaining on Ellsbury's contract and $62M remaining on Ian Desmond's contract. Ellsbury has three years left on his deal, however. Desmond has four. Ellsbury's contract comes with a $21.857M luxury tax hit. Desmond's is a much more palatable $15.5M. A straight-up trade would save the Yankees luxury tax space and give them a more versatile player, since Desmond can play the infield and outfield.
The obvious questions: Why would Ellsbury agree to go to the Rockies, and why would the Rockies be interested in this trade? They're loaded with outfielders even with Carlos Gonzalez now a free agent. I suppose the Yankees could kick in a prospect — or an actual big leaguer since the Rockies are kinda good now — to make it worthwhile. I just don't think Ellsbury would approve a trade, and I don't think the Rockies would have much interest either, even after Desmond had a 69 wRC+ and -0.8 WAR in 2017. Interesting idea though. I'd be cool with a hypothetical one-for-one trade. Desmond fits the roster better and there'd be a good chunk of luxury tax savings involved.
Lonnie asks: Suppose the Yankees pull a trade for a starting pitcher that doesn't involve one of the current starters. Which pitcher gets the bump to the pen or do you think the Yankees can move to a 6 man rotation?
Jordan Montgomery to Triple-A seems like the obvious solution. I don't love sticking him in the bullpen as a long man. The Yankees could call Montgomery up for regular spot starts to give the other starters rest, and whenever someone inevitably gets hurt, he comes up to join the rotation full-time. A six-man rotation is possible as well. (The Yankees would have to go to a three-man bench to make it work.) I think Montgomery to Triple-A makes the most sense. He'll end up making like 25 big league starts anyway. That's usually how it goes.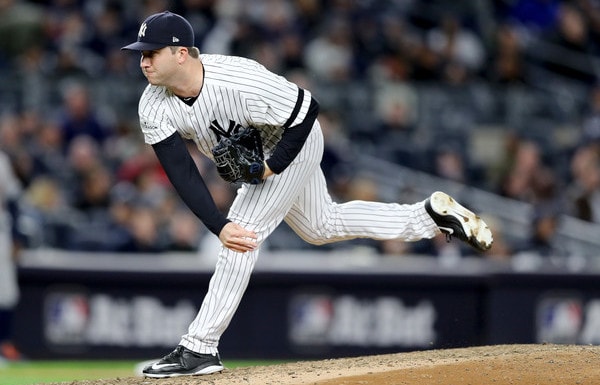 Jackson asks: Do you think the Yankees would ever play with the idea of having two guys (Chad Green and Adam Warren maybe?) throw 3-4 innings each 20ish times a year to reduce the workload on other starters? Ideally each would have to go through a lineup no more than twice, could get the ball to the back end of the bullpen in the 7th/8th, and would only need two days of rest before being ready to pitch out of the pen again.
It's a great idea in theory. Use Green and/or Warren for three or four innings at a time every four or five days, thus turning them into 30-appearance/100-inning relievers. It can be difficult to put into practice. The starter can be cruising and you don't want to take him out. You run into an extra-innings game and need to use your multi-inning guy on a day he isn't scheduled to pitch. There are all sorts of situations that can arise to create headaches. We don't know what type of manager Aaron Boone will be. Maybe he's open to using Green or Warren in this way, regardless of the game situation. If the Yankees have a two-run lead in the ninth, maybe he'll let Green throw a third inning to finish it off rather than go to the closer. I — and many other statheads — like the idea of a 120-inning super reliever. I'm not sure it's all that practical though.
Bob asks: Keeping in mind my trade proposal sucks, who says no first Yankees or Marlins for a Christian Yelich and J.T. Realmuto for Gary Sanchez trade?
The Marlins. They could get a more for Yelich and Realmuto, either in separate trades or together in one trade. Realmuto is really good — he's not too far behind Sanchez in terms of overall value — and Yelich is a stud. Trading Gary would be a very tough pill to swallow, but when you're getting a quality young catcher in return and a player like Yelich, it's a no-brainer. How would the roster work with Yelich joining the five (six, really) other outfielders? Beats me. Just get the talent and figure it out later.
Joe asks: With the signing of Jay Bruce to the Mets, what chances do you give the Yankees to reopen talks with the Giants about an Ellsbury trade?
Great chances the Yankees restart talks and poor chances a trade actually goes down. The chances of any Ellsbury trade remain quite small.  The Giants were said to be in on Bruce before he re-upped with the Mets, so now they still need outfielders with one fewer free agent outfielder available. They could get Ellsbury for basically nothing. Just assume like $6M in salary in each of the next three years and send the Yankees a non-prospect.
Last month we heard the Yankees tried to engage the Giants in an Ellsbury trade — supposedly he might be willing to waive his no-trade clause to go to San Francisco — but the Giants were said to be looking at other options first. Now one of those options are off the board. The problem for the Yankees is basically every non-Bruce free agent outfielder is still available, so the Giants have plenty of options to sift through. I'm hopeful a trade can be worked out eventually, even if it's not until the end of Spring Training. I'd still bet the farm against it.