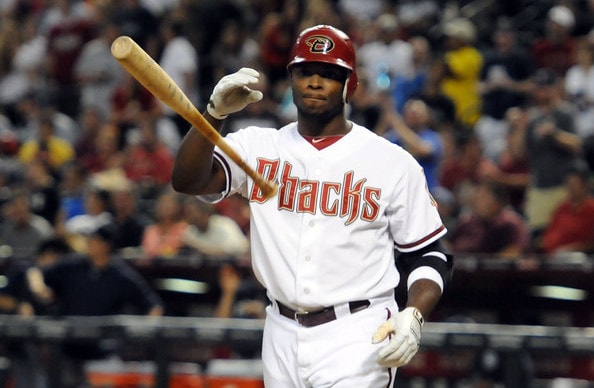 We're in a new month — well, we're almost out of the new month now, but close enough — and that means it's time for another jaunt through the MLB Trade Rumors archives. January is typically the slow time of the offseason. That is especially true this year. In a "normal" offseason, all the big free agents would be off the board by now, and teams would spend January making minor tweaks and upgrades. Nothing crazy.
That was the case back in January 2013. The Yankees handled all their major offseason business in the first few weeks of the offseason, most notably re-signing Mariano Rivera, Andy Pettitte, and Hiroki Kuroda. They lost Alex Rodriguez to hip surgery in December and responded by signing Kevin Youkilis. Sigh. There wasn't much left to do in January other than plug the final few roster openings and add depth. Let's get to this month's retro rumors.
January 2nd, 2013: Yankees Notes: Young, Cashman, Stanton
The talk of the Yankees swinging a trade for Giancarlo Stanton was inevitable, but it's not likely for a number of reasons, writes Chad Jennings of The Journal News.  For starters, the Marlins' willingness to talk doesn't signal that they're looking to give Stanton away for chump change.  The Yankees also might not be able to afford the kind of prospect dump that such a deal would require.
Heh. I usually don't include speculation in these posts, but this was too good to pass up. Jennings had the right idea. he was just five years too early. Back in January 2013, Stanton was coming off his first real monster season, during which he hit .290/.361/.608 (158 wRC+) with 37 home runs in 123 games as a 22-year-old. Five seasons of control of a guy who just did that at age 22? Goodness. The Yankees had a great big opening in right field at the time (Nick Swisher became a free agent that offseason), and at the time their best prospects were Gary Sanchez, Mason Williams, Tyler Austin, and Slade Heathcott. I wonder how Williams, Austin, Heathcott for Stanton would've gone over at the time. Probably not well in Yankeeland.
January 4th, 2013: Yankees Designated Chris Dickerson For Assignment
The Yankees have designated outfielder Chris Dickerson for assignment, Chad Jennings of the Journal News reports. The move creates 40-man roster space for Russ Canzler, who was claimed off of waivers from the Indians.
Aw man. I was the world's biggest Chris Dickerson fan. He wasn't young (30 at the time) and he spent the 2012 season as an up-and-down guy, hitting .316/.417/.515 (161 wRC+) with seven homers and 17 steals in 69 games. I would've been totally cool with going with Dickerson as a platoon right fielder rather than re-signing Ichiro Suzuki to a two-year contract. (ZiPS projected Ichiro for +1.1 WAR in 628 plate appearances and Dickerson for +0.6 WAR in 294 plate appearances.) It wouldn't have worked out though. Dickerson wound up with the Orioles and hit .238/.266/.400 (78 wRC+) in 109 plate appearances as an up-and-down guy in 2013.
January 4th, 2013: Yankees, Astros, Rangers, O's Interested In Berkman
7:18pm: The Yankees also have interest in Berkman, reports Ken Davidoff of The New York Post (on Twitter). Berkman spent time with New York in 2011, but Davidoff says it's unclear if he would consider a reunion since the two Texas teams are involved.
The Yankees needed a DH at the time and Lance Berkman was coming off an injury plagued 2012 season with the Cardinals. He was limited to 97 plate appearances. The year before though he hit .301/.412/.547 (163 wRC+) with 31 home runs in 587 plate appearances. One-year contract as the DH? Sure, why not. Berkman wound up with the Rangers on a one-year deal at $10M, and hit .242/.340/.359 (90 wRC+) with six homers in 294 plate appearances. Sadly, that would've been an upgrade over what the Yankees got from their DHs in 2013.
January 7th, 2013: New York Notes: Hairston, Pavano, Francisco
The Yankees don't have interest in Jim Thome, Hale reports.
JIMMER. No one signed Thome that offseason, which I guess wasn't surprising. He was a platoon DH at that point of his career — a productive platoon DH, he hit .252/.344/.442 (112 wRC+) with eight homers in 186 plate appearances in 2012 — and he was 41 years old, so if he didn't hit, he was useless. Thome still took walks though, and he'd have been able to pop a few into the short porch. Alas. Thome was voted into the Hall of Fame earlier this week.
January 7th, 2013: Quick Hits: Mariners, Lohse, Soriano, Gerut
Bob Klapisch of the Bergen Record hears that agent Scott Boras asked the Yankees last month if they'd consider re-signing free agent closer Rafael Soriano to a one-year contract (Twitter link). The Yankees flatly denied the request, Klapisch writes. ESPN.com's Buster Olney says the Yankees prefer the value of the draft pick and accompanying spending limit increase to the on-field value of Soriano (Twitter link).
Soriano opted out of his contract early in the offseason and was having trouble getting work. The Yankees had no interest in bringing him back. Rivera was returning from his 2012 knee injury and David Robertson had jumped Soriano on the setup man depth chart. The draft pick was more valuable to the team than Soriano at that point. He wound up with the Nationals, where all Scott Boras clients still looking for a job late in the offseason seem to land, and the Yankees used the draft pick on Ian Clarkin, who was traded for Robertson last summer. Baseball is a flat circle.
January 8th, 2013: Nationals Discussing Morse With Several Teams
The Yankees are indeed among the interested teams, Andrew Marchand of ESPNNewYork.com reports (on Twitter).
The Nationals re-signed Adam LaRoche in January 2013 and had no room for Mike Morse, who'd put together some nice seasons during their rebuild years. He hit .291/.321/.470 (113 wRC+) with 18 homers in 430 plate appearances in 2012, which represented the worst of his three full seasons with Washington. From what I remember, the Yankees never made a super serious push to acquire him to fill their DH spot, though I do remember fans wanting him. Morse wound up bouncing from Seattle to Baltimore in 2013, and hitting .215/.270/.381 (81 wRC+) with 13 homers in 337 plate appearances. Yuck.
January 10th, 2013: Marcus Thames Retires
Marcus Thames has been hired as the hitting coach for the Yankees' high A-ball affiliate in Tampa, the club announced via its Twitter feed, effectively ending the outfielder's ten-year Major League career.  Thames last appeared in the majors in 2011, posting a .576 OPS in 70 plate appearances for the Dodgers.  According to Baseball Reference, the 35-year-old Thames made a little over $6.2MM in his career.
And thus began Thames' climb up the hitting coach ranks. He went from High-A Tampa in 2013 to Double-A Trenton in 2014 to Triple-A Scranton in 2015 to the big league team in 2016. Thames was the assistant hitting coach in 2016 and 2017, and he's reportedly set to take over as the main hitting coach this year. Hell of a year he had in 2010, eh?
Good times.
January 13th, 2013: Yankees Haven't Intensified Pursuit Of Justin Upton
There are several teams looking into a trade for the Diamondbacks' Justin Upton, but right now it doesn't seem as though the Yankees will be among them.  The Bombers would still like to add a right-handed hitter but haven't picked up their pursuit of Upton since he was nearly dealt to the Mariners, major league sources tell Jon Paul Morosi of FOX Sports.
The 2012 Diamondbacks underperformed a bit — they went 81-81 after going 94-68 in 2011 — and GM Kevin Towers blamed it on the team's 20.5% strikeout rate. (That was high back then.) So, in response, Towers added the contact happy Didi Gregorius and traded away Chris Young and Upton. Upton, who was only 24 at the time, went to the Braves a few weeks after this rumor for contact hitter Martin Prado and prospects Nick Ahmed, Randall Delgado, Zeke Spruill, and Brandon Drury. Oy vey. Upton then hit .263/.354/.464 (129 wRC+) with 27 home runs in 2013. In related news, the D'Backs went 81-81 in 2013 and 64-98 in 2014.
As for the Yankees, they were connected to Upton pretty much all offseason, though the thought was they didn't match up well for a trade. Arizona wanted a contact-oriented big leaguer in return and the best the Yankees could offer at the time was, uh, Eduardo Nunez? I really, really wanted them to get Upton though. He hasn't become the megastar expected during his prospect days, but he's a very productive and comfortably above-average big leaguer. I wonder how things play out if the Yankees had Upton in right field from 2013-15. Do they have Aaron Judge now?
January 23rd, 2013: Quick Hits: Rockies, Yankees, Wells
The Yankees discussed Delmon Young internally, but didn't have great reports on his performance, Jon Heyman of CBSSports.com reports (on Twitter). The Phillies signed Young to a one-year contract yesterday.
Young, who was a terrible baseball player, had been awaiting trial in New York after getting into a fight and making anti-Semitic remarks in April 2012, yet it was his performance the Yankees were concerned about. Yeesh. Young hit .267/.296/.411 (89 wRC+) with 18 homers in 2012. He then hit .260/.307/.407 (98 wRC+) with eleven homers for the Phillies and Rays in 2013. He's been out of baseball since 2015. His legal problems are ongoing.
January 26th, 2013: Minor Moves: Rottino, Head, Neal
The Yankees have signed outfielder Thomas Neal to a minor league deal, according to Matt Eddy of Baseball America.  Neal joins a list of righty-hitting, corner-outfield options in Yankees camp including Russ Canzler, Matt Diaz, and prospects Zoilo Almonte (a switch-hitter) and Melky Mesa.  Neal was released by the Indians earlier this month.
What a group. Diaz was released during Spring Training, Canzler was lost on waivers in February, and the other three guys all saw time in pinstripes in 2013. Their numbers:
Zoilo: 25-for-106 (.236) with one homer
Neal: 2-for-11 (.182)
Mesa: 5-for-13 (.385)
Zoilo went 25-for-106 (.236) with one homer that season. Youkilis went 23-for-105 (.219) with two homers. Good grief. Isn't it so much better being able to call up a guy like Clint Frazier when you need a spare outfielder? Hooray for the farm system. Neal wound up in an independent league and has been out of baseball since 2015, by the way. Both Zoilo (.355/.421/.536) and Melky 2.0 (two games) were active in Mexico last season.
January 29th, 2013: Gio, Cruz, Rodriguez, Cabrera Linked To PED Clinic
Gio Gonzalez and Nelson Cruz are among the MLB stars who have been linked to a supplier of performance enhancing drugs in a report from Tim Elfrink of the Miami New Times. A Miami-based clinic sold PEDs to athletes from various sports, according to the report. The names of Cruz, Gonzalez, Alex Rodriguez, Melky Cabrera and Bartolo Colon were found in the records at Biogenesis, an anti-aging clinic located near the University of Miami.
The Biogenesis scandal was born in January 2013. I forgot Gio Gonzalez got caught up in that. He was eventually cleared of all wrongdoing and was not suspended. A-Rod was rehabbing his hip injury at the time and he was the one guy who fought his suspension tooth and nail. Everyone else negotiated a suspension. A-Rod went scorched earth during his appeal, and the process wasn't complete until 2014. The Biogenesis scandal was quite the black eye for baseball, and nowadays it is mostly forgotten.
January 29th, 2013: Yankees Working To Void Alex Rodriguez's Contract
The Yankees are exploring multiple avenues to void their contract with Alex Rodriguez, several baseball sources told ESPNNewYork.com's Wallace Matthews and Andrew Marchand.  Rodriguez was among several MLB stars who were linked to a PED clinic in Miami, Florida.  Even if the charges turn out to be true, however, the Bombers may have little chance of getting out from under his contract.
The Biogenesis stuff brought about a lot of dumb. Much of it from me. The Yankees were looking for any way out of A-Rod's contract and the thought at the time was they'd be able to void the deal on the basis of being treated by a doctor without the team's permission. That was never going to work. I can't say I blame the Yankees for trying though. They did get out of his salary in 2014 thanks to the suspension, and they didn't have to pay him one of his home run milestone bonuses on the basis of him no longer being marketable, which is silly, but whatever. I prefer to forget about all this stuff. It was such a headache.