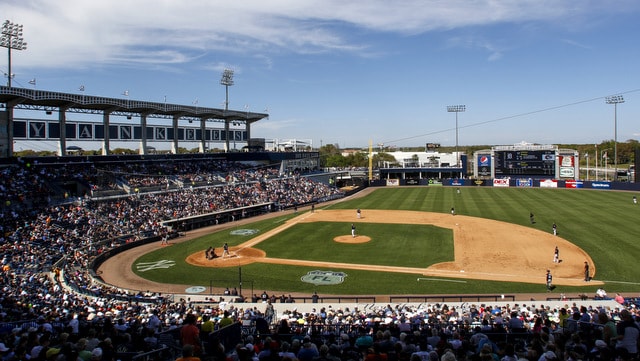 We are now exactly four weeks away from pitchers and catchers reporting to Tampa for Spring Training. Not even a full month. I so can not wait. Let's get this season started already. Should be fun. Anyway, I have some thoughts on things, so let's get to 'em.
1. The Yankees missed out on Gerrit Cole — can we even say they missed out? the Yankees never seemed all that desperate to get him — yet I still think they wind up adding another starter before Opening Day. Just a hunch. The Yankees have reportedly checked in on way too many pitchers this offseason (Cole, Yu Darvish, Alex Cobb, Michael Fulmer, Chris Archer, Patrick Corbin, etc.) for me to think this is nothing more than due diligence. They have rotation depth, but they also have some physical red flags in the current rotation, specifically Masahiro Tanaka's elbow and CC Sabathia's knee, and both Luis Severino's and Jordan Montgomery's workloads last year. Adding pitching help is never a bad idea, right? The Yankees have plenty of prospects to trade and they want to win right now, so adding another starter seems worthwhile. I still think it'll happen even after Cole was sent to the Astros, and I can't help but think the Yankees will end up with a starter we haven't heard anything about this offseason. There's a Clint Frazier for young Braves pitcher (Sean Newcomb? Luiz Gohara? Max Fried?) trade to be made.
2. Speaking of adding an arm, I have to think a trade is more likely than a free agent signing given the luxury tax plan. The Yankees do have approximately $22M to spend, but any worthwhile free agent pitcher is going to chew up most of that $22M, leaving little for infield help or midseason call-ups. It would force the Yankees to trade Brett Gardner or David Robertson or Adam Warren or Dellin Betances, and who wants to do that? The Yankees literally have more prospects than Triple-A starting lineup spots. Packaging a few for an affordable and controllable (and not on the wrong side of 30) starter makes way too much sense. A free agent signing would be simple and straight forward. Keep the prospects and get a starter! Best of both worlds. The luxury tax plan makes it unlikely, however. To me, trading for a starter seems so much more likely than splurging for a free agent. (Now watch them sign Darvish.)
3. I'm glad the Yankees were able to sign all their arbitration-eligible players prior to Friday's salary filing deadline. I mean, that is always the most likely outcome, but I thought maybe the Yankees would take a hard line with their arbitration-eligible players this year given the luxury tax plan and the need to save as many dollars as possible. "Either sign for this or we'll go to a hearing and beat you like we did with Betances last year." That sorta thing, which was probably a silly thing to think on my part. Teams want good relationships with their players, after all. Betances got a nice raise from $3M to $5.1M — had he won his arbitration hearing and been paid $5M in 2017, he's probably looking at $7M or so in 2018, which shows how these things carryover in future years — and everyone's salary is in line with the projections, not that public projections should be taken as gospel. No headaches, not animosity, nothing. Just done deals. Good.
4. Over the weekend Buster Olney (subs. req'd) wrote about teams no longer valuing leadership in free agents — "Leadership is organic within each group of players. You're not paying for that," said one executive — and while I agree with the "not paying for that" part, teams clearly do value leadership. The Yankees do, anyway. Leadership is one of the reasons Sabathia was re-signed and Gardner hasn't been traded. Those guys are on market value contracts though. The Yankees aren't paying extra for leadership. The going rate for a quality over 35 starter is one year and $10M. The going rate for a slightly above-average outfielder is $13M a year. That's what Sabathia and Gardner are making. The Yankees aren't paying for their leadership but they still want it. That leadership developed organically over time and it just works for this group of players. With another group of players, say the veteran retread roster of the 2013 Yankees, it didn't work. Sabathia and Gardner (and Robertson) won't be around forever. The Yankees seem to have a real good group of mature young players — Aaron Judge and Greg Bird in particular stand out for carrying themselves well beyond their years, for what it's worth — and I think the next leadership core is going to begin emerging this year.
5. Does Jabari Blash fit in anywhere going forward, if at all? He came over in the Chase Headley salary dump because the rules say the Yankees had to get someone in return, and since then, I've just kinda assumed Blash would be the first guy to get the axe when a 40-man roster spot is needed. And he might be. But ZiPS projects Blash for 25 homers and a 113 OPS+ (and +1.2 WAR) in 2018, and I started thinking about how well the Yankees have identified buy-low candidates in other organizations, and also the fact Frazier has been involved in trade rumors this winter. The Yankees have lots of outfielders, but if Frazier gets traded, Blash is the top right-handed hitting depth outfielder in the minors. Jake Cave and Billy McKinney are lefties. Blash has always had power …
… and the Yankees love their physically huge (6-foot-5 and 235 lbs.) athletes, so he fits their M.O. No, he's not
that
young (29 in July), but who cares how old he is if he can contribute? Blash has two minor league options remaining, and if Frazier goes, he could be the de facto up-and-down right-handed hitting power bat. Maybe he has a Shane Spencer or Shelley Duncan month in him. Who knows?
6. Exactly one year ago today the Yankees announced plans for their Winter Warm-Up event, which was pretty darn cool. Players and prospects went around the city and met with fans, and there was a big town hall event as well. The Yankees have yet to announce any plans for similar events this year. That doesn't necessarily mean they won't have a Winter Warm-Up this year. It just means they haven't announced anything yet. (Last year was a World Baseball Classic year, so Spring Training started earlier than usual. Perhaps the Winter Warm-Up will be a little later this year.) I hope they do something similar again this year. I didn't go to any of the events last year, but I watched the videos, and it was cool to see the Yankees reach out and connect with fans. Last year's Winter Warm-Up was the closest thing the Yankees have had to a winter caravan event in a very long time. I'd be pretty disappointed if they don't do something similar this year. The team is fun, the players are young, and fans are excited. Hopefully plans are in the works and there's another Winter Warm-Up event soon. It's a cool thing and the Yankees should keep doing cool things.