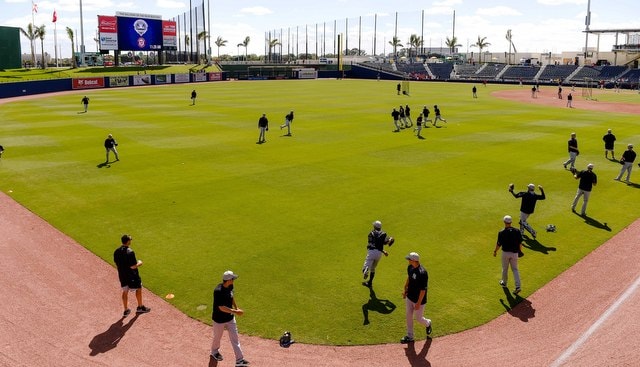 We are exactly three weeks away from the biggest non-news day of the year. Pitchers and catchers reporting marks the beginning of Spring Training and the beginning of the long marathon that is the new baseball season, but nothing really happens that day. Still exciting though. Anyway, I have some thoughts, so let's get to 'em.
1. Baseball America released their annual top 100 prospects list yesterday and I don't really have anything to say about them — Keith Law is also posting his top 100 list this week and I'll have some thoughts on that when the time comes — other than to say I'm glad my man Miguel Andujar is getting some love. He's been a personal favorite for a few years now and I'm pretty excited he has a chance to be the third baseman this year. I always kinda assumed Andujar would fly under the radar and never make a top 100 list, but that's out the window now. Oh well. Prospect rankings don't mean much anyway. Baseball America ranked Aaron Judge as the 90th — 90th! — best prospect in baseball last year. No one knows anything. In the end, we're all just making somewhat educated guesses. My somewhat educated guess a few years ago was Andujar had the skills to be a pretty darn good ballplayer, and he is on that path right now. And the Yankees supposedly made him an untouchable in trade talks. I am: excited.
2. Between the various top 100 lists — it's safe to say the Yankees will have four-to-seven prospects on each top 100 list this spring — and the big league roster, not to mention their financial might, is any team set up better for the long haul than the Yankees? They have three franchise cornerstone position players at the big league level in Judge, Giancarlo Stanton, and Gary Sanchez, all of whom are in their mid-20s. They have a young frontline starter in Luis Severino and strong complementary 20-somethings in Jordan Montgomery and Sonny Gray. (I'd argue Gray is much more than a complementary player.) The farm system is loaded. And when ownership feels like spending, the Yankees can beat any contract offer for any free agent. The Yankees are in a pretty great place right now. That isn't to say this can't all go wrong. It absolutely can. Players can get hurt, players can underperform, prospects can bust, the money can turn into bad contracts … we know the risks. That's baseball. Point is, the Yankees as an organization are very healthy right now. They have gobs of young talent and the ability to spend big. Things weren't looking so hot three or four years ago. Now? I'm not sure any team is set up as well as the Yankees going forward.
3. My guess right now, in a hypothetical world where the Yankees add no one of significance between now and the start of the regular season, is the Opening Day infield would be Andujar at third, Tyler Wade at second, and Ronald Torreyes on the bench. It would probably be more like a Wade/Torreyes platoon at second, really. This is what I think would happen in this scenario. Not necessarily what I would do. I don't think the Yankees want to carry Jace Peterson and his $900,000 salary on the bench from get-go given the luxury tax plan — he strikes me as more of an emergency option — and I think the Yankees want to give Gleyber Torres some more time in Triple-A. He is coming back from a serious injury and three weeks in the minors equals pushing his free agency back one year. We're talking about "buying" his age 27 season in 2024. That's big. There is too much to be gained to not send him down for a few weeks, really. And if Torres goes down and rakes, I expect the Yankees to bring him up in fairly short order. Perhaps by May 1st. If Wade isn't cutting it, he'll go down. If Wade is playing well, the Yankees will figure out a way to keep him around. So that's my guess right now. Wade at second, Andujar at third, Torreyes on the bench if the season started today.
4. The season does not start today, however, and my hunch is the Yankees still have one more move in them before the start of Spring Training. Well, no, before the start of the regular season. It sure seems like we're heading for a lot of free agents looking for jobs in March. That's when the Yankees might get the best bargain and pounce, and it'll also give them a chance to evaluate things in camp. If it becomes clear they need another pitcher, they can get a pitcher. If the infield kids aren't looking so hot, they can get an infielder. I just think another move has to be coming at some point. The Yankees have $22M to spend under the luxury tax threshold and they're going to spend it. You can make a case for saving that money for a big midseason addition — setting aside $10M means they can take on a $20M player at midseason because the luxury tax hit is pro-rated — though that can be tricky. You never know who will be available on the trade market and the prices could be jacked up. My guess right now is the Yankees do end up making a trade for a young controllable starter, and it'll be someone we haven't discussed at all this offseason. Not a free agent signing.
5. The 2018 Hall of Fame class will be announced tomorrow and, based on Ryan Thibodaux's public ballot tracker, it appears Vladimir Guerrero, Chipper Jones, and Jim Thome are locks for induction. Trevor Hoffman and Edgar Martinez are right on the bubble. This could be the first five-man Hall of Fame class since the inaugural class in 1936 (Ty Cobb, Walter Johnson, Christy Mathewson, Honus Wagner, Babe Ruth.) I have no real opinion about this year's potential Hall of Fame class. I don't think Hoffman is a Hall of Famer, but whatever. Anyway, next year both Andy Pettitte and Mariano Rivera will be Hall of Fame eligible for the first time, so that'll be fun. Rivera will get in on the first ballot for sure. He won't get 100% of the vote — no one is getting 100% anytime soon — but he'll sail in with ease. Pettitte is on the fence. He's a borderline candidate to start with, and the fact he admitted to using human growth hormone will undoubtedly cost him some votes. Some voters steadfastly refuse to vote for players with ties to performance-enhancing drug ties, even loose ties that are nothing more than speculation. Pettitte admitted it. That'll cost him. I don't think Andy gets in next year. He might end up a Fred McGriff type who doesn't come particularly close to induction, but stays on the ballot all ten years.