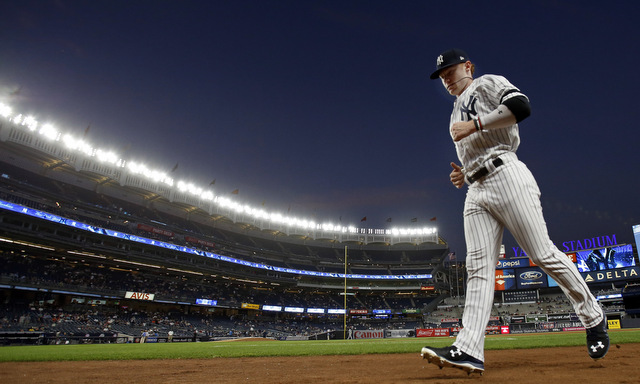 Last night, the Astros completed their pursuit of a pitcher, acquiring Gerrit Cole from the Pirates in exchange for prospects. In a way, this cleared up the roster picture for the Yankees, as they didn't give up anyone, obviously. But that picture's clarity isn't exactly crystal yet as we languidly approach Spring Training.
Most of the 25 man roster is "set." There might be additions and subtractions as the offseason eventually winds down, but in terms of what's currently available, there isn't a ton of wiggle room. Let's take a look:
C–Gary Sanchez, Austin Romine
1B–Greg Bird
2B–Tyler Wade, Ronald Torreyes
3B–Miguel Andujar
SS–Didi Gregorius
OF: Brett Gardner, Aaron Hicks, Jacoby Ellsbury, Aaron Judge, Giancarlo Stanton
SP: Luis Severino, Masahiro Tanaka, Sonny Gray, CC Sabathia, Jordan Montgomery
RP: Aroldis Chapman, Dellin Betances, David Robertson, Tommy Khanle, Chad Green, Adam Warren, Chasen Shreve
That's 24 players for 25 spots. With the remaining spot, the Yankees could go three ways. They could add Clint Frazier to the Major League roster, giving them five outfielders and a four man bench. They could add another reliever, probably Ben Heller or Jonathan Holder, leaving them with a three man bench. Or they could add a backup first baseman, though none of the options there are all too great.
The third option, unsurprisingly, is the least palatable as it's likely to give the team the least amount of flexibility. Using some combination of players already on the roster–led likely by Austin Romine–as the backup first baseman is not horribly tasty either, but clogging a roster spot with someone who can only play first or DH is much worse. Tyler Austin could mitigate this as he could play a corner outfield spot as well, but given the glut of outfielders the Yankees already have, he'd rarely get time out there, barring injuries. Even though Greg Bird is often hurt, this isn't the way to use the last spot on the team.
If the Yankees go with the Frazier plan, two things will likely have to be true. First is that Ellsbury is relegated to total bench duty. The second is that the Yankees will have committed to a platoon situation. Against righties, they'd roll with Gardner, Hicks, and Judge across, with Stanton at DH. Against lefties, they'd roll with Frazier, Hicks, Stanton, with Judge at DH to give him a rest. Just like this limits Ellsbury, though, it also limits Frazier and Gardner. Might it be better for Frazier to get everyday at bats against everyone in AAA to work on things (plate discipline, pitch selection, overall patience, based on his cup of coffee last year)? Probably. He would also be up right away in the case of an injury, which is always just a play away. As much as I like Clint and want him on the team as quickly and as permanently as possible, he might have to wait things out for part of this year.
The fact that Adam Warren and Chad Green can both go multiple innings out of the bullpen makes the idea of a short reliever seem superfluous, but given that the Yankees played with a big bullpen last year, I'd imagine that's what they'll do this time. It's also probably the best way they can deploy their resources. Wasting a spot on a first baseman and adding to a position of excess aren't good strategies, especially when pitchers are always one toss away from injury. Relief pitching is a Yankee strength and a position off depth. Barring any major changes in the next few weeks, the Yankees probably should and probably will use their last roster spot on a relief pitcher.