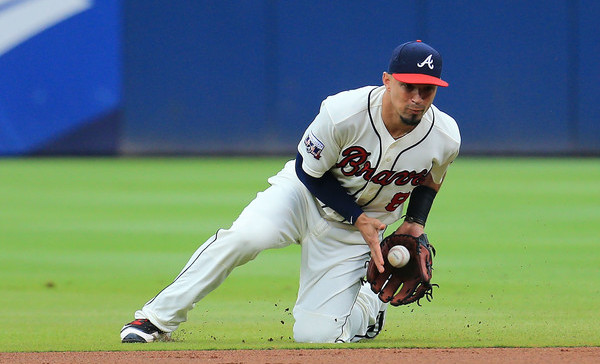 5:51pm ET: Jon Heyman says Peterson will make $900,000 at the big league level. His contract also includes some incentives. And, yes, Peterson gets an invite to Spring Training.
5:00pm ET: Minor league contract season has started. According to Chris Cotillo, the Yankees have inked utility man Jace Peterson to a minor league deal. I assume he received an invite to big league Spring Training. No word on Peterson's salary at the MLB level, which is kinda important given the luxury tax plan.
Peterson, 27, was the 58th overall selection in the 2011 draft by the Padres. They traded him to the Braves in the Justin Upton deal a few years ago. Peterson spent the last three years as an up-and-down utility man with Atlanta, hitting .215/.318/.317 (69 wRC+) with two homers and three steals in 89 big league games in 2017. His defensive assignments over the years:
First base: 55 innings (-1 DRS)
Second base: 2,108.2 innings (-9 DRS)
Shortstop: 34 innings (-1 DRS)
Third base: 143.1 innings (+0 DRS)
Left field: 250.1 innings (-5 DRS)
Center field: 8 innings (+0 DRS)
Right field: 16 innings (-1 DRS)
Experience everywhere — albeit not much at some positions — except pitcher and catcher, so that's nice. The Braves non-tendered Peterson last month rather than pay him his projected $1.1M salary as a first-time arbitration-eligible player in 2018. In the unlikely event he is worth keeping around long-term, Peterson has three years of team control remaining before qualifying for free agency. He is out of minor league options.
The Yankees have openings at second and third bases, and while they say they are willing to go with kids at those positions, they still need veteran bodies for depth. If Gleyber Torres and Miguel Andujar get big league jobs, someone has to play the infield in Scranton. If it's Ronald Torreyes and either Torres or Andujar, someone has to be the utility man. So on and so forth.
Peterson is a depth pickup and nothing more. He's not going to block any prospects or take at-bats away from anyone. He's a versatile player who can provide coverage pretty much all over the field. Even a farm system as deep as New York's can't possibly fill every roster spot with prospects. Peterson figures to be this year's Pete Kozma more than anything.