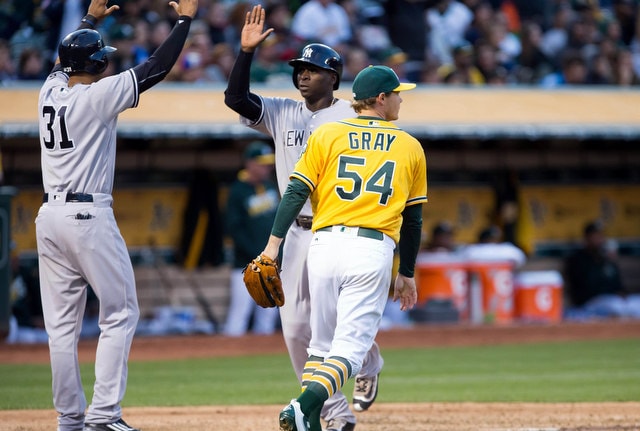 Updated 1/12 at 6:07pm ET

Today is an important day on the offseason calendar. Today is the deadline for teams and their arbitration-eligible players to file salary figures. The player files what he feels he should be paid in 2018 while the team files what they feel he should be paid in 2018. Pretty simple, right?
The Yankees have eight arbitration-eligible players on the roster — they started the offseason with nine before jettisoning (and later re-signing) Erik Kratz — and among those eight are some very important core players. Here are the team's arbitration-eligible players and MLBTR's projected 2018 salaries:
| Player | MLBTR | Actual | Diff | Status |
| --- | --- | --- | --- | --- |
| Didi Gregorius | $9.0M | $8.25M | -$0.75M | Third Trip – Super 2 |
| Sonny Gray | $6.6M | $6.5M | -$0.1M | Second Trip |
| Dellin Betances | $4.4M | $5.1M | +$0.7M | Second Trip |
| Adam Warren | $3.1M | $3.315M | +$0.215M | Third Trip |
| Aaron Hicks | $2.9M | $2.85M | -$0.05M | Second Trip |
| Tommy Kahnle | $1.3M | $1.3125M | +$0.0125M | First Trip |
| Austin Romine | $1.2M | $1.1M | -$0.1M | Second Trip |
| Chasen Shreve | $0.9M | $0.825M | -$0.075M | First Trip – Super 2 |
| Totals |  $29.4M | $29.2525M | -$0.1475M | |
Most arbitration-eligible players around the league will agree to a new contract today. Last year the Yankees had seven arbitration-eligible players and six signed before the filing deadline. Betances was the only exception. He and the Yankees wound up going to an arbitration hearing, the team's first since 2008.
It's important to note that even if the two sides do not agree to a contract today, they can still work out a contract of any size after filing salary figures. This isn't a hard deadline that ends negotiations. That said, these days most teams take a "file and trial" approach, meaning once the two sides file salary figures, the team cuts off negotiations and they go to a hearing. That's their way of putting pressure on the player to sign.
The Yankees are trying to get under the $197M luxury tax threshold this season, so every dollar spent on an arbitration-eligible player is a dollar they can not spend elsewhere. There is $29.4M in projected salaries above. That's a lot. I wonder if the Yankees will take a very hard line approach during contract talks? Sign now for these terms, or we'll go to a hearing and beat you like we beat Betances last year. That sorta thing. We'll see.
We're going to keep track of the day's Yankees-related arbitration news right here, assuming nothing crazy like a long-term extension happens. I'd bet against it. That would screw up the luxury tax plan. The filing deadline is 1pm ET, though news is going to trickle through the afternoon, so keep checking back for updates.
Update (12:00pm ET): The Yankees and Kahnle have a one-year deal at $1.3125M, reports Jon Heyman. That's a tick above the MLBTR projection. Kahnle earned $535,000 last season and was arbitration-eligible for the first time this offseason. He can't become a free agent until the 2020-21 offseason.
Update (12:00pm ET): Jerry Crasnick reports the Yankees and Hicks have an agreement at $2.825M. That is slightly below the MLBTR projection. Hicks can become a free agent after the 2019 season. He made $1.35M last year.
Update (1:52pm ET): Robert Murray reports that the Yankees and Warren have an agreement at $3.315M. That's $215K more than the MLBTR projection. They're now roughly $180K above MLBTR's projections.
Update (4:44pm ET): The Yankees and Betances have agreed to a $5.1M salary for this coming season, reports Mark Feinsand. That's quite a bit above his MLBTR projection. Good for Dellin. At least he won't have to deal with any arbitration hearing drama this year.
Update (5:32pm ET): Jon Heyman has three updates. First is Gray, who will earn $6.5M in 2018 — $100K lower than his MLBTR projection. Second is Gregorius at $8.25M, a whopping $750K below projection. Third is Romine at $1.1M, $100K below projection.
All in all this leaves the Yankees nearly dead even with projections. The difference is currently less than $100K (in the team's favor, for those interested).
Update (6:07pm ET): Shreve and the Yankees agreed to an $825K deal for next season, reports Ronald Blum. That's slightly below the MLBTR projections. All told, the Yankees will pay their arbitration-eligible players $29.2525M in 2018. MLBTR projected $29.4M total.