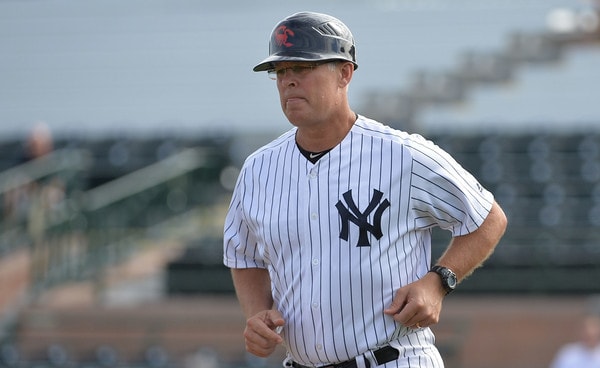 Over the last several weeks the Yankees have announced their 2018 minor league coaching staffs under new farm system head Kevin Reese. Reese replaces Gary Denbo, who left to join Derek Jeter with the Marlins. There is nothing sexy about minor league coaching staffs, but these guys are important. They help mold the next wave of prospects and Baby Bombers. Here are this year's coaching staffs.
Triple-A Scranton/Wilkes-Barre RailRiders
Manager: Bobby Mitchell
Pitching Coach: Tommy Phelps
Hitting Coach: Phil Plantier
Bullpen Coach: Doug Davis
Defensive Coach: Travis Chapman
Athletic Trainer: Darren London
Strength & Conditioning Coach: Brad Hyde
Al Pedrique, who'd managed in the farm system since 2013 and was Triple-A Scranton's manager from 2016-17, left the Yankees this offseason to become the Athletics' first base coach. He has been very open about wanting to manage in the big leagues again, but the Yankees didn't interview him for their managerial opening, and I assume that contributed to his decision to join the A's. So it goes.
Mitchell joined the organization in 2016 and managed Double-A Trenton the last two seasons. Now he's moving up to replace Pedrique. Mitchell played briefly in the big leagues (1980-83) and has extensive coaching and managerial experience in the minors. This will be his second Triple-A managerial gig after managing Triple-A Salt Lake (Angels) from 2008-10.
"From top to bottom, the Yankees have a lot of young talent moving up the ladder," said Mitchell in a statement. "The whole system is packed with prospects and that is a really good thing. Honestly, the most satisfying part of the job is seeing guys make that jump to the big leagues. Knowing our guys are driven and are going to work hard for that goal makes us all excited to get this season going."
Plantier is new to the organization and is replacing P.J. Pilittere as Scranton's hitting coach. Pilittere is now the Yankees' assistant hitting coach. Plantier played eight seasons in the show (1990-97) and, fun fact, he is the all-time home run leader among players born in New Hampshire. Since retiring as a player, Plantier has held several coaching and managerial jobs in the minors, and was the Padres' hitting coach from 2012-14.
Phelps, Davis, London, and Hyde are all returning to the RailRiders. Phelps is entering his third season as the team's pitching coach. Davis is not that Doug Davis, the former big league lefty. It's a different Doug Davis. This will be his second year in the organization.
Double-A Trenton Thunder
Manager: Jay Bell
Pitching Coach: Tim Norton
Hitting Coach: Ty Hawkins
Bullpen Coach: Luis Dorante
Defensive Coach:  Raul Dominguez
Athletic Trainer: Jimmy Downam
Strength & Conditioning Coach: Anthony Velasquez
With Mitchell going to Triple-A Scranton, Bell comes up from High-A Tampa to take over as Double-A Trenton manager. Last season was his first season in the farm system, and he has lots of coaching experience, including at the big league level with the Diamondbacks (bench coach from 2005-06), Pirates (hitting coach in 2013), and Reds (bench coach from 2014-15). He also worked in Arizona's front office from 2007-09. Last year Baseball America named Bell the top managerial prospect in the High-A Florida State League.
Downam and Velasquez are returning, otherwise the rest of the coaching staff is new. Norton spent the last two seasons as pitching coach with High-A Tampa and this will be his seventh season coaching in the system overall. He pitched in the organization from 2006-11 and, as rumor has it, the Yankees were planning to call him up in 2011, but Norton came down with an injury. The Yankees then picked up Cory Wade as a replacement.
Hawkins is a Yankees lifer. This will be his 20th year coaching in the organization. He's worked at every level at some point — Hawkins was Double-A Trenton's hitting coach in 2005 — and most recently was a hitting coach in the rookie Gulf Coast League. Dorante has been in the system since 2011 and was rookie Pulaski's manager last year. Dominguez was Bell's defensive coach with High-A Tampa.
High-A Tampa Tarpons
Manager: Pat Osborn
Pitching Coach: Jose Rosado
Hitting Coach: Eric Duncan
Defensive Coach: Jose Javier
Catching Coach: Michel Hernandez
Athletic Trainer: Michael Becker
Strength & Conditioning Coach: Jacob Dunning
Yes, the Tarpons. Anyway, Tampa probably has the most interesting coaching staff in the organization, not that minor league coaching staffs are the most exciting things in the world. Osborn, who has been considered a rising managerial star the last few years, managed Low-A Charleston last season and returns to Tampa after managing the club in 2016. Javier was on Osborn's staff as defensive coach last season, and he's moving up as well. Becker and Dunning are returning.
Duncan is entering his fourth season coaching in the system and it'll be his second straight season with Tampa. His mission this year: Help Estevan Florial make more consistent contact. Hernandez is the organizational catching guru. The Yankees move him from level-to-level each year to put him with a specific catching prospect. This year it'll be Donny Sands, apparently. Hernandez has worked with Gary Sanchez and Luis Torrens in the past.
Rosado has, very quietly, played a big role in the Yankees turning around their player development system in recent years. He spent the last three seasons with Double-A Trenton and had a hand in getting pitching prospects like Luis Severino, Jordan Montgomery, Chance Adams, and Dietrich Enns to take a step forward in their development. This year he'll work with a talented Tampa staff that figures to include Freicer Perez, Trevor Stephan, and Albert Abreu.
Low-A Charleston RiverDogs
Manager: Julio Mosquera
Pitching Coach: Justin Pope
Hitting Coach: Scott Seabol
Defensive Coach: Dan Fiorito
Athletic Trainer: Michael Sole
Strength & Conditioning Coach: Danny Russo
This will be Mosquera's 13th season in the organization and his fourth as a manager. He managed Short Season Staten Island last year. Pope and Sole are returning to the RiverDogs, and Seabol was on the rookie Pulaski staff last season. It was his first year in the organization as a coach. He's making the jump to full season ball this year. Fiorito, a Yonkers native, was an ultra-popular organizational player from 2013-16. He was released last season and is a rookie coach this year. Pretty cool. Can't say I'm surprised the Yankees brought Fiorito back as a coach after reading this.
* * *
The Yankees have not yet announced their coaching staffs for Staten Island, Pulaski, or the two GCL affiliates. That doesn't mean they haven't been finalized. It just means they haven't been announced yet. (The GCL staffs are never announced anyway.) The Yankees had six minor league instructors take big league jobs this offseason:
Al Pedrique: Triple-A Scranton manager to A's first base coach.
P.J. Pilittere: Triple-A Scranton hitting coach to Yankees' assistant hitting coach.
Carlos Mendoza: Infielder coordinator to Yankees' quality control coach.
Josh Paul: Catching coordinator to Angels' bench coach.
Tom Slater: Double-A Trenton hitting coach to Mets' assistant hitting coach.
Reggie Willits: Outfield and baserunning coordinator to Yankees' first base coach.
The Yankees have a strong player development system now, and when you have a good player development system, your instructors tend to get poached. The Yankees were able to keep Pilittere, Willits, and Mendoza in the organization, albeit with promotions to the big league staff. They weren't as lucky with Pedrique, Slater, and Paul.