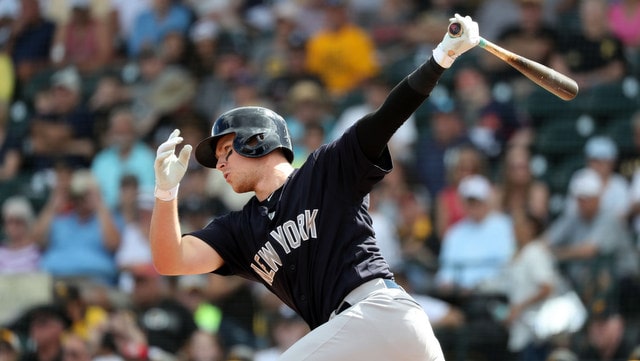 A record number of home runs were hit last season, and you needn't be a hardcore fan to know what launch angle is these days. Players talk about it, broadcasters talk about it, and dumb bloggists like me talk about it. More home runs are being hit now than ever before, partly because hitters are increasing their launch angle. They're trying to get the ball in the air and, by and large, it's working.
Last week the Yankees acquired Brandon Drury from the Diamondbacks in a three-team trade, and in his first days with the team, he talked about wanting to improve his launch angle. Drury hit a solid .275/.323/.453 (97 wRC+) with 29 homers in 979 plate appearances the last two seasons. He also slugged 68 (!) doubles. Drury wants to turn some of those doubles into homers going forward.
"I would always really swing steep and downhill. I'd hit a single up the middle or a double in the right-center gap, which was great, but that's not what I want," said Drury to Ronald Blum. "The homers, you can't force them. But I feel like naturally they're going to come more since I've put so much work into getting the ball in the air more. If I could take — easy to say — 10-15 of those doubles and turn them into homers, power numbers are going to be decent."
Drury said he worked with hitting guru Robert Van Scoyoc during the offseason, the same instructor who helped turn J.D. Martinez into a top power hitter and Chris Taylor into one of the game's breakout stars. (Martinez referred Drury to Van Scoyoc when the two were teammates in Arizona last year.) Brian Cashman spoke about Drury's untapped power potential last week, and Marc Carig spoke to scouts who feel the same way.
Simply put, launch angle is the angle the ball leaves the bat relative to the ground. The ideal launch angle is somewhere in the 10° to 30° range, though exit velocity is important too. The last two seasons Drury had an 8.2° average launch angle, below the 10.9° league average and well south of the ideal range. Drury's launch angle the last two years was similar to Brett Gardner's (7.7°) and Billy Hamilton's (7.9°), two speed guys.
As a result of the lack of launch angle, Drury had a 49.5% ground ball rate the last two seasons, 20th highest in baseball among the 155 hitters with at least 900 plate appearances. Again, that's similar to speed guys like Eduardo Nunez (51.4%) and Denard Span (49.1%). That Drury managed 68 doubles, 29 homers, and a .178 ISO the last two years despite that ground ball rate is pretty impressive. I mean: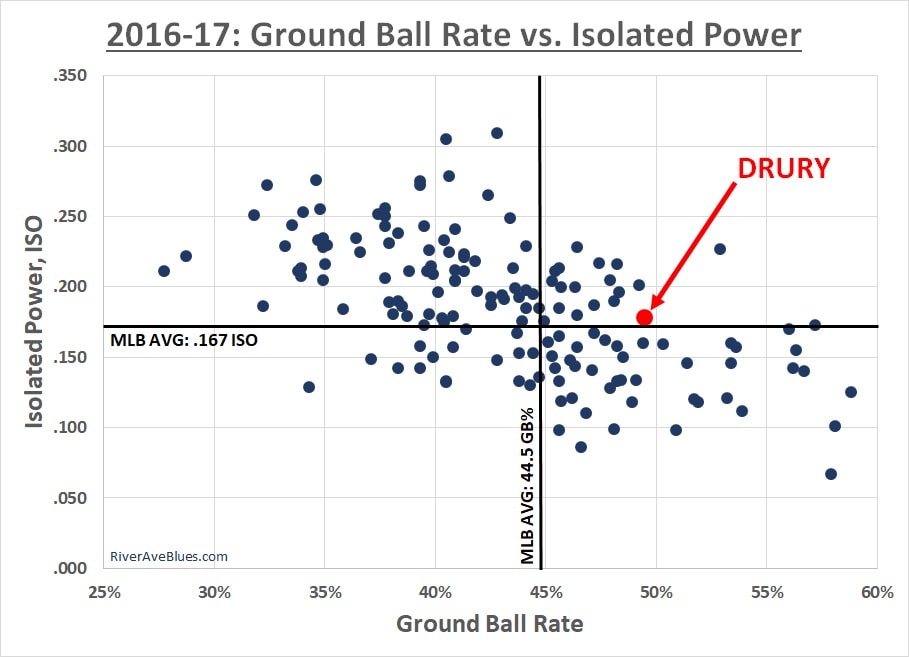 Not many players with a better than league average ISO once you get above a 48% ground ball rate or so. Drury is one of the few. In fact, among the 19 players with a higher ground ball rate than Drury the last two seasons, the only one with a higher ISO is Ryan Braun. Braun managed a .227 ISO despite a 52.9% ground ball rate. Point is, players who hit as many grounders as Drury usually don't show even league average power.
Hitting the ball in the air is much easier said than done, of course. Drury listed two reasons to believe he'll be able to do it. One, he adjusted his swing path. I mean, duh. That's why he went to Van Scoyoc. "It's a simple move I'm making that's getting the ball in the air more. Actually, my (swing) path is more level up through it than down," explained Drury to Brendan Kuty. He added a bit of an uppercut, basically. Here's more from Billy Witz:
The changes have resulted in Drury's getting the bat head into the hitting zone early and carrying it through longer so that he has greater margin for error, and also changing the plane of his swing, so it has an upward tilt, which he hopes will result in more fly balls that carry over the fence.
And two, Drury has a better understanding of how to attack certain pitches, specifically in hitter's counts. He explained that when he got count leverage, such as a 2-0 count or 3-1 count, he'd load up and take a bigger than usual hack. Some players can get away with that — Raul Ibanez sold out for power in those counts more than anyone I can remember — but it didn't work for Drury.
"I'll take a line drive up the middle all day. But when I'm getting a 3-1 fastball or looking for a certain pitch, I don't want that to be what I'm settling for. I want to drive the ball and be able to hit some home runs," said Drury to Witz. "I didn't understand how to hit certain pitches that I was trying to get. I was just trying to get big with my swing, and that doesn't work. It's got to be your natural swing."
For all intents and purposes, Drury's ability to make hard contact is league average. Over the last two seasons his 32.3% hard contact rate, 88.4 mph average exit velocity, and 93.2 mph average exit velocity on fly balls and line drives are a tick better than the MLB averages (31.6%, 87.2 mph, 92.2 mph). League average is okay! There's nothing sexy about it, but it's not like Dee Gordon is trying to turn himself into a power hitter here. Drury has some thump.
Combining that league average hard contact ability with an increase in fly balls will inevitably lead to more homers. Yankee Stadium is more homer friendly than Chase Field, at least according to the park factors at FanGraphs, and going from intra-division road games at Petco Park, AT&T Park, and Dodger Stadium to Fenway Park, Camden Yards, and Rogers Centre will be quite the change.
Drury is moving into a more homer friendly environment, so he has that going for him. Ultimately, it's up to him to use that adjusted swing to hit more fly balls in games. Maybe it works, maybe it doesn't. If it does work, great! If it doesn't work, hopefully he doesn't become a pop-up machine, because pop-ups are easy outs. Drury is young and he has some natural pop. That he knows he needs more fly balls is the first step in becoming a better player. Actually hitting those fly balls is the hard part.
"I don't feel like I've done anything like I'm capable of the last couple of years," said Drury to Kuty. "Both (years) have been kind of a grind. The numbers are okay, I would say. But I don't think those past two seasons are half of the player I am. I truly don't believe it. But I've got to go out and do it."