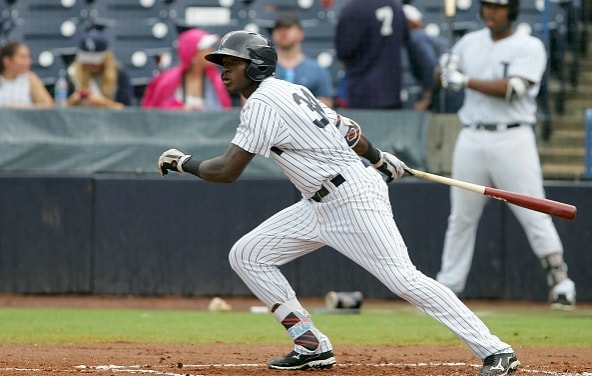 Over the last two seasons, no prospect in the farm system has shot up the rankings more than Estevan Florial. The Yankees signed Florial as part of their 2014-15 international signing spree, though he was not a high profile signing. He signed for $200,000 late in the signing period after being suspended by MLB for a paperwork issue. (He moved from Haiti to the Dominican Republic and his mother enrolled him in school using a different name.)
Florial, who turned only 20 in November, came to the United States in 2016 and blew the doors off the rookie Appalachian League, then dominated last season at mostly Low-A Charleston. He hit .298/.372/.479 (145 wRC+) with 13 homers and 23 steals in 31 attempts (74%). Florial also drew a walk in 10.5% of his plate appearances. The problem? He struck out in 31.1% of his plate appearances. That's an awful lot.
The strikeouts combined with the undeniably excellent natural tools make Florial a divisive prospect. Check out where he slots into the various top 100 prospect rankings this spring:
Pretty big spread there, eh? Florial is ranked as high as 26th and as low as, well, unranked. There are always going to be differences of opinion and therefore differences in the rankings, but gosh, that is an especially huge gap. Florial is not necessarily difficult to evaluate. He's difficult to project.
A few weeks ago Sunny looked at prospects who posted numbers similar to Florial in the minors, specifically prospects who combined great offensive output with high strikeout rates in Low-A. I want to examine Florial another way. I'm going to use MLB.com's scouting grades. I've done the same exercise with Gleyber Torres and Blake Rutherford in the past.
Real quick primer on the 20-80 scouting scale: 20 is terrible, 80 is great, 50 is average. MLB.com's scouting grades are future grades, not present grades. They're what the player projects to have when fully matured. For the purposes of this exercise, I'm using this criteria to determine a prospect similar to Florial:
Left-handed hitting outfielder. (The platoon advantage matters!)
Spent his entire age 19 season in Single-A.
Ranked as an MLB.com top 100 prospect going into his age 20 season.
Simple enough, right? MLB.com has been providing scouting grades for top 100 prospects since 2013, and from 2013-17, only nine players other than Florial fit my criteria. Smaller sample than I expected! Here are those nine prospects (and Florial) and their scouting grades going into their age 20 season:
Cells in green are tools that match or exceed Florial's. Interestingly enough, eight of the nine prospects similar to Florial are drafted players. Only Mazara was signed internationally. Huh. A few thoughts and observations.
1. Wow is Florial unique. The nine other prospects all beat Florial's hit tool by at least a full grade, and five of the other nine prospects match or beat Florial's power tool. However, Florial dominates the other categories. He's the only 70 runner among those prospects — only two others are even 60 runners — and only one matches his arm while two match his fielding.
So, put it all together and Florial has the worst hit tool of the bunch, a similar power tool as everyone else, and unmatched speed and defensive ability. No one else has such a run/defense heavy profile. MLB.com and the scouts evaluating these players had less confidence in Florial's hitting ability than anyone else's, but also trusted his speed and defense more. Pretty unique.
2. None of these prospects reached MLB in their age 20 season. And only one (Mazara) received more than a cup of coffee in his age 21 season. Mazara spent nearly his entire age 21 season in the show. Verdugo got a September call-up at age 21. Dahl reached the show at age 22, Winker and Williams debuted at age 23, and the other four (Meadows, Tucker, Clark, McKinney) have yet to make their MLB debuts.
Florial did play in the Double-A postseason at age 19 last season only because High-A Tampa's season was over and Trenton's was not, and the Yankees wanted him to keep playing. Last year Florial played 91 games with Low-A Charleston and another 19 with Tampa. Returning to Tampa to start this season before a midseason promotion to Trenton seems like the likely path, and based on our comparable prospects, that is a standard assignment. Five the other nine split their age 20 season between High-A and Double-A.
There are always exceptions, but recent history indicates that if you're hoping to see Florial in the Bronx this season, even a brief stint as a September call-up, you're going to be disappointed. Heck, you might not even see Florial as a September call-up next year, though he will be added to the 40-man roster next winter, so he has that going for him. Point is, these toolsy kids who spend their entire age 19 season in Single-A don't always make it to the big leagues as quickly as you might expect.
3. Let's compare their plate discipline numbers. This is going to tie back into the point about their hit tools. Florial swings and misses a lot and that is the long-term concern in his game. The other prospects in the sample? Well, look at the strikeout and walk numbers in their age 19 season:
| | Age 19 K% | Age 19 BB% | Age 20 K% | Age 20 BB% | K% Change | BB% Change |
| --- | --- | --- | --- | --- | --- | --- |
| Florial | 31.1% | 10.5% | ? | ? | ? | ? |
| Williams | 27.3% | 3.7% | 28.8% | 4.5% | +1.5% | +0.8% |
| Clark | 26.0% | 14.1% | 24.8% | 17.2% | -1.2% | +3.1% |
| Mazara | 21.7% | 11.8% | 18.3% | 9.3% | -3.4% | -2.5% |
| Dahl | 19.0% | 4.8% | 16.8% | 5.1% | -2.2% | +0.3% |
| McKinney | 18.4% | 11.2% | 13.9% | 10.2% | -4.5% | -1.0% |
| Meadows | 17.6% | 10.1% | 14.4% | 7.4% | -3.2% | -2.7% |
| Tucker | 16.3% | 10.1% | 20.8% | 8.8% | +4.5% | -1.3% |
| Winker | 15.4% | 13.0% | 19.9% | 15.8% | +4.5% | +2.8% |
| Verdugo | 12.0% | 3.9% | 12.7% | 8.3% | +0.7% | +4.4% |
Florial has the highest strikeout by far. He's over 30% while no one else was over 27.5%, and only two others were over 22.0%. Also, Florial's walk rate, while impressive, is not exactly uncommon. Six of our nine comparable outfield prospects also had double digit walk rates in their age 19 season. Most saw a decline in walk rate in their age 20 season, which makes sense. They moved up a level, where pitchers are better and throw more strikes.
I suppose the encouraging thing is five of our nine comparable prospects lowered their strikeout rate in their age 20 season while another (Verdugo) saw basically no change. If there's a reason to believe Florial can improve his strikeout rate, it's his experience, or lack thereof. He didn't play much baseball growing up — Haiti is not a baseball country at all — so the hope is the more he plays, the more adjustments he'll make. That's the hope.
* * *
I was surprised to see so few prospects with Florial's profile, that speed/defense/raw tools guy with questionable contact rates. Seems like there are lots of those guys in the minors. I guess a bunch are right-handed hitters or middle infielders though, or didn't play a full season in Single-A at age 19. Whatever. Point is, a left-handed hitting outfielder with Florial's tools and contact issues is surprisingly uncommon. He's probably not going to climb the ladder quickly, though there is at least some hope the contact rate will improve.
The Yankees like Florial enough that he was reportedly off-limits in trade talks this offseason — and supposedly at the trade deadline as well — so while he is unrefined and his contact issues are a concern, they're willing to be patient with him. After all, the Yankees helped another toolsy minor leaguer with swing-and-miss issues become an MVP candidate recently. Be patient with Florial and the reward could be considerable.