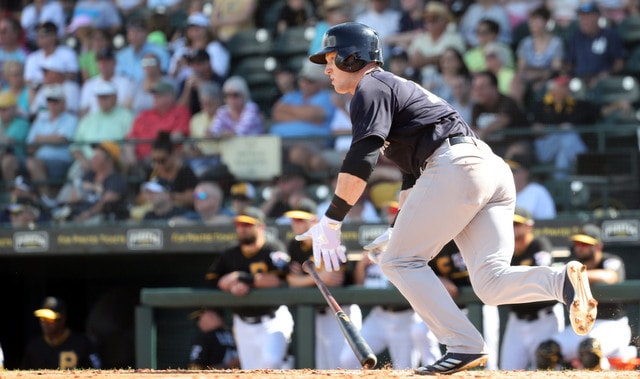 Spring Training is a time for change. Sometimes the roster changes because a player steals a job or a regular gets hurt, but more often than not, the players themselves change. This guy is in the best shape of his life, that guy learned a new pitch, so on and so forth. All that change is going to make everyone better too. Spring Training is the time for optimism.
This spring the Yankees have several players who have changed or are in the process of changing. Gary Sanchez lost weight. Jordan Montgomery is finding his changeup. Aaron Boone is learning how to be a big league manager on the fly. That all represents change. Some of it will work, some of it won't, and some of it might even backfire. What if the weight loss robs Gary of some power? It could happen.
Tyler Wade and Clint Frazier, two young Yankees who are probably on the outside of the roster looking in right now — Wade is a better shot to make the Opening Day roster than Frazier, it seems — made changes to their hitting mechanics over the winter in an effort to become more effective players. Both reached the big leagues last year, mostly failed, and learned from that failure and made adjustments.
"There aren't as many moving parts," said Frazier to Brendan Kuty about his new hitting mechanics. "… The leg kick is not high. I've tried to create some natural separation (between my hands and body) so it starts with keeping my hands on my shoulder. Then I simply lift up my hands, and I pull back with my right hand only because in the end, I had that hitch in my swing — cocking with my hands. Now there's less of that."
Long story short, Frazier toned everything down. Smaller leg kick and not as much of a hitch. Everything is a little more compact now. Frazier has bat speed to spare, and with less moving parts, he can be more direct to the ball, at least in theory. Here is 2017 Frazier vs. 2018 Frazier. I apologize in advance for the GIF quality.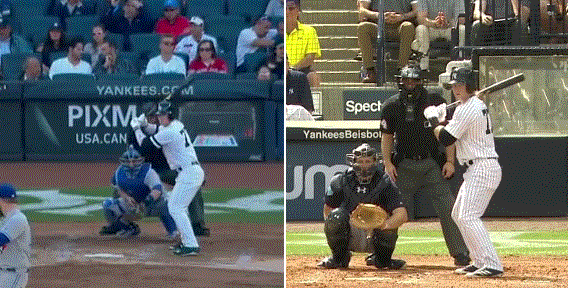 That's the final game of the 2017 regular season on the left and the first 2018 Grapefruit League game on the right. Frazier toned down his leg kick considerably. That's the biggest and most obvious change. He also all but eliminated his bat waggle, and from the look of things, his hands are closer to his body now as well, though that might just be the camera angles.
Know what else Frazier changed this offseason? His physique. It's not that Frazier was heavy. The dude was built like a bodybuilder. Remember all those workout videos that mound the rounds last winter? Clint was jacked. Here again is 2017 Frazier and 2018 Frazier: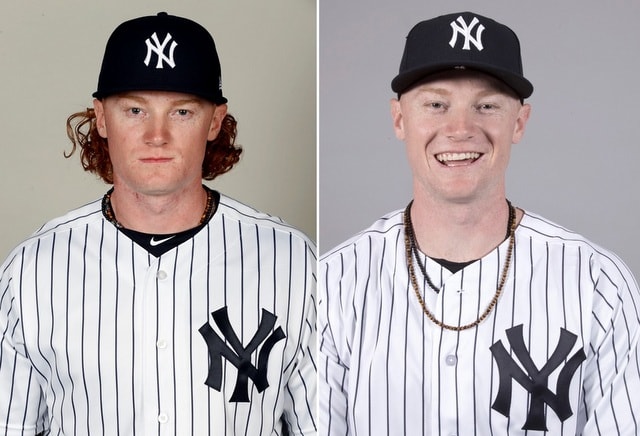 Last year Frazier's neck, shoulders, and chest were ready to rip through his jersey. This year he's slimmed down in his upper half — Kuty says it is most noticeable in Frazier's chest and biceps — and Frazier indicated he slimmed down to increase flexibility. He was so muscular and wound so tightly in the past that it took some athleticism away. Frazier wanted to get that athleticism back.
Just about everything Frazier did over the winter was designed to make his swing more efficient. He cut down on his leg kick and back waggle to eliminate unnecessary movement, and his workouts traded muscle for flexibility. Last year Frazier tried to succeed with brute force. Now everything is more streamlined. Will it work? Who in the world knows. Clearly though, the Frazier that showed up to camp this year looks different than the Frazier we saw last year.
"I was aware of what my body was doing and what it was supposed to be doing," said Frazier to George King. "In the past I tried to muscle everything and I created a lot of moving parts. Something needed to change to give myself a better chance to hit … In my opinion it gives me a better chance to square up the ball. I didn't even know I had fast bat speed until Brian Cashman pointed it out."
As for Wade, the changes he made to his hitting mechanics came about in a unique way. It turns out Wade's trainer back home in California also trains Albert Pujols, so Wade and Pujols got together and became winter workout buddies. How about that? The two were hitting together during the offseason when Pujols suggested some changes to help Wade better handle the inside pitch.
"He suggested to change something with my hands and the way my front side is set up," Wade explained to Randy Miller. "I put it to use and I feel great. I feel free and relaxed now with my front side. I changed my hands and I'm bending my legs a little bit more, which is going to allow me to get to more pitches. I'm more direct. It's less movement for me. I feel great at the plate."
Wade's adjustments aren't as drastic as Frazier's, or at least I don't think so. Here is the obligatory before and after GIF. Again, that's the final 2017 regular season game on the left and the first 2018 Grapefruit League game on the right.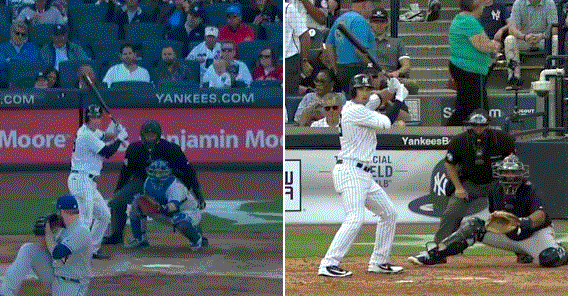 Wade's hands are higher this year and I think he's slightly more open with his stance, though that might just be the camera angles playing a trick on my eyes. Frazier cut down on his leg kick and his bat waggle, and possibly brought his hands closer to his body. Wade simply moved his hands up a bit.
As a result, there's a little less load in Wade's swing now. Last year he'd bring his hands back ever so slightly before exploding forward with his swing. This year his hands are already loaded, so he just goes forward. That tiny little change helps him cover the plate more, particularly the inner half. That doesn't mean Wade will turn on inside pitches and pull them for power, necessarily. But now he won't be helpless when he gets busted inside.
So far all we know is Frazier and Wade look different at the plate. Changes have been made. We still don't know whether those changes will make them more effective going forward, and that's probably something that won't be answered in Spring Training either. There's too much noise during Spring Training games. Too many pitchers working on things and too many minor league caliber arms.
I've been doing this long enough to know most swing adjustments and mechanical changes result in nothing. They're something to talk about and they usually don't help the player in the end. But every once in a while someone will remake their swing and reap huge rewards (hello 2010 Curtis Granderson). Maybe these changes will help Frazier and Wade become more effective big leaguers. Maybe not. Point is, they learned from last season and are trying to get better, and that's what you want every player to do, rookie or veteran.