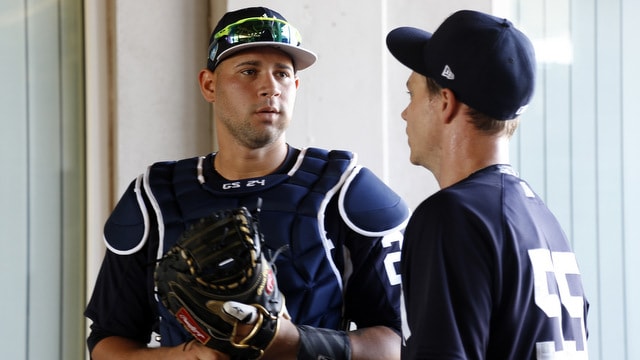 Last week, MLB announced a series of rule changes designed to improve pace-of-play. There is no pitch clock, but regular season commercial breaks are 20 seconds shorter — I still can't believe the owners agreed to that — and trips to the mound are now limited. No more frequent chats between the pitcher and catcher.
Here is quick rundown of the new mound visit rules:
Each team gets six non-pitching change mound visits per game, plus one additional mound visit for each extra-inning. Any conference involving the manager, a coach, or another player counts as a mound visit.
After a team exhausts their six visits, any subsequent mound visit by the manager or a coach necessitates a pitching change. The umpires will break up any subsequent visits by a position player, and fines will be assessed.
Pitcher-catcher discussions between batters, as well as any discussion after a pinch-hitter is announced do not count as a mound visit. Same with any visits involving a potential injury.
For what it's worth, Angels catcher Martin Maldonado and Cubs catcher Willson Contreras both said they intend to ignore the mound visit rule in close games. "If the game is on the line, I'm going to go out there. If we're at six, and it's going to be the seventh, I'm going to go out there, even if I have to pay a fine. I'm there for the pitchers," said Maldonado to Jeff Fletcher. Contreras said something similar.
The new mound visit rule feels like it was written for Gary Sanchez, though if you watch enough baseball, you know every catcher makes a lot of trips to the mound these days. Especially in the postseason. Gary does it more than most though. I think that's fair to say. He's going to have to make some sort of adjustment to make sure he and the pitcher stay on the same page. Here's what Sanchez told George King about the rule change:
"Big change? I am not quite sure, but it's going to be different and difficult because you are limited on the amounts you can go out there," Sanchez said through an interpreter Tuesday.

…

"It's a combination of things. Sometimes you go out there to help in any way possible to calm [the pitcher] down. Sometimes it's to change the signs, sometimes it is both," Sanchez said. "It's a combination of things. There is not one main reason why. It depends on what is going on in the game."

…

"The reality is that they made the change and now it's up to us to adjust to it," Sanchez said.
Sanchez didn't take the Maldonado/Contreras approach and say screw it, I'm going to visit the mound anyway. I suspect part of that is the Yankees' "don't say anything controversial" media training, but mostly, I think Sanchez knows he has to adjust, and he'll adjust. Exceeding the six-visit limit and getting fined every game isn't realistic. Eventually MLB will give umpires the latitude to eject repeat offenders.
My first thought was this adjustment will be easier than it may seem, then I realized no, I'm an idiot, and this will be incredibly difficult. The main concern is sign stealing, not so much pitch selection. Sign stealing happens every game and that's why the pitcher and catcher need to change signs. Yes, they can talk between innings and even between batters, but that doesn't help when the batter is in the box and the runner on second has your signs.
Changing signs with a visual cue seems doable — a little tap of the chest protector or tug on the face mask could do the trick — but then you're asking the pitcher and the catcher to go out with multiple sets of signs in their head, and that is bound to lead to some confusion. Larry Rothschild will do what he can to help during the game, but in the heat of the moment, it's often easier to talk things over quick, especially in close games.
Sanchez makes so many trips to the mound that they can't all be about changing the signs, even with two notorious sign-stealing teams (Blue Jays and Red Sox) in the division. With Gary, pitch selection comes into play. Every pitcher is different. Some guys like to call their own game and others throw whatever the catcher calls. I'd be interested in seeing a stat on how often a pitcher shakes. My guess is it would correlate very well year-to-year for pitchers, but not catchers.
Anyway, Sanchez and the Yankees are going to have to come up with a way to hash out pitch selection differences — this is to say nothing of mechanical issues, like when a pitcher needs to be told he's flying open — that doesn't involve a trip to the mound. This applies to Austin Romine too, and every other team in the league, really. Gary is among the worst mound visit offenders through, so his adjustment figures to be greater than most.
The good news: Sanchez and the Yankees have all spring to work on this. There's a reason MLB made the announcement before spring games started. They want to give teams a chance to get used to the new rules. The bad news: That might not be long enough. Sanchez has to do everything he needs to prepare for the season, and that alone is a lot of work. Add the mound visit adjustment and it might be too much to master in one spring.
Maldonado and Contreras say they're going to ignore the mount visit rule and hey, maybe Sanchez will too. That just doesn't seem like a realistic solution to me. Gary relied on mound visits as much as any catcher I can remember, and that's something that will have to change. And it'll take a village. The coaches and the pitching staff will have to work on this, but ultimately, Sanchez is the one who will have to take charge despite a lack of mound visits.
"We will adjust well," said Aaron Boone to Dan Martin and George King. "We will be ready. I won't go too far down into specifics on how we will do it. That's all part of our job, to prepare Gary and all our players. We have to make adjustments and that is what Major League athletes have to do all the time … It's a new way of doing things."