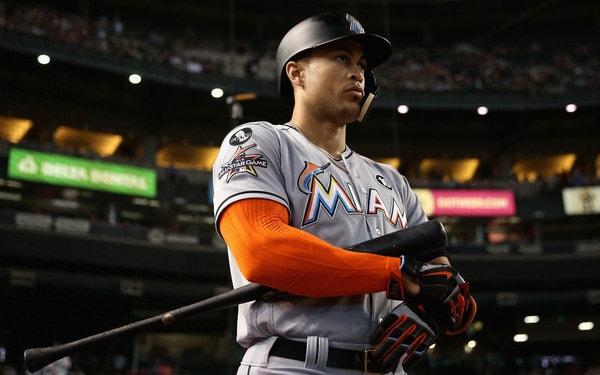 At one point last season, Giancarlo Stanton went 61-for-176 (.347) with 30 home runs — 30 home runs! — in a span of 48 games. And at one point two years ago, Stanton went 11-for-88 (.125) with 44 strikeouts in a span of 24 games. Within that 24-game slump was a brutal 0-for-17 with 15 strikeouts stretch. For real.
Stanton is an outlier in baseball today given his power and size, and as those two streaks show, his performance can be extreme, both good and bad. He'll hit homers in bunches and also strike out in bunches. Or at least he stuck out in bunches prior to last season. Stanton trimmed his strikeout rate down to a career low 23.6% last year. Check it out: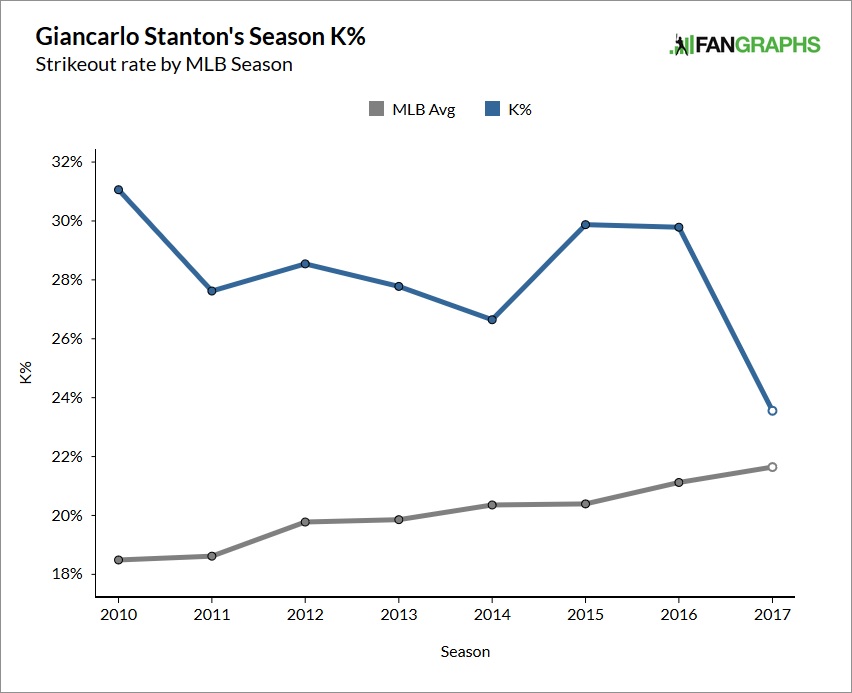 Even with a strikeout rate hovering around 30%, Stanton was still extremely productive from 2010-16. The guy hit .266/.357/.539 (142 wRC+) and averaged 41 homers per 162 games those years. He struck out often and made pitchers pay often. Then last year, Giancarlo cut down on his strikeouts, and he became the NL MVP.
Stanton is a Yankee now — did you get the memo? — and in Aaron Judge, the Yankees have the closest thing to Stanton as well. It's pretty cool. Judge was actually better than Stanton last season. Giancarlo hit more homers, but Judge had the edge in AVG, OBP, wRC+, and both versions of WAR. Drew more walks and stole more bases too.
Of course, Judge also struck out more than Stanton. Forty-five more times, to be exact. Judge struck out more times than any batter last season. Stanton has never led his league in strikeouts, but he's consistently had one of the highest strikeout rates in the baseball throughout his career. At least until last season.
Stanton cut down on his strikeouts last season and, given the similarities in their games and their size, it's only natural to wonder whether Judge can do the same. Specifically, could the adjustment Stanton made also work for Judge? It might! It also might foul Judge up and turn him into a taller Ronald Torreyes at the plate. Who knows?
Before discussing this further, we have to understand the adjustment Stanton made, and fortunately it was fairly straightforward. Giancarlo closed up his stance so he could better get to the outside pitch. A before and after photo: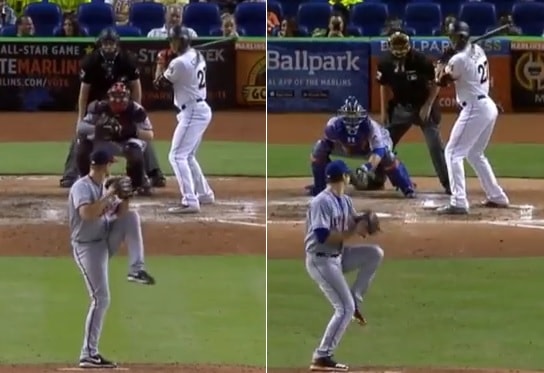 Stanton really closed up his batting stance. I mean really, really closed it up. Now for the twist ending: That screen grab on the left is from June 19th of last season. The screen grab on the right is from September. Stanton made that adjustment and closed up his batting stance in the middle of the season. He didn't do it over the winter.
Here's a compilation video of Giancarlo's 59 homers. You can see him gradually close up his stance as the season progresses. It doesn't happen all at once. Stanton closes up a bit, then a little more, then a little more, then a little more again. It's pretty cool. And as Stanton closed up his batting stance, his swing-and-miss rate dropped: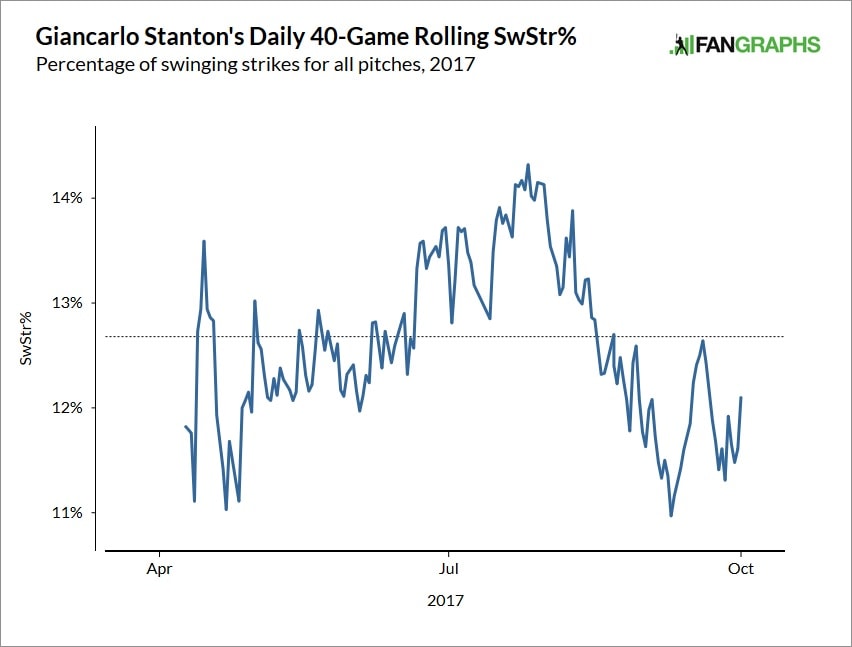 Neat! Once Stanton started to close his stance, he swung and missed less, which meant more balls in play, and given his power, that meant more dingers. It's probably not a coincidence Giancarlo went on that monster home run tear — again, he hit 30 homers in 48 games at one point last season — in the second half, after closing up his stance.
Here are two heat maps. The heat map on the left shows Stanton's swing-and-misses in the first half last season, and the heat map on the right shows Stanton's swing-and-misses in the second half last season. So basically open stance vs. closed stance.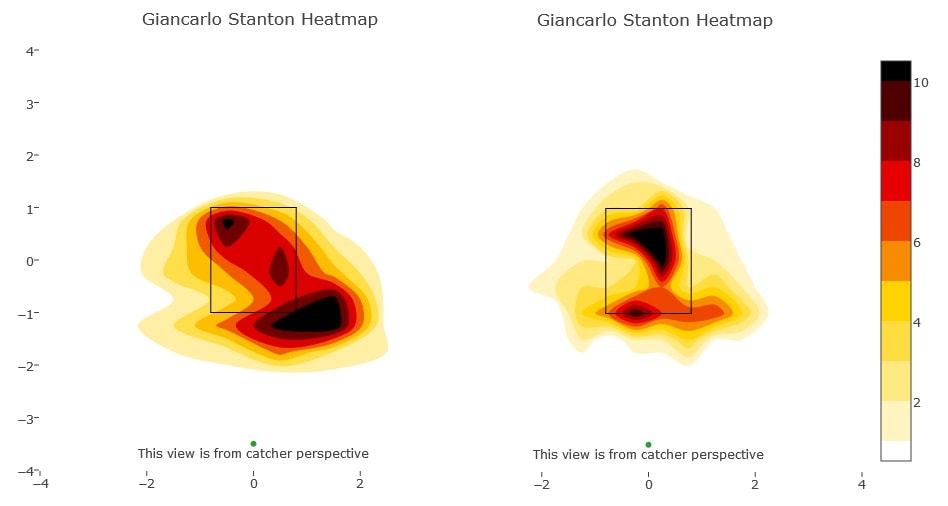 Stanton had problems with pitches down and away — like most hitters — specifically breaking balls. Those sliders look like fastballs down the middle until they start sliding. Once he closed up his stance though, Stanton was able to get to that down and away pitch more effectively, hence the reduction in swings and misses and strikeouts.
Judge — again, like most hitters — has a similar issue with pitches down and away. He was actually much better at making contact with pitches out over the plate than Stanton, but yeah, down and away was his weakness. Here is Judge's swing-and-miss heat map for the entirety of last season: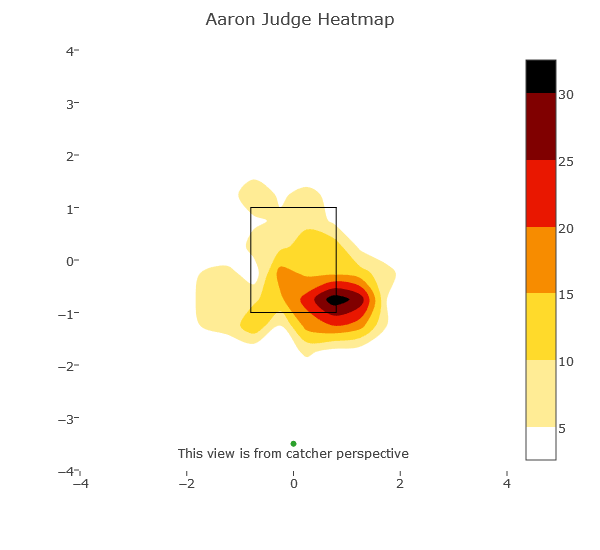 Over the years Judge has gone through several batting stance changes designed to help him make more contact, and hey, they've worked like a charm. Dude became the first rookie in history to hit 50 homers last season and he was the MVP runner-up. Who cares how much he strikes out when he produces like that? Would we all feel better if we replaced 70 strikeouts with 70 ground outs?
The matter at hand isn't last year though. Last year is last year. The question is whether Judge can maintain last season's level of performance going forward with that high a strikeout rate. Here are the best offensive seasons among players with a 30% strikeout rate and enough plate appearances to qualify for the batting title:
2017 Aaron Judge: 173 wRC+ and 30.7% strikeouts
2015 Chris Davis: 149 wRC+ and 31.0% strikeouts
2007 Jack Cust: 145 wRC+ and 32.3% strikeouts
2010 Adam Dunn: 136 wRC+ and 30.7% strikeouts
2015 Kris Bryant: 136 wRC+ and 30.6% strikeouts
Yup. What Judge did last season was unprecedented given his strikeout rate. Maybe he is a unique case and can continue producing at that rate while striking out so much. He's done it once, right? Maybe he can do it again and again and again.
That said, the smart money is on Judge having to cut down on his strikeout rate to maintain that offensive performance. Fewer strikeouts equals more balls and play, and when you hit the ball as hard as Judge, that means a lot more damage. And who knows, maybe Judge can take his offense to another level if he cuts down his strikeout rate. That'd be pretty awesome.
Judge's current batting stance, the one he's worked hard to perfect and the one that helped him become an MVP caliber producer, is slightly open. A relevant screen grab: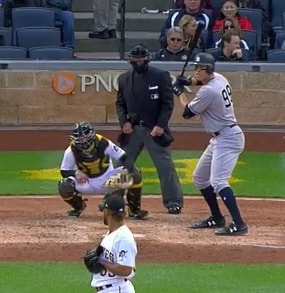 Stanton's batting stance was more closed than that before he closed it up even more last year. Would it make sense for Judge to close up his stance to combat that down and away pitch? And if it does, would it hinder his ability to handle the inside pitch? Judge is pretty great at turning on inside pitches for a dude his size. You'd hate to take that away.
Given how great he was last season, and how successful he's been at making adjustments throughout his career, it's tempting to say Judge shouldn't screw around with anything. You don't want to risk breaking something that doesn't need to be fixed, you know? Judge is a smart hitter. Let him adjust naturally and hope he cuts down on strikeouts that way. What worked for Stanton might not work for Judge despite their similarities.
At the same time, Stanton had such great success after cutting down on strikeouts last season. It's not only him either. George Springer is another guy who's cut down on his strikeouts over the years and had increased success. Judge is great already, but with a few more balls in play, he could be even better, as crazy as that may sound. Stanton closed up his stance to close off that hole against down and away pitches. Something similar could work for Judge as well.
"That was one of the first things he said (when we first met). He said, 'Hey man, when we get to Tampa, let's spend some time in the cage and just pick each other's brain,'" Judge said yesterday. "I'm excited just to pick his brain a little bit. About mechanics, his approach … It's going to be nice to have another big guy in the clubhouse like that."