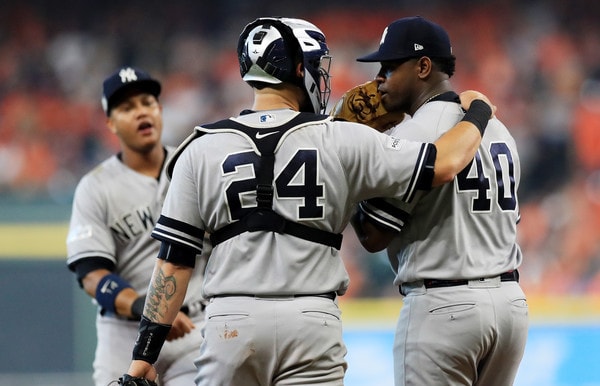 Earlier today, Major League Baseball announced a long-awaited series of rule changes designed to improve the pace-of-play. These rule changes have been in the works for weeks, so the announcement was not a surprise. Commissioner Rob Manfred could've implemented rule changes unilaterally, but that did not happen.
"I am pleased that we were able to reach an understanding with the Players Association to take concrete steps to address pace of play with the cooperation of players," said Manfred. "My strong preference is to continue to have ongoing dialogue with players on this topic to find mutually acceptable solutions."
The big pace-of-play news: There will not be a pitch clock this season. MLB and Manfred have been pushing for a pitch clock for years now, but the MLBPA is against it, and they won this battle. I expect another round of pitch clock talk next offseason. Anyway, there are two components to the new pace-of-play rules. Let's break 'em down.
Limit on mound visits
Call it the Gary Sanchez rule, I guess. Each team will now be limited to six non-pitching change mound visits per game, plus one additional mound visit for every extra inning played. Teams are charged with a mound visit when the manager, a coach, or another player goes to the mound for any length of time. That means fewer trips to the mound by the catcher to talk over pitch selection.
As always, two mound visits to one pitcher in an inning necessitates a pitching change. That rule remains. Also, there are a few exemptions from the mound visit rule. Teams won't be charged with a mound visit for the following:
Any visit concerning a potential injury.
Any visit after a pinch-hitter is announced.
Player visits between batters.
Position players going to the mound to clean their spikes during rainy conditions.
Also, if a team runs out of mound visits, the umpire has the discretion to let the pitcher and catcher talk following a cross-up. Apparently the MLBPA was concerned about potential injuries resulting from the battery getting their signs mixed up. Makes sense.
Sanchez is the man, but Gary is also one of the worse offenders in baseball when it comes to mound visits. It seems like he's out there talking to the pitcher two or three times an inning. The rule change will cut down on those visits considerably. Michael Kay will be thrilled. Sanchez will have to get on the same page as the pitcher with visual signs.
Shortened commercial breaks (!!!)
I can't believe MLB and the owners actually agreed to shorten commercial breaks, but they did. For regular season games only, but still. Here are the new commercial break lengths:
Regular season game: 2:05 (previously 2:25)
Nationally televised game: 2:25 (previously 2:45)
Postseason game: 2:55
The timer starts as soon as the final out of the inning is recorded, or when the pitcher leaves the bullpen for a pitching change. Here are the various timer actions:
25 seconds remaining: Umpire signals to the pitcher to complete final warm-up pitch.
20 seconds remaining: Batter must leave the on-deck circle and approach the plate.
0 seconds remaining: Pitcher must begin delivering a pitch to the batter.
Because of the timer rules, pitchers are no longer guaranteed to receive eight warm-up pitches. They can throw as many as possible in the time allotted, and that's it. The umpire can allow more warm-up pitches in certain situations, however. If there's an on-field delay (grounds crew, fan on the field, etc.), an injury, something like that.
Shorter commercial breaks are a-okay with me and I assume everyone else as well. Cutting 20 seconds between innings with chop more than five minutes off a standard nine-inning game. That's five more minutes to do literally anything else.
* * *
Okay, so what happens if a team tries a mound visit after exhausting their six, or violates the commercial timer? For the mound visit thing, the umpire simply will not allow the seventh visit, which sounds kinda silly. I foresee some infielders and maybe even the catcher bending the rules there, and approaching the pitcher for a quick chat even after running out of mound visits. We'll see.
As for the timer, there are no automatic ball/strike penalties. Players who violate the timer will be fined and that's it. Repeat offenders will be fined even more. There had been some talk that pitchers who violate the timer will be charged with a ball while hitters who violate the timer will be charged with a strike. That won't happen. The umpire won't allow the seventh mound visit and fines for timer violations. That's all.
I am all for improving pace-of-play. No, it won't fix everything that is wrong with baseball, but it'll help. Players spend too much time standing around these days. I was pro-pitch clock, but that isn't happening. Cutting down on mound visits and shortening commercial breaks — I still can't believe MLB agreed to that — is good enough for me this year.