At some point soon, possibly even this week, MLB will likely announce a pitch clock will be implemented this season. MLB is pushing the MLBPA for new pace-of-play measures, and the union is rejecting everything because they're angry about the free agent market, so MLB will unilaterally implement rule changes. Like it or not, a pitch clock is coming. The league is pushing for it.
According to the Collective Bargaining Agreement, MLB can only implement last year's rule change proposal unilaterally. Here are the details of last year's pace-of-play proposal:
A 20-second pitch clock in all situations and a 30-second clock between batters.
One warning per team before automatic ball/strike penalties are levied for violations.
One mound trip per inning by a player or coach. A second visit necessitates a pitching change.
I'm okay with a pitch clock. There is too much standing around in baseball. A pitch clock will help eliminate downtime. The mound trip thing will create some headaches. An infielder will go grab some rosin and the opposing team will argue it's a mound visit. That sorta thing. We'll see how that goes. Pitch clock is a-okay with me. You won't even notice it after a few weeks. The mound visit rule? Eh. Might need some tweaking.
Anyway, players will have to adjust to the new pitch clock, especially the guys who have been in the big leagues for a while. They've had a 20-second pitch clock in Double-A and Triple-A for three years now. Young pitchers like Jordan Montgomery and Luis Severino have pitched with a pitch clock before. It'll be nothing new to them. Veterans like CC Sabathia and David Robertson might need some time to adjust.
Perhaps no pitcher on the Yankees — or in baseball in general — will have to make a bigger adjustment to comply with the 20-second pitch clock than Aroldis Chapman, who has gradually become one of the slowest workers in the game over the last few years. Here is his pace the last five years, and his rank among the 300-ish pitchers with at least 50 innings pitched in those seasons:
2013: 23.9 seconds (119th highest)
2014: 24.8 seconds (96th highest)
2015: 24.2 seconds (90th highest)
2016: 26.7 seconds (24th highest)
2017: 29.7 seconds (7th highest)
Chapman's pace has increased nearly six seconds over the last five years. Six seconds! That's a ton. That's six additional seconds of rest between each pitch. Chapman has averaged 17 pitches per inning consistently throughout his career, so we're talking roughly 96 extra seconds of rest in an average outing. That's not insignificant.
Last year Rob Arthur ran some numbers and found that, not surprisingly, pitchers add a little velocity when they take more time between pitches. That extra rest matters. Here is a graph from Rob's post: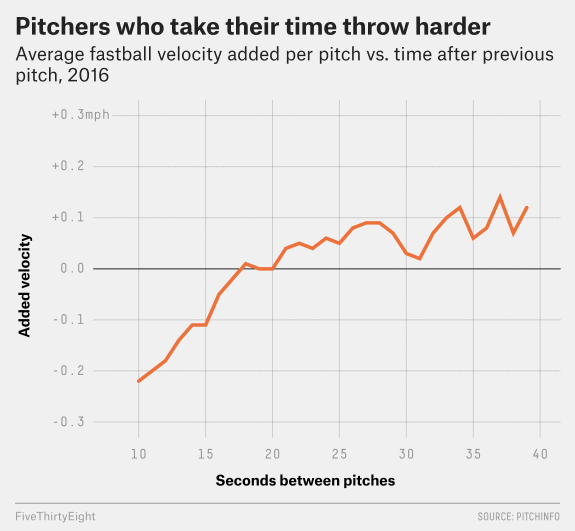 In Chapman's case, he is taking a lot of extra time between pitches relative to the rest of the league and relative to himself just a few years ago. And velocity is Chapman's thing, right? He throws harder than anyone in baseball history. That's how he succeeds. We saw what happened when his velocity dipped at times last year. It wasn't pretty.
Once the 20-second pitch clock is implemented, Chapman will have to shave approximately ten seconds — ten seconds! — off his pace from last year. That is a huge adjustment. It might not mean much within the first few pitches of an outing, but what happens when Chapman gets 15 pitches deep into an appearance and he's had basically two fewer minutes of rest between pitches leading up to that point? The tank might be empty much sooner than usual.
Sonny Gray is going to have to adjust to the inevitable pitch count as well — he averaged 28.3 seconds between pitches last season, highest among all pitchers with enough innings to quality for the ERA title by a full second — but unlike Chapman, Gray doesn't rely on velocity to succeed. Don't get me wrong. Losing a little velocity could affect Sonny's performance. He has other weapons to get outs through. Chapman rides or dies with No. 1.
What sort of adjustment will Chapman have to make once a pitch clock is implemented? It's hard to say. Maybe he changes his conditioning to deal with the reduced "rest" between pitches. Or maybe he has to change up his pitching plan and not rely on throwing fastballs by everyone. I don't have much hope for him improving command at this point, it is what it is, so I guess that would mean more sliders and changeups?
Fortunately, Chapman has velocity to spare, and if the pitch clock means he sits closer to 100 mph going forward rather than 104 mph, so be it. Not much the Yankees can do. It's also possible Chapman will lose no velocity at all. He's a freak of nature and I mean that in a good way. He's so athletic and so strong. Picking up the pace might not have any impact at all.
That said, we're talking about a guy who will have to shave close to ten seconds — again, ten seconds! — off last year's pace to comply with the pitch clock. That's an awful lot. Yeah, it's possible the pitch clock will have no effect on Chapman. I just have a hard time buying that when his pace is this extreme. It might cost him velocity, it might cost him command, it might cost him effectiveness. Some sort of adjustment could be in order, and it may have to be made fairly quickly.