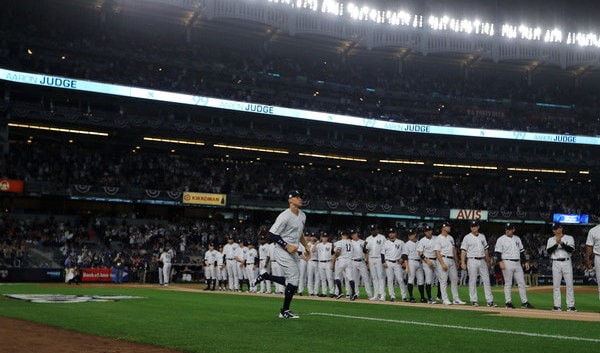 In case you missed it yesterday, I posted my annual Top 30 Prospects list. Over 10,000 words of prospect goodness. Don't miss it. Here are some other links to check out on the penultimate Saturday without baseball until November.
Judge tops graduated prospects list
Kiley McDaniel and Eric Longenhagen put together a graduated prospects list earlier this week, which is essentially a ranking of players who lost their prospect eligibility this year. The MLB rookie limits are 130 at-bats, 50 innings pitched, or 45 days of service time outside September. Four Yankees made the list. Here are their rankings:
1. Aaron Judge (80 Present Value, 80 Future Value)
18. Jordan Montgomery (50 PV, 55 FV)
21. Chad Green (50 PV, 55 FV)
28. Clint Frazier (45 PV, 50 FV)
Green technically lost his rookie eligibility in 2016, though within the write-up McDaniel and Longenhagen say they included Green because he still had an "evolving" role. Also, they only ranked the 46 players they consider to have 50 FV or better, so Tyler Wade didn't make it. *shakes fist*
Anyway, those grades are on the 20-80 scouting scale, so 50 is average and 80 is top of the line. Judge is a star. We didn't need a 20-80 grade to know that. Cody Bellinger is the only other player on the list with even a 70 FV. The 80 FV essentially means McDaniel and Longenhagen project Judge to continue being this damn good going forward. Sign me the hell up.
Yankees offered Beltran front office job
In a recent episode of the R2C2 podcast, Carlos Beltran confirmed the Yankees offered him a position in the organization after naming Aaron Boone their new manager. Pete Caldera says it was a special assistant/special advisor role. Beltran declined because he wants to take a year off and spend time with his family. He's been playing professional baseball since 1995. Can't say I blame him for wanting to take a break.
The Yankees hired Hideki Matsui as a special advisor shortly after he retired — his official title is special advisor to the general manager — and his duties include working his prospects, among other things. Matsui and Beltran are similar. They're both very well respected, they went out of their way to work with young players during their playing careers, and they have a lot of knowledge to share. Latin American players look up to Beltran. He has a lot to offer an organization. I imagine the Yankees will welcome him with open arms whenever he wants to get back into baseball.
Hal talking to A-Rod about role with Yankees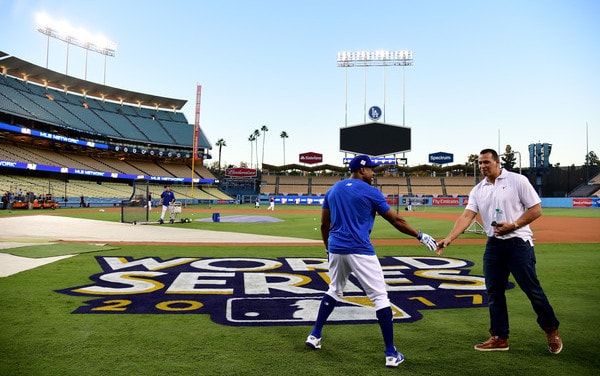 According to Brendan Kuty, Hal Steinbrenner has spoken to Alex Rodriguez about his role with the Yankees going forward. Hal said the talks have been "very positive," but he wants to keep them "private" for now. After being released in August 2016, A-Rod worked for the Yankees as a special advisor through the end of his player contract this season. He worked with their young players and things like that.
Alex has an awful lot going on right now between his new ESPN Sunday Night Baseball gig and postseason coverage with FOX, plus all the jet-setting with Jennifer Lopez. It may seem A-Rod won't have enough time for the Yankees, but man, he loves baseball, and I think he wants to remain in the game in some capacity, beyond broadcasting. Another special advisor role to work with prospects in Tampa a few times a year makes too much sense not to happen.
Yankees will let fans watch batting practice this spring
Fans will get to see the Aaron Judge and Giancarlo Stanton batting practice show this spring. Earlier this week the Yankees announced they will open the gates at George M. Steinbrenner Field three hours prior to first pitch this spring, one hour earlier than usual. That will give fans enough time to see the home team take batting practice. Here is the announcement from the Steinbrenner Field website:
The much anticipated 2018 Yankees Spring Training just got a little bit better. Steinbrenner Field will officially be opening 3 hours before game time (e.g. 1:05 p.m. game time, gates open at 10:05 a.m. to the public) so fans can experience the Yankees batting-practice action. Fans, be prepared to see your favorite players like Aaron Judge and Giancarlo Stanton taking BP and remember to bring your glove in case you get lucky!
As someone who's seen Judge and Stanton take batting practice a bunch of times, I assure you it is worth the price of admission. Effortless power. Both of them. They put on a show. Anyway, it's unclear whether the Yankees will open the gates an hour earlier during he regular season as well. For now it is Spring Training only. I imagine there are some logistical issues to work out for the regular season (the ballpark has to be staffed, etc.), though maybe once or twice a homestand? That'd be cool.