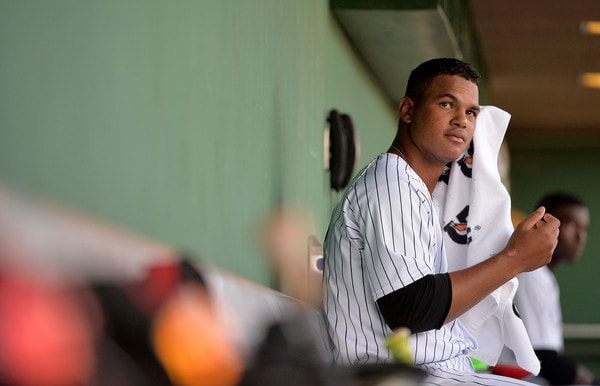 Counting this one, there are only three more baseball-less weekends to go before Spring Training games begin. Can't wait. Spring Training games are fun in their own way and, if you're a Yankees fan, how can you not be excited right now? Anyway, here are some links and notes to check out.
Six Yankees on MLB.com's top 100 prospects list
The crew at MLB.com released their annual top 100 prospects list last weekend. Angels RHP/DH Shohei Ohtani, who is rookie eligible, sits in the top spot. He's followed by Braves OF Ronald Acuna and Blue Jays 3B Vladimir Guerrero. The Yankees have six players in the top 100. Their rankings:
5. SS Gleyber Torres
44. OF Estevan Florial
48. LHP Justus Sheffield
65. 3B Miguel Andujar
74. RHP Albert Abreu
75. RHP Chance Adams
Former Yankees prospects Athletics SS Jorge Mateo (No. 72) and White Sox OF Blake Rutherford (No. 98) both made the top 100 as well. As always, MLB.com's scouting grades and reports are free, so make sure you check those out. Fresh and updated info on all the top prospects in the farm system.
Yankees rank second in Baseball America's farm system rankings
Earlier this week Baseball America released their annual organizational rankings, and they say the Yankees have the second best farm system in baseball behind the Braves. Keith Law said the same thing. "Atlanta has more close-to-the-majors pitching prospects, but in pure numbers, no one can match the Yankees' seemingly endless waves of power arms. Gleyber Torres and Estevan Florial give the team a pair of high-upside position prospects," says the subscriber-only report.
I have to say, I am pretty blown away the Yankees still have such a highly ranked farm system. Within the last 12 months they have graduated Aaron Judge, Clint Frazier, Jordan Montgomery, and Chad Green to the big leagues (and, technically, Tyler Wade), and traded away Mateo, Rutherford, James Kaprielian, Dustin Fowler, and Jorge Guzman. Ian Clarkin and Zack Littell aren't nobodies either. That's a ton of talent leaving the system! Leaving for good reasons of course, but still leaving. And yet, the Yankees still have a top tier farm system. Pretty awesome.
Yankees hire DelPiano
The Yankees have hired former Marlins vice president of player development Marc DelPiano, report Jon Heyman and Dan Martin. He is joining the pro scouting department. The Marlins let DelPiano and three other high level executives go a few weeks ago, after the Bruce Sherman/Derek Jeter ownership group took control. Interestingly enough, all four executives wound up with winning teams. Smart teams hiring smart people.
DelPiano, 50, played minor league ball briefly in the 1980s and is a veteran executive. He's worked for the Expos, Marlins (twice), Red Sox, and Pirates as everything from a scout to a farm system director to special assistant to the general manager. Given his resume, I imagine DelPiano is getting a high level job, not a scouting position. The Yankees shifted Kevin Reese from director of pro scouting to senior director of player development back in November, so maybe DelPiano is Reese's replacement as the pro scouting chief? We'll find out (eventually).
MLB makes new pace-of-play proposal
According to Beth Harris, commissioner Rob Manfred confirmed MLB has presented a new pace-of-play proposal to the MLBPA. Under the new proposal, a pitch clock will not be implemented in 2018, and it won't be implemented in 2019 either as long as the average time of game is under two hours and 55 minutes this season. (It was three hours and eight minutes last year. Hasn't been below two hours and 55 minutes since 2010.) There are other changes in the proposal that would be phased in over time. I imagine those have to do with mound visits.
The MLBPA has already flat out rejected several pitch clock proposals and they've taken a hard line in pace-of-play talks this winter. MLB can unilaterally implement rule changes this year, but only last year's proposal, which includes a 20-second pitch clock. It seems to me that, more than anything, Manfred and MLB are setting up the MLBPA to look like the bad guy here. This is a "we tried" proposal they know the union will reject, so when they implement a pitch clock, they can point to the MLBPA and say they made multiple offers. Whatever. I am pro anything that eliminates downtime within a game. Less standing around, please.
MLB will record dugout phone conversations
In an effort to combat sophisticated sign stealing, MLB is installing new dugout phones and will record all conversations, reports Ken Rosenthal. I'm sure you remember the Red Sox getting busted for stealing signs using Apple watches and information relayed from their video room. The Yankees were also fined for improper use of a dugout phone. I have no idea what they did, but they did something, enough to warrant a fine. Recording conversations figures to serve as a deterrent.
Stealing signs is not against the rules. I have no problem whatsoever with stealing signs. In fact, I encourage it. If a team doesn't hide their signs well, too bad. That's their problem. I am completely cool with stealing signs on the field — the runner at second looking in at the catcher, things like that — once it goes off the field and involves non-uniformed personnel, that's a problem. That goes beyond sportsmanship, whether it's an Apple watch or a dude with binoculars or whatever. MLB seems to agree. Who knew dugout phones were such a big deal?
Extra-innings rule may be coming to All-Star Game, Spring Training
According to Ronald Blum, MLB has proposed added an extra-inning tiebreaker rule to the All-Star Game and Spring Training games. Under the proposal, a leadoff runner would be put at second base starting with the 11th inning in the All-Star Game. The runner would be put at second in the 10th inning of spring games. Also, spring games would be capped at ten innings under the proposal. I can't remember the last spring game to go longer than ten innings, but whatever.
These tiebreaker rules are pretty terrible — they were used during the World Baseball Classic last year and they destroyed the vibe of the game (the first batter bunted the runner up and the second batter was intentionally walked to set up the double play every single time) — and I hope they never make their way into meaningful games. The All-Star Game and Spring Training though? Who cares. Seems like an easy concession for the MLBPA to make. Agree to the tiebreaker rules in the All-Star Game and Spring Training, and ask for something in return.