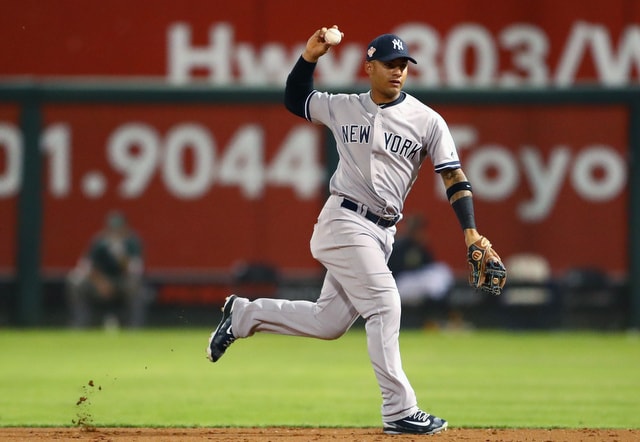 When the Yankees play their first Grapefruit League game Friday, the competition for the second and third base jobs will begin in earnest. It seems like Gleyber Torres and Miguel Andujar will spend most of the season at those positions, but who knows? Strange things happen. Maybe Tyler Wade blows everyone away in camp or Danny Espinosa forces the issue. We'll see.
Andujar got his feet wet with the Yankees last season and Torres likely would have as well had he not torn his non-throwing elbow ligament on an awkward slide into home plate. Gleyber had Tommy John surgery in June, rehabbed the injury, and is now a full go in Spring Training. Last week new manager Aaron Boone said there are "zero restrictions" on Torres this spring. That's good.
In a perfect world, Torres would kick butt in Spring Training again — he hit .448/.469/.931 with six doubles and two homers in 32 Grapefruit League plate appearances last year — and win the second base job outright. Things are never that simple though. Gleyber could have another great spring and still wind up back in Triple-A, for two reasons.
He's coming back from a major injury and hasn't played since June.
To manipulate his service time and delay his free agency one year.
The first point is fairly obvious. Torres may be great in camp, but it'll only be 30-something plate appearances, and not many of them will come against MLB caliber pitching. The Yankees may want to play it safe, let Gleyber get back up to speed in the minors, then bring him up when they're more comfortable with where he's at. Not unreasonable, I don't think.
As for the service time issue, the Yankees usually don't play that game, but it would be hard to blame them if they did. Sixteen days in the minors this year equals control of Gleyber's age 27 season in 2024. Sixteen days! That's nothing. The Yankees kept Luis Severino in Triple-A two years ago just long enough to push back his free agency, and I'm guessing they're glad they did. Why not do the same with Torres?
"It's not part of my evaluation process," said Brian Cashman to David Lennon when asked about Gleyber's service time. "We're trying to win. If we feel that somebody could benefit from more time in the minors, we'll make that decision at the end of camp. But I'll take all the information from what I see and factor that into the evaluation. Every win for us is valuable."
Cashman says service time won't be a consideration when determining Torres' Opening Day roster status because what's he supposed to say? The next GM to admit they're gaming a prospect's service time to delay free agency will be the first. And if the Yankees do play the service time game with Torres, they'd have plenty of cover because in no way is it unreasonable to send a 21-year-old kid with 23 career Triple-A games under his belt back to the minors after a major injury.
Rust and service time are two potential factors that could land Torres back in Triple-A to begin the season. There's another factor I haven't seen mentioned anywhere: Torres has barely played second base, the position he is expected to play for the Yankees long-term.  He has 165.1 career innings at the position. Total. That's Spring Training, regular season, and the Arizona Fall League. Barely more than 18 games worth. Throwing the kid to the wolves at second base in the big leagues might not work so well.
Remember two years ago, when the Yankees acquired Starlin Castro and he was asked about the transition from shortstop to second base? He said everything felt "backwards" on the other side of second base. It took him some time to adjust to the new position, and he worked at it every day with big league coaches. Torres has only played second base sporadically in the minors. There is a definite lack of experience at play here, a lack of experience Gleyber downplayed.
"I feel comfortable at both (short and second)," said Torres to Brendan Kuty. "I'm prepared. Last year I played both positions. I feel comfortable. This year, too, I have more comfortable and a little more experience. For me, the most important thing is to help the team at any position where the team needs me. Of course, I'll play whatever position and play hard."
Keep in mind the lack of experience doesn't necessarily show up in fielding ground balls or diminished range or anything like that. Torres still has soft hands, good range, and a strong arm. He knows how to play a routine grounder when a hitter rolls over on a pitch. The inexperience tends to show up on cutoff plays, or during the blind second base pivot, or on stolen base attempts, or during the shift. The non-routine plays. There's a learning curve.
A few years ago the Yankees traded for Stephen Drew, a career shortstop, at midseason and stuck him at second base sight unseen. They could so something similar with Torres and make him their starter at second despite not much experience at the position, but Gleyber's situation and Drew's situation are very different. Torres is a prized prospect and part of the long-term future. Drew was a band-aid on a short-term deal. No one cared about potentially screwing up his development.
All offseason and even now there seems to be the assumption Torres can step in at second base and play the position like he's been playing it his entire life — I know I'm guilty of it — but that's not really the case. Eighteen games worth of experience at second base. That's all. Going from Triple-A to the big leagues is hard enough. Going from Triple-A to the big leagues when you're coming off an injury and playing a new position is even more difficult.
The injury gives the Yankees enough of a reason to send Torres down when the season begins, and delaying his free agency would be a secondary benefit. The lack of second base time is another reason to send him down. It's easy to forget just how little time Torres has spent at second. He'll play there in Spring Training — he'll play there a lot in Spring Training — but enough to be comfortable enough to play the position full-time during his MLB debut? Well, that's what the Yankees are going to find out.
"He's a special kid. You can put him at short, put him at second, put him at third," said new infield coordinator Carlos Mendoza to Kuty. "We're preparing him for pretty much every role. You asked about second base. He would be comfortable catching the baseball, turning double plays. He looks good. He's been getting work all around the diamond. We just want to prepare him."