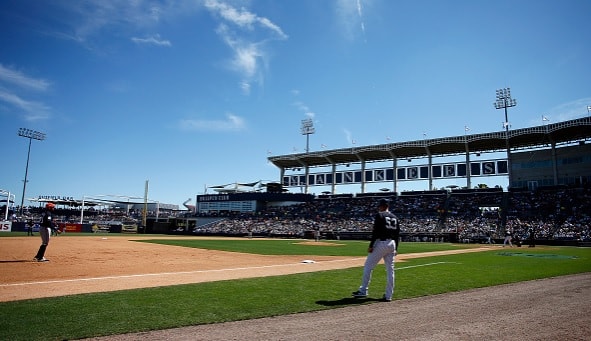 Spring Training has arrived. Pitchers and catchers report to Tampa today, and although pitchers and catchers reporting is typically a non-news day, it's still exciting. Position players are due to arrive Sunday — many are already in camp — and the first Grapefruit League game is next Friday. Fun time of year, this is. Anyway, let's get to some thoughts.
1. New manager Aaron Boone will hold his first annual start of Spring Training press conference later today — YES will have it live at 12pm ET (MLB.com will probably stream it as well) — and the major on-the-field questions he'll be asked are pretty straightforward. Who will play second and third bases? Will Aaron Judge or Giancarlo Stanton play left field? What role do you envision for Dellin Betances? How does Jacoby Ellsbury fit? The answer to each will be a longer version of "we'll see." Sorry for the spoiler. The more important questions, in my opinion: How is Judge doing following shoulder surgery? What sort of precautions are being taken with Luis Severino after last year's workload? What do you need to see from Chad Green to stick with him as a starter? What are some of the challenges you've already faced as a manager that you didn't expect? These start of spring press conferences are typically all optimism. Everyone is in great shape, so and so has been throwing well in bullpens, we're really excited about that young player, so on and so forth. I don't expect anything all that meaningful to come from today. I'm more curious to see how Boone is settling in now that the offseason is over and it's time to get to work.
2. I am weirdly interested in hearing how Spring Training runs this year. Rob Thomson had been in charge of Spring Training since 1998, even when he wasn't on the coaching staff, and George King says third base coach Phil Nevin and infielder coordinator Carlos Mendoza will run the show this year. I'm home in New York, not in Tampa, so I won't be able to tell you what's different and how things are going. At the end of the day, it's Spring Training. Pitchers throw their bullpens, batters take batting practice, and fielders go through their drills. It'll probably be the same as it always was. I'm just curious to see whether anything new is introduced. New drills, more team outings to bring the guys together, that sort of stuff. I guess my point is that, for the first time in 20 years, the Yankees have someone new running Spring Training, and I wonder what changes that will bring, if any.
3. Yu Darvish was the only free agent who I thought it was worth going over the $197M luxury tax threshold to sign. I've said all I have to say about the luxury plan. I think it's dumb for the Yankees to throw away their inherent market advantage. But they're going to get under the threshold whether I like it or not. The sooner they do it, the better. And with Darvish off the board, I don't see the point in exceeding the threshold for anyone else. J.D. Martinez doesn't fit at all. Lance Lynn or Alex Cobb? Meh. Eric Hosmer or Mike Moustakas? Not when you have Greg Bird and a small army of talented young infielders. Darvish makes any rotation better and would've been a big short-term upgrade for the Yankees. I like Jordan Montgomery as much as anyone, but he's not Darvish. And besides, the Yankees will need their sixth starter to make a bunch of starts at some point anyway. Simply put, signing Darvish would've given the Yankees a much better chance to win the World Series this year and the next few years, and I think that's enough of a reason to exceed the luxury tax threshold. Yes, the last two or three years of the contract will probably be ugly. That's life. The Yankees have enough money to deal with the back-end of the contract though. (They paid Ellsbury and Alex Rodriguez a combined $42.1M last year for +1.6 WAR and survived.) With Darvish off the board, I don't see any other free agent capable of having that kind of impact, so just get under the threshold now. Let's get this plan over with already.
4. Am I the only one who thinks the Yankees' rotation is pretty underrated right now? There's been so much talk about adding a pitcher — not just any pitcher either, the Yankees have been connected to guys like Darvish and Gerrit Cole and Chris Archer — that it can be easy to think the rotation is a mess. Some combined 2018 projections for the top six starters on the depth chart (Montgomery, Luis Severino, Masahiro Tanaka, CC Sabathia, Sonny Gray, and presumably Luis Cessa):
PECOTA: 4.16 ERA and +2.2 WAR per 180 innings
Steamer: 4.09 ERA and +2.7 WAR per 180 innings
ZiPS: 3.96 ERA and +3.0 WAR per 180 innings
The average AL starter had a 4.54 ERA last season. That three objective projection systems have the Yankees' top six starters putting up a combined 4-ish ERA in Yankee Stadium is pretty great. We'll see what actually happens on the field, of course. Projections don't really mean anything at the end of the day. They're just something fun to look at. I just think the Yankees have a pretty darn good rotation as it is, even while fully acknowledging the injury risks. Would another Darvish or Archer caliber pitcher be a welcome addition? Of course. But it's not necessary. I get the feeling that the ongoing search for a starter has a lot of people — not Yankees fans, necessarily — thinking the Yankees will be running a patchwork staff out there in 2018.
5. Alright, so who is going to be That Guy this spring? The guy who has an inexplicably excellent Spring Training and everyone wants him on the Opening Day roster. Every once in a while That Guy turns into Yangervis Solarte (.429/.489/.571 in spring 2014). Most of them turn into Jon Weber (.452/.452/.581 in spring 2010), which is to say not much at all. The Yankees didn't really have a That Guy last year. Greg Bird (.451/.556/1.098) and Gleyber Torres (.448/.469/.931) were way too hyped and prospecty to qualify as That Guy. Maybe Kyle Higashioka (.296/.406/.630)? Well, whatever. Danny Espinosa and Jace Peterson have serious That Guy potential this spring. They're too obvious though. I'm going with Nick Solak even though he's an actual prospect. I could see Solak hitting something like .420/.480/.700 against minor leaguers in the late innings of spring games and getting buzz as a second base option, even though he's only played 30 games above Single-A. Jump him over Triple-A, who cares, he's obviously ready and the best second base option. I can see it now.