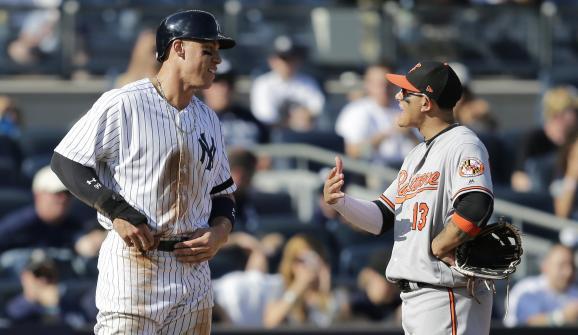 Earlier today the Yankees traveled to Sarasota to play the Orioles, and at some point before the game, Aaron Judge and Manny Machado chatted on the field. No big deal. Players chat on the field before literally every game.
Here's what Judge told reporters, including Mike Mazzeo, about his chat with Machado:
"Adding him to our lineup that we've already got would be something special," Judge said. "I told him he'd look good in pinstripes."

Judge made his pitch to Machado before Wednesday's spring training game. "He just kind of laughed it off and didn't really say much," Judge said.
Telling a player under contract with another team he'd look good in your uniform is generally frowned upon — it's tampering, basically — and MLB wasn't thrilled with Judge's comments. The league issued the following statement tonight:
"We have been in contact with the Yankees. They communicated to us that Mr. Judge's off the cuff comments were not appropriate and not authorized by the club. They will speak to him to make sure that this does not happen again."
If MLB was really upset, they'd have fined Judge. Instead they basically told him to knock it off. Actually, they told the Yankees to tell him to knock it off. So there you go.
Judge's mistake was not telling Machado he'd look good in pinstripes. His mistake was telling reporters he told Machado he'd look good in pinstripes. Rookie mistake by reigning Rookie of the Year. Anyway, no harm no foul. Judge won't do it again and life will go on. MLB's gotta do what MLB's gotta do.