Not even the biggest Aaron Judge fans saw last year coming. Judge blew every reasonable expectation out of the water en route to being named AL Rookie of the Year unanimously, and finishing second in the AL MVP voting. A rookie record 52 homers, an MLB high +8.2 fWAR, and countless jaws dropped with moonshot home runs. What a fun season.
Okay, so what now? Seriously, what does Judge do for an encore?
I'm honestly not sure there's any sense in trying to figure it out. Judge is an outlier in baseball history and an outlier even today, in an age of big and strong and fast baseball players. He's bigger and stronger than just about all of them, and faster than most too. (StatCast had him 149th among 451 players in sprint speed last year.) The normal rules of baseball do not apply to Judge.
This much is clear: Judge won't sneak up anyone this year. At this time last spring he was fighting for a job and trying to prove his 2016 strikeout issues would not hinder him in 2017. Now he's a known commodity. The biggest homegrown star on a team suddenly loaded with homegrown stars. Teams will build their game plans around Judge and dedicate more time to solving him.
The Yankees have embraced everything about Judge. He's front and center in every promo and they put The Judge's Chambers in right field. There is no hedging here. No "let's wait a year to see if he's for real before going all-in" or anything like that. Judge is now the face of the Yankees, and it is awesome. Let's preview his upcoming season.
Should we be worried about the shoulder?
Honestly, I'm not worried at all at this point. Judge had arthroscopic surgery on his left shoulder that "involved a loose-body removal and cartilage clean-up" back in November, and the rehab timetable had him on track to be ready for Spring Training. And he was. Judge reported to camp with the rest of the position players and participated in the first full squad workout like everyone else.
The Yankees did, however, hold Judge out of the first few Grapefruit League games because, well, why not? It was early in Spring Training and no team is going to push their franchise player when he's coming off surgery, even a relatively minor surgery. The Yankees took it slow with Judge, and he has since joined the lineup and started playing games. His bat hasn't come around yet (1-for-10) but it will soon enough. Still three weeks to go before Opening Day.
The shoulder started bothering Judge at some point last summer — he recently admitted it first started to bother him after crashing into the wall making a catch at some point in the first half — and it showed up in his production. We all know about the second half slump. A better indicator of the shoulder issue was his hard contact rate: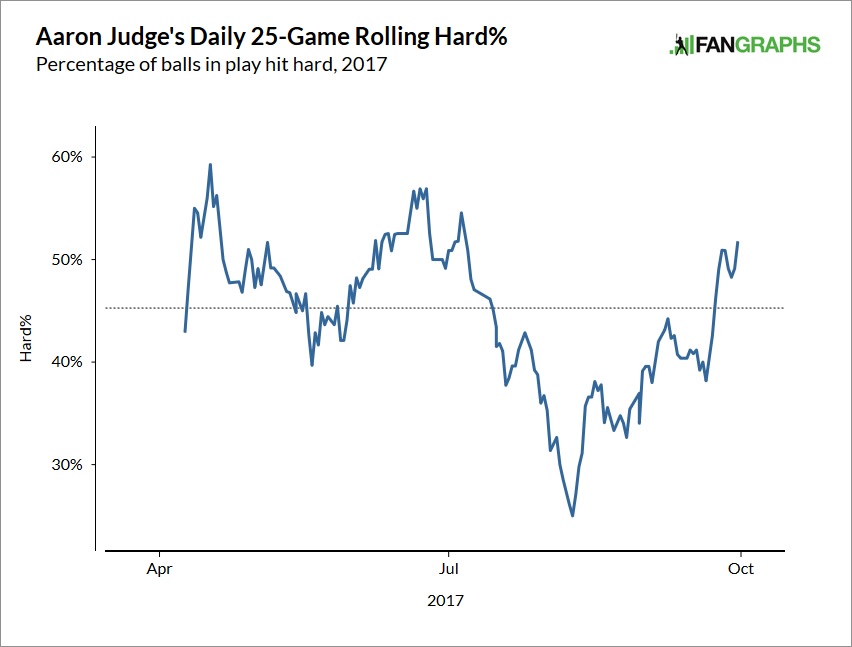 Judge hurt his shoulder and his hard contact rate, which was still excellent relative to the rest of the league, declined in the second half. Not a coincidence. Now Judge has a healthy shoulder! And hopefully that allows him to resume hitting the ball obnoxiously hard. I mean, he kinda did at the end of last season anyway, even with the less than 100% shoulder.
There is some level of risk involved in every surgery. In Judge's case, he's completed his rehab and has resumed playing in games. He has to get his timing down and otherwise prepare for the season, but the shoulder is healthy, and that's the most important thing. There wasn't structural damage — his labrum, rotator cuff, and capsule were fine — and the surgery wasn't invasive. Worry if you want, but I won't. Judge is healthy now.
"We're right on track. I feel good, the shoulder's been feeling good," said Judge to Sweeny Murti yesterday. "When I first got down here there was still a little soreness left in there, but this past week especially it's been pain free, no soreness, feeling great."
Can he do that again?
Brain: There's no way Judge can hit like that again.
Heart: Judge is going to be even better this season.
You can make an argument for both. Last season might've been a career year for Judge, and now he'll settle in as a very good player rather than an otherworldly player. Then again, Judge is a smart hitter and he has a better idea how the league will attack him, and he's entering what should be his prime years, so why can't he get better?
Like I said before, Judge is an outlier in baseball, and not only because he's physically huge. Players aren't supposed to be this productive while striking out that much. I've posted this list before and I'm going to post it again. The best seasons by players with a 30% strikeout rate:
Aaron Judge, 2017 Yankees: 173 wRC+
Chris Davis, 2015 Orioles: 149 wRC+
Jack Cust, 2005 Athletics: 145 wRC+
Kris Bryant, 2015 Cubs: 136 wRC+
Adam Dunn, 2010 Nationals: 136 wRC+
Judge will swing and miss as much as anyone. He also hits the ball harder than anyone. So yes, he strikes out, but when he doesn't strike out, he crushes the ball. Judge's average exit velocity last season was 94.5 mph. Nelson Cruz was a distant second at 92.8 mph. His average exit velocity on line drives and fly balls was 100.2 mph. Giancarlo Stanton was second at 99.7 mph and Joey Gallo was third at 98.6 mph. Ridiculous.
It's easy to say Judge won't repeat his .357 BABIP because basically no one repeats a .357 BABIP, especially someone who strikes out this much. But why wouldn't we expect Judge to post high BABIPs given how hard he hits the ball? Statcast says had a .444 expected wOBA last season based on the quality of his contact. His actual wOBA was .441. Judge smashed the ball and was rewarded appropriately for it. He didn't hit into good luck (or bad) luck.
I remember when Mike Trout came up and hit .326/.399/.564 (167 wRC+) with a .383 BABIP as a rookie in 2012, I thought there was no way he'd do that again. Not that he'd become useless or anything, but doing that again is very difficult. Then Trout went out and hit .323/.432/.557 (176 wRC+) with a .376 BABIP the next year, and he's been that damn good ever since. Shows what I know.
Trout is a special case given his talent, obviously, but you know what? So is Judge. He's a very smart hitter, he's proven throughout his career he can make adjustments, and he hits the everloving crap out of the ball. Maybe MLB un-juices the ball this season and Judge doesn't hit 52 home runs again. I think, even with the strikeouts, he's going to continue to be a monster. One of the top five or ten hitters in baseball, with on-base ability and power. Last season was not a fluke. Judge is just different.
Where's he going to play?
The Yankees have to figure out how Stanton and Judge will coexist in the lineup. Chances are they'll see most of their time in right field and at DH, though there will be times one of them has to play left field. Aaron Boone said earlier this week he'd prefer to move just one guy to left rather than ask both Stanton and Judge to do it. One will be the full-time right fielder, the other will play both corners.
Stanton has already played three games in left field this spring, and at some point Judge will get his chance out there. He's been working out in left on the backfields — he played some left for Triple-A Scranton as recently as 2016 — and eventually the Yankees will put him out there in a game. Whoever looks more comfortable in left field this spring figures to be the guy who plays there during the regular season.
Both Judge and Stanton are good athletes and good defenders, and once they get some more experience in left field, I expect both to be fine. I do wonder whether the Yankees will decide it's best to move Judge over to left rather than Stanton because Stanton already has a lot on his plate. He's joining a new team and is moving to a new city and a new division and all that. Asking him to learn a new position on top of that might be a little too much. I guess we'll see.
Point is, the Yankees have to figure out the best way to get Judge and Stanton in the lineup, and part of that process will be exposing Judge to left field. It'll happen soon enough. If he can handle it, great. If not, well the Yankees will figure something out. Judge is a good defender and I suspect he'll be fine in either corner. It's just a matter of figuring out the logistics, really. It'll happen soon enough.
* * *
Judge is basically everything the Yankees could want in a superstar. He's productive, he socks marketable homers, and he's unfailingly humble. The attention doesn't seem to bother him at all, and that's a trait you need to be a star player in this neck of the woods. Last season was a truly remarkable season for Judge and the expectations this season are enormous, both for him personally and the team as a whole. Everything he's shown us over the years tells us he is up to the task of meeting — if not exceeding — those expectations.