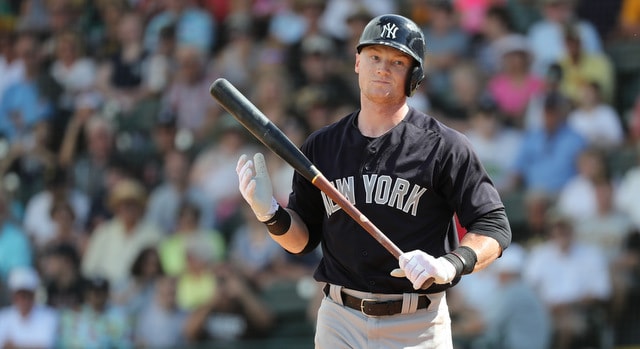 Knock on wood, the Yankees have gotten through the first three weeks of Spring Training relatively healthy. Aaron Judge's surgically repaired left shoulder is in good shape, ditto Gleyber Torres' left elbow. All of the pitchers are healthy, unless you're the type to worry about David Robertson getting food poisoning or Albert Abreu having his appendix taken out.
The two most notable injuries in camp this spring involve outfielders. Jacoby Ellsbury tweaked his side in batting practice last week and is out with what the Yankees are calling a mild right oblique strain. Clint Frazier managed to give himself a concussion crashing into the outfield wall making a catch ten days ago. Here's the video:
"I am in positive spirits right now. I feel a lot better," said Frazier to
George King
over the weekend. "It's not fun all around. I never had (a concussion) before. I have big hopes and dreams this year. It's hard to sit back and not watch those things come to reality right now. It's a matter of taking my time."
Frazier has had intermittent headaches the last ten days and he's scheduled for a light workout today. The hope is everything will go well and he'll get the green light to ramp up activities. As for Ellsbury, the Yankees indicated they expect this to be a short-term thing, though obliques can be a real pain in the butt. Oblique strains can linger.
"Anytime you're talking — even though we do believe it is a mild strain — obliques are a tricky thing," said Aaron Boone to Brendan Kuty after Ellsbury's injury was announced. "It's one of those like a hammy … You need to be healthy because as soon as you push it you set yourself back more so we'll be conservative in how we treat it and hope."
The hope is these are truly minor injuries and both Frazier and Ellsbury can return to the field soon. The reality is the nature of these injuries can be long-term. Obliques are very easy to reaggravate if they're not given enough time to properly heal and concussions are no joke. A concussion is a brain injury. Rush back and bad, bad things can happen.
Fortunately the Yankees have built impressive outfield depth, so much so that Ellsbury ($21.85M salary) and Frazier (top prospect) were slated to begin the season in supporting roles. I think the best way to break down the outfield depth chart is in tiers. This makes sense, no?
Tier One: Aaron Judge and Giancarlo Stanton
Tier Two: Brett Gardner and Aaron Hicks
Tier Three: Jacoby Ellsbury and Clint Frazier (both hurt)
Tier Four: Jake Cave and Billy McKinney
Two star sluggers, two strong supporting players, two depth options, and two Triple-A guys. Even before the injuries, Ellsbury was expected to begin 2018 as the fifth outfielder — I guess technically he would be the fourth outfielder since Judge, Stanton, Gardner, and Hicks would all be in the lineup thanks to the DH spot — with Frazier in Triple-A, if he's not traded for a pitcher before Opening Day.
If the Ellsbury and Frazier injuries linger — and again, these are the types of injuries that linger — the Yankees have the depth to replace them come Opening Day. Cave and McKinney are fine replacement options. Hard to have better seventh and eight outfielders than them. If the Yankees want Cave and McKinney to play everyday in Triple-A, non-roster invitee Shane Robinson is an easy guy to stick on the bench for a few weeks.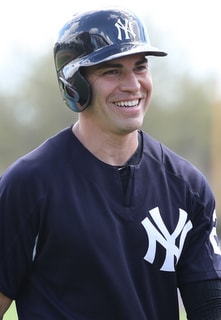 There's also Tyler Wade, who has outfield experience and played there a bit with the Yankees last season. He's in the running for the second base job, but if he doesn't get it, Wade could still make the roster as a utility guy and serve as the de facto extra outfielder. Point is, the Yankees have guys like Cave and McKinney and Wade as outfield candidates. That's a heck of a lot better than the days of Justin Christian and Kevin Thompson.
This what separates the Yankees from most other teams, I believe. Their depth, which is a product of the farm system. The Yankees have raised their own internal replacement level the last year or two. They can call up talented youngsters when injury inevitably strikes. They don't have to cycle through journeymen and veteran retreads. That isn't to say the journeymen can't help (Aaron Small!), but yeah, give me the talent kids every day of the week.
With any luck the Ellsbury and Frazier injuries will truly be minor, and they can both get back on the field reasonably soon. And hopefully they will still have enough time to prepare for the start of the regular season. Opening Day is three weeks and two days away now. If Ellsbury and Frazier aren't ready for the start of the season, so be it. It's early, so let them get healthy. Missing a few games now is better than missing many games later. The Yankees have the outfield depth to cover for both injuries for the next few weeks if need be.