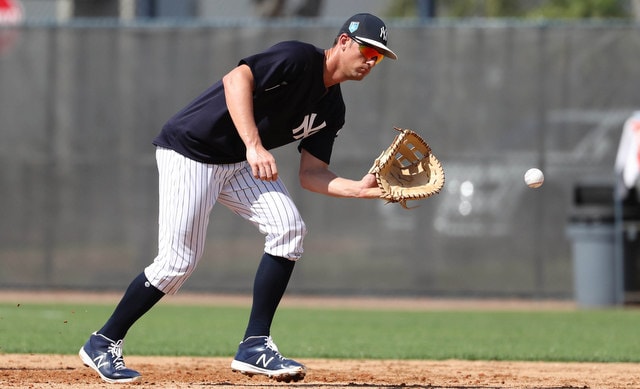 Greg Bird is heading for another extended stint on the disabled list. The Yankees announced today Bird will have surgery tomorrow to remove a broken bone spur on the outside of his right ankle. He'll rehab for 6-8 weeks before returning to game action. Dr. Martin O'Malley will perform the procedure. He operated on Bird's ankle last year.
Over the weekend Bird had to be scratched from a Grapefruit League game with soreness in his right foot. Initial tests showed inflammation, so the Yankees sent him to a specialist in New York, which is when the broken bone spur was found. Brian Cashman said Bird first complained of discomfort after playing nine innings in the field last week.
As you know, Bird missed much of last season with issues stemming from what was essentially an extra bone in his right ankle. Did the extra bone last year contribute to the broken bone spur this year? Who knows. Doesn't matter, really. Bottom line is Bird needs another surgery on the ankle and he'll miss upwards of two months. His recent health track record is not good:
2016: Missed entire season with shoulder surgery.
2017: Missed three and a half months with ankle surgery.
2018: Missed upwards of two months with another ankle surgery.
With Bird sidelined, the Yankees figure to go with some combination of Neil Walker and Tyler Austin at first base for the time being. Billy McKinney could also be a factor there, and maybe we'll see a reunion with Adam Lind. Losing Bird stinks — he is arguably their top lefty bat — but the Yankees do have the pieces in place to cover first base, at least until they find something better.