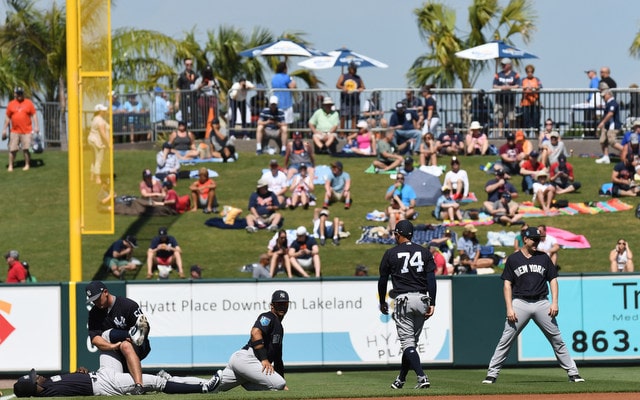 The 2018 Subway Series begins today in Port St. Lucie. George Steinbrenner used to take spring Yankees-Mets games very seriously. He made sure all the regulars played and all the top relievers were used. The Boss liked beating the Mets. Everyone likes beating the Mets! These days though, it's Spring Training, who cares. Everyone is rooting for the same thing: No one get hurt.
The Yankees made the long bus trip across Florida for this afternoon's game, and most of the regulars are back in Tampa for a workout. A few made the trip for today's game because MLB's rules say some regulars have to go on the road. I guess the few veterans playing today drew the short straws. Here is the Mets' lineup — old buddy Todd Frazier is playing — and here is the Yankees' lineup:
LF Brett Gardner
3B Brandon Drury
DH Miguel Andujar
1B Tyler Austin
2B Danny Espinosa
C Austin Romine
SS Ronald Torreyes
RF Shane Robinson
CF Estevan Florial
RHP Domingo German
Not great weather on Florida's Atlantic Coast today. It rained a bit this morning and it's going to be cloudy all afternoon, though there is no more rain in the forecast, according to the internet. Shouldn't be a problem getting today's game in. First pitch is scheduled for 1:05pm ET. If you're in New York, you can watch the game on SNY, not YES. If you're not in New York, you can watch on MLB Network. You can watch on MLB.tv anywhere. Enjoy the game.