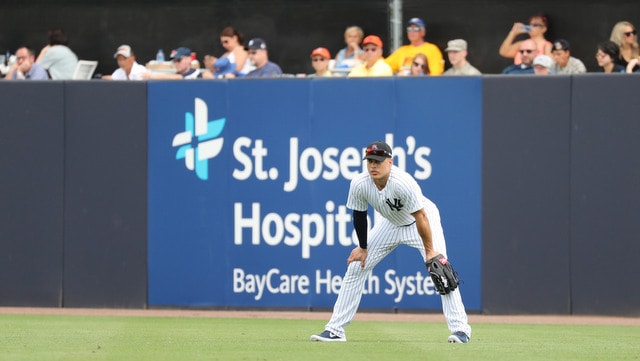 When the Yankees acquired Giancarlo Stanton back in December, both Stanton and Aaron Judge made it clear they are willing to do whatever necessary to accommodate each other, including changing positions. Today, for the first time in his big league career, Stanton is playing left field. I imagine Judge will see time in left in the coming days.
Of course, the club's best outfield defense features Brett Gardner in left field, but the Yankees have to be prepared for days Stanton and Judge are needed in the field. You don't want the first time either guy plays left field to come in a regular season game, you know? My guess is both Judge and Stanton will be perfectly fine in left field. They're both good defensive outfielders and once they get some left field time under their belt, they'll both look natural out there.
The Rays made the trade up from Port Charlotte for this afternoon's game and they brought several former Yankees with them. Nathan Eovaldi will start today's game and second baseman Nick Solak, who was part of the Brandon Drury trade, is in the starting lineup. That'll be fun. Here is the Rays' lineup and here is the Yankees' lineup:
CF Brett Gardner (first game in center field this spring)
RF Aaron Judge
LF Giancarlo Stanton
C Gary Sanchez
DH Brandon Drury
3B Danny Espinosa
1B Billy McKinney (second game at first base this spring)
2B Ronald Torreyes
SS Tyler Wade
RHP Chad Green
Available Pitchers: LHP Aroldis Chapman will make his spring debut today. RHP Cale Coshow, RHP Raynel Espinal, RH Matt Frawley, RHP Gio Gallegos, RHP Ben Heller, LHP Wade LeBlanc, LHP James Reeves, and RHP Andrew Schwaab are also available.
Available Position Players: C Erik Kratz, C Chace Numata, C Jorge Saez, 1B Chris Gittens, IF Gleyber Torres, IF Kyle Holder, 3B Miguel Andujar, OF Jake Cave, OF Estevan Florial, OF Mark Payton, OF Shane Robinson, and UTIL Jace Peterson are the bench players.
It is sunny and cool in Tampa — cool by Florida standards, anyway — so it's a great afternoon for baseball. Today's game will begin at 1:05pm ET and you can watch on YES locally and MLB.tv nationally. Enjoy the game.