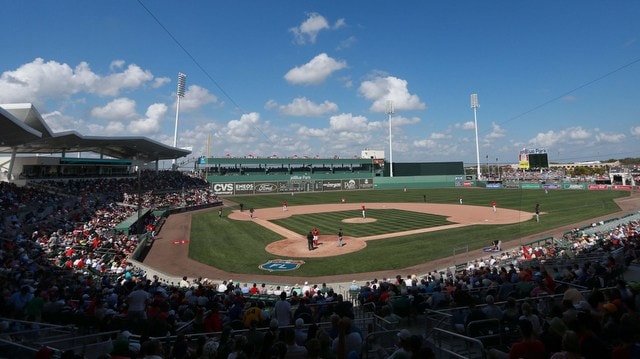 The Yankees are in Fort Myers this afternoon to, uh, renew their Spring Training rivalry with the Red Sox. If the Red Sox win today, it proves the Yankees are overrated and Boston is still the team to beat in the AL East. If the Yankees win, well it's just a Spring Training game, so who cares? Fire up your narrative machines.
On the mound this afternoon is Chance Adams, arguably the top pitching prospect in the system and inarguably the club's closest to MLB pitching prospect. Adams could very well begin the season as the No. 6 starter. He has appeared in one spring game already (1 IP, 1 H, 1 R, 2 BB, 0 K), though today will be our first chance to see him in a televised game. Looking forward to it. Here is the Red Sox's lineup and here is the Yankees' lineup:
CF Aaron Hicks
1B Greg Bird
3B Brandon Drury
SS Didi Gregorius
2B Gleyber Torres
DH Danny Espinosa
C Austin Romine
RF Billy McKinney
LF Jake Cave
RHP Chance Adams
Miguel Andujar, Estevan Florial, and Justus Sheffield all made the trip as well. I imagine they're going to play at some point.
It is warm and sunny down in Fort Myers today. Nice afternoon for a ballgame. Today's game will begin at 1:05pm ET and you can watch on MLB Network and MLB.tv. Neither will be blacked out locally. There is no YES broadcast today. Enjoy the game.