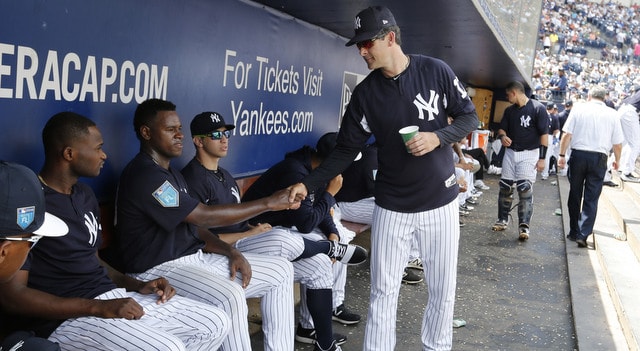 This afternoon the Yankees are playing their first and only set of split squad games this spring. Half the team is at home in Tampa to take on the Blue Jays. The other half is in Orlando to play the Braves. Sadly, only one game — the road game — will be televised. That's better than nothing though.
Today's main event: Luis Severino's final spring start. He's on the road to face the Braves because the Yankees don't want him facing the Blue Jays, the same team he'll face five days from now on Opening Day. Makes sense. Hopefully this is a nice and easy tune-up start for Severino. Get the allotted pitches in and call it a day. Here are the day's lineups:
Home vs. Blue Jays
1. LF Brett Gardner
2. RF Aaron Judge
3. DH Giancarlo Stanton
4. SS Didi Gregorius
5. 1B Neil Walker
6. 3B Miguel Andujar
7. CF Jacoby Ellsbury
8. C Austin Romine
9. 2B Jace Peterson
RHP David Hale
Road at Braves
1. CF Aaron Hicks
2. C Gary Sanchez
3. 1B Greg Bird
4. DH Tyler Austin
5. 3B Tyler Wade
6. SS Ronald Torreyes
7. 2B Gleyber Torres
8. RF Billy McKinney
9. LF Shane Robinson
RHP Luis Severino
Lovely spring weather in both Tampa and Orlando today, so they'll get both games in without issue. Both games will begin shortly after 1pm ET, and, like I said, only the road game will televised. You can watch on MLB.tv. There are no YES, ESPN, or MLB Network broadcasts. Enjoy the game.