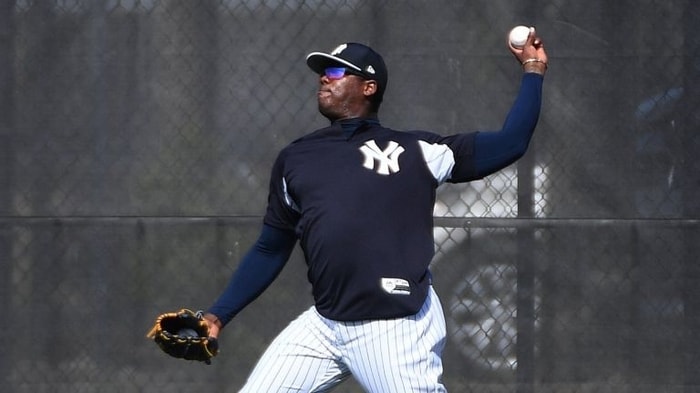 Aroldis Chapman was indoctrinated into a proud tradition last season, as dozens of "what's wrong with [the Yankees closer]" stories were written about him over the Summer. It was justified, of course, considering the workload that he had with the Cubs in 2017, his struggles in the playoffs that year, and his stint on the disabled list – but by the end of the season it was a (somewhat) distant memory. And the Yankees are almost certainly completely confident in Chapman's ability to dominate from wire to wire in 2018.
About Those Struggles, Though
We can't simply gloss over the fact that Chapman struggled for the better part of four months last year, in terms of both performance and some underlying trends. He posted a 5.28 ERA in that stretch, with a month-long stint on the disabled list attributed to shoulder tendinitis. And his whiffs essentially disappeared: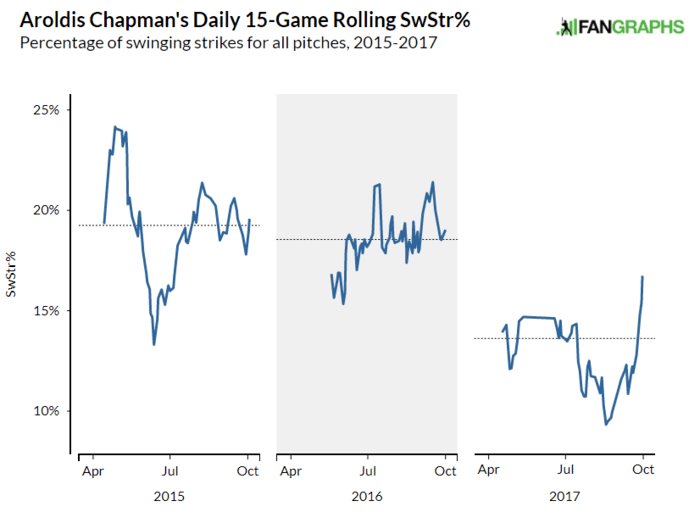 And his fastball lost a considerable amount of vertical movement: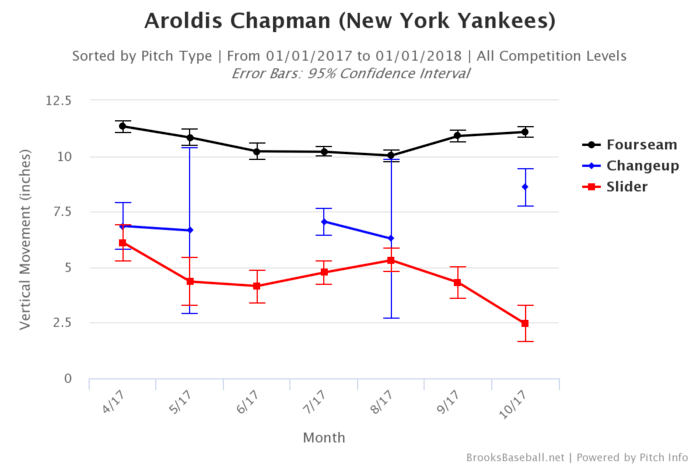 Put that all together and you have a gigantic red flag. Chapman was demoted from the closer's role for a couple of weeks as a result, and was effectively shut down from August 26 through September 4, pitching just once in something of a mop-up role. And his return to the ninth inning on September 9 was due to Dellin Betances' struggles more so than Chapman's improvement.
The Return To Dominance
When Chapman returned to the closer's role, he did so with gusto (and a new fastball). He appeared in nine games in the last three weeks of the regular season, pitching to the following stellar line: 10.0 IP, 2 H, 0 R, 2 BB, 13 K. And, as you can see from the above graphs, he started racking up whiffs again, and his fastball regained its movement.
Chapman continued to shine in the playoffs, striking out the side in the 9th to close out the Wild Card game, and allowing just one run in six appearances (totaling 8 IP). He struck out 16 against just 2 walks in those 8 innings, as well. The one run he did allow was a walk-off job against the Astros in Game 2 of the ALCS – but that was the only blemish on an otherwise magnificent September through October stretch for Chapman.
Is that enough to make us forget about his struggles for half of 2017? I think so. Chapman's stuff and results were right where they've always been by the time the Yankees headed home for the Winter, and he turned 30 less than a month ago. This doesn't appear to be a declining pitcher having a small sample size bounceback after a long stretch of mediocrity; rather, it appears to be a dominant pitcher dealing with injuries and overwork hitting his stride late in the season.
The Projection Systems
Steamer: 65.0 IP, 13.2 K/9, 3.8 BB/9, 2.87 ERA, 2.98 FIP
ZiPS: 52.1 IP, 14.1 K/9, 4.0 BB/9, 2.41 ERA, 2.45 FIP
PECOTA: 54.1 IP, 13.6 K/9, 3.5 BB/9, 2.11 ERA, 2.46 DRA
All three systems see Chapman falling somewhere in between his career norms and his disappointing 2017. Though, to be fair, PECOTA's ERA projection is actually better than his career average of 2.21 – it simply sees his strikeout rate remaining at an "awesome" level, as opposed to fully bouncing back to "absurd." And I doubt that any of these outcomes strike anyone as unrealistic, or terribly disappointing.
My Take
I think 2017 was largely an aberration, and I expect to see the dominant version of Chapman this season. The days of a 1.55 ERA may be over, but I don't see a compelling reason to doubt his ability to maintain an ERA in the low 2s, while continuing to rack-up strikeouts and slam the door in the ninth. Whether or not he will be worth the remaining three years and $50-plus million from 2019 through 2021 is a more intriguing (and worrisome) proposition to me – but I believe the ninth inning is in good hands for the Yankees in 2018.