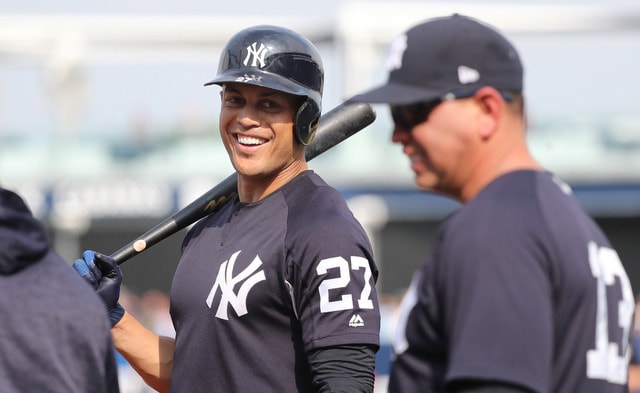 In one week and approximately six hours, the Yankees will open their 2018 regular season against the Blue Jays in Toronto. Luis Severino vs. J.A. Happ will be the Opening Day pitching matchup. The regular season can't come soon enough. Let's get some thoughts with Opening Day a week away.
1. The Orioles got better by adding Alex Cobb. No arguing that. Their rotation was pretty hideous a few weeks ago, before they added Cobb and Andrew Cashner. But why did the O's give Cobb that contract? How does Lance Lynn get one year and $12M while Cobb gets four years and $57M in the same offseason? I don't get it. Who were the Orioles bidding against, exactly? They waited out the free agent market to get a bargain, then gave Cobb pre-2018 money anyway. Whatever. Anyway, given the contract, there's basically no way the Yankees could've signed Cobb and remained under the $197M luxury tax threshold. His contract works out to a $14.25M luxury tax hit, which would've left the Yankees with about $4M under the threshold for midseason additions. Even passing on Neil Walker to sign Cobb at that salary would've been difficult to manage. I was kinda blah about signing Cobb anyway. That the O's blew him away with that contract makes it much easier to just move on and say forget it, the Yankees never really had a chance. Any pitching help will have to come from within the organization or through trades.
2. Earlier this week Aaron Boone was asked (again) about his regular season lineup and he said he'll discuss certain things with the front office, but ultimately the lineup is his call. That's how it was with Joe Girardi. Brian Cashman said the front office would help Girardi with whatever, but the lineup was his to write. Anyway, as part of his chat about lineup construction, Boone gave us a little peek behind the curtain at the managerial interview process. From Bryan Hoch:
During the interview process, Boone was provided with a list of nameless players' statistics and asked to put lineups together. He said that the exercise was "kind of fun," and though it was never explicitly stated, Boone said that the lineup will be his — and his alone — to create.

"It's kind of a given," Boone said. "Did it come up? Not necessarily. But it's clear that it's my call."
Heh. That's the kinda thing I never would've guessed is part of the managerial interview. I mean, I assumed lineup strategy is discussed, but a fantasy baseball style "here are some numbers now arrange a lineup" exercise? Didn't see that coming. What could a team learn about the managerial candidate from that? Lineup building can be really subjective. I guess that could help weed out people who maybe aren't as tuned in with the modern game as you may've thought going into the interview. Like someone saying the guy hitting .310/.330/.400 should hit second because he's hitting .310 while the guy hitting .250/.380/.480 is batting seventh. Something like that. I dunno, I just thought that exercise is kinda fun. Not something I expected.
3. Doesn't sound like the Yankees will steal a ton of bases this season. "We have certainly some guys athletically with some speed that we'll be able to take advantage of hopefully taking some extra bases when they're available, but I also think we'll be conservative because of our lineup and because I'm not real big on making outs on the bases," said Boone to Randy Miller a few days ago. In other words, the Yankees have too much power to risk losing baserunners on steal attempts. And I am totally cool with that. The more baserunners, the better. First base is scoring position with this lineup. Heck, there's a man in scoring position when the bases are empty. Interestingly enough, during a recent R2C2 podcast Brett Gardner said there were times last season he didn't steal because he could sense the pitcher was distracted by the threat of a steal, and keeping the pitcher distracted while Aaron Judge and Gary Sanchez are the plate is more valuable than the extra 90 feet. When you have a lineup (and a home ballpark) like the Yankees, I am cool with giving runners the red light. There is a time and a place for stealing bases — in the late innings of a one-run game, for example — but for most part, the risk isn't worth the reward. I'm glad Boone sees it the same way.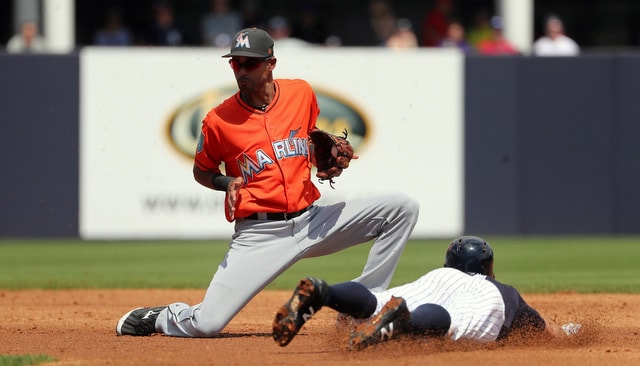 4. Barring a surprisingly quick recovery, Jacoby Ellsbury will open the season on the disabled list with an oblique injury, giving the Yankees a roster spot to play with. Boone has already indicated they could use Ellsbury's roster spot to carry an eighth reliever, and it sure seems like that's where things are heading. I don't love eight-man bullpens, but if you're going to carry an eighth reliever, April is the time to do it. The last thing the Yankees want to do is work any of their top pitchers too hard, too soon. My personal eighth reliever pecking order:
Domingo German
Ben Heller (already optioned out)
Luis Cessa
Jonathan Holder
Gio Gallegos (already optioned out)
Whoever it ends up being, I'm not going to sweat the selection. I imagine the eight-man bullpen will only be temporary — Ellsbury shouldn't be out that long — and the eighth reliever might not pitch much anyway. German is atop my eighth reliever preference list, but if the Yankees decide to send him to Triple-A Scranton to keep him stretched out as the sixth starter, that's cool with me. Eight-man bullpens are becoming the new normal though. Twenty-two teams are tentatively scheduled to open the season with an eight-man bullpen according to Roster Resource, including basically every contender (Astros, Cubs, Dodgers, Nationals, etc.). Forget the future of baseball. Eight-man bullpens are the present.
5. The Ellsbury and Clint Frazier (concussion) injuries allowed Estevan Florial to stick around big league camp longer than expected, and you know who else benefited? Jeff Hendrix. He was regularly brought up from minor league camp to play the outfield off the bench, which is what Florial would've been doing had Ellsbury and Frazier been healthy. Hendrix is 5-for-15 (.333) with a double and two steals during Grapefruit League play, and he's also made some nice catches in all three outfield spots.
The Yankees selected Hendrix in the fourth round of the 2015 draft, and while he has no power (three homers in 1,148 pro plate appearances), he has hit .290/.395/.352 (125 wRC+) with 24 stolen bases in 134 games at High-A and Double-A the last two years. A left-handed hitter with on-base ability and good outfield defense has a chance to be a nifty little bench piece. Hendrix will be Rule 5 Draft eligible after the season and the Yankees might not (probably won't) have room for him on the 40-man roster. His best big league opportunity figures to come with another organization. Hendrix got some extra at-bats this spring thanks to the Ellsbury and Frazier injuries and took advantage of them. Maybe that put him on another team's radar for trade talks or the Rule 5 Draft.
6. We're starting to get clarity on the Rule 5 Draft guys. The Braves returned Anyelo Gomez earlier this week and the Orioles designated Jose Mesa Jr. for assignment yesterday (to make room on the 40-man for Cobb), so he'll be back in a few days, once he goes through waivers. The Yankees lost four players in the Rule 5 Draft over the winter. Here's how the other two are doing:
Nestor Cortes, Orioles: 14.1 IP, 16 H, 8 R, 8 ER, 4 BB, 11 K, 2 HR (5.02 ERA and 1.40 WHIP)
Mike Ford, Mariners: 11-for-49 (.224) 2 HR, 9 BB, 9 K
Nasty Nestor threw 3.1 scoreless innings against the Yankees last week, though they got to him for three runs in four innings last night. The Orioles have a recent history of keeping their Rule 5 Draft guys all season, even if they stink, and it sure seems like there is room in their bullpen for Cortes. Dan Vogelbach is crushing the ball over in the Cactus League and that doesn't bode well for Ford. How many first base only left-handed hitters does one team need? Squeezing Ford and Vogelbach and Ryon Healy onto the roster seems impossible. That's like two first basemen too many. Gomez is back and Mesa is on his way back. My guess is Ford also comes back before Opening Day, and Cortes sticks with the O's for a few weeks. I guess we'll find out soon enough.