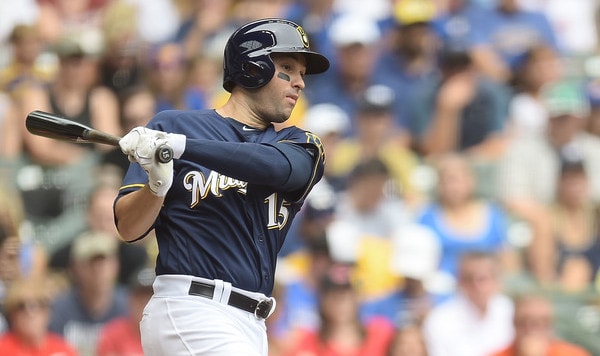 Turns out that, even after the Brandon Drury trade, Neil Walker's asking price was too good to pass up. The Yankees signed Walker to a one-year deal worth $4M guaranteed yesterday. Can't beat that price. The infield is presumably now set with Walker at second and Drury at third. I have some thoughts on the Walker signing and what it means, so let's get to it.
1. Walker was my preferred infield target. I said it more times than I care to count during the offseason. I'm pretty thrilled with the signing, especially at that price. I was hoping two years and $20M would get it done back in November. One year and $4M? You can't hate it. Walker switch-hits, he has a history of getting on base and limiting strikeouts — let's face it, the Yankees are going to strike out a bunch this season, so it'll be nice to have a little more contact to balance things out — and he provides protection at first and third in addition to his usual second base. Versatile hitter, versatile defender, versatile within the lineup. He'll probably hit toward the bottom of the order, but Walker is good enough that if the Yankees need him to hit leadoff or second for some period of time, he can do it. Joel Sherman says the Yankees were internally debating Drury or Walker a few weeks ago. Now they have both. "It was something we couldn't ignore when the opportunity still existed," said Brian Cashman to Pete Caldera yesterday. Yup. A cheap but potentially significant addition.
2. The full contract details: $4M guaranteed with an additional $500,000 in incentives ($125,000 each for 450, 475, 500, and 525 plate appearances), plus Jon Heyman says Walker gets a suite on the road. That last part is one of those things the Yankees can include in a contract to entice a free agent without it counting against the luxury tax payroll. The days of flying commercial and sharing rooms on the road are long gone. Teams have charters and everyone gets their own room, and the Collective Bargaining Agreement has guidelines for hotel quality standards. That said, these guys are on the road more than 120 days a year when you include Spring Training. Getting a suite rather than a regular room is a nice little perk. Walker got hosed on his contract this offseason. The Yankees are playing him a fraction of his actual worth. At least they're hooking him up with more comfortable accommodations on the road.
3. The Walker signing all but guarantees Miguel Andujar will open the season with Triple-A Scranton. Gleyber Torres has had a tough spring and, even if he raked, sending him down always made sense given the injury and long layoff. (Delaying his free agency is an added bonus.) There was still a chance the Yankees would open the season with Andujar at third and Drury at second — Drury has played zero second base this spring, of course — but that's off the table with Walker aboard. I'm bummed, I was hoping to see Andujar in the Opening Day lineup, but more time in Triple-A isn't the end of the world. He only played 58 games at the level last year and he does have some defensive stuff to work on. It's not like he's been in Scranton for a year and a half crushing the ball, you know? Signing Walker doesn't block Andujar or Gleyber. It hedges against their inexperience and allows the Yankees to bring them along slowly, without thrusting them into a full-time big league role if they don't feel either guy is ready. Both Andujar and Torres remain part of the long-term solution. I have no doubt about it. Walker's one-year deal isn't preventing anyone who deserves to be on the roster from being on the roster. Collect talent, sort it out later.
4. Does the Walker signing (and Drury trade) make Andujar or Torres more available in trades? Possibly. I don't think the Yankees want to trade either guy, but no one is ever truly untouchable, and now the Yankees have the necessary veteran infield depth to consider such trades. What if the Yankees are neck-and-neck with the Red Sox in July, and they have a glaring need for another starting pitcher, and someone like Danny Duffy or Chris Archer is actually available? The Yankees have lots of breathing room under the $197M luxury tax threshold — even with the Walker signing, they still have about $18M to spend under the threshold — and plenty of prospects to trade, so when the time comes to make an addition during the summer, the Yankees are in great position to do so. Adding Walker (and Drury) could make Andujar and Torres more available. I don't think the Yankees want to trade either guy. But if things get hot and heavy at the trade deadline, they can more seriously consider trading one of them now.
5. For what it's worth, ZiPS projects Walker for a .262/.338/.456 (112 OPS+) batting line with +2 WAR at Yankee Stadium this year, which is a little light on OBP but otherwise right in line with his last few seasons. This would be my ideal Opening Day lineup:
2B Jose Altuve
CF Mike Trout
1B Joey Votto
RF Aaron Judge
DH Giancarlo Stanton
LF Kris Bryant (he's played it a bunch!)
SS Carlos Correa
3B Nolan Arenado
C Gary Sanchez
But since that lineup isn't possible, this one will have to do:
LF Brett Gardner
RF Aaron Judge
DH Giancarlo Stanton
C Gary Sanchez
SS Didi Gregorius
1B Greg Bird
CF Aaron Hicks
2B Neil Walker
3B Brandon Drury
Given his on-base ability, would it make more sense to bat Walker ninth and let him serve as the proverbial second leadoff man? It's worth considering. Point is, Walker is quite good and he's going to bat in the lower third of the order because the Yankees are just that damn good. The bottom of the order wouldn't look out of place as the middle of the order. "The middle's kind of everywhere," as Bird said to Mike Mazzeo. Yup. As long as Judge and Stanton bat in the first inning, and Sanchez also hits in the first inning if someone reaches base, pretty much any batting order works for me. The Yankees are going to score a frickin' ton of runs this summer. Gonna be a blast.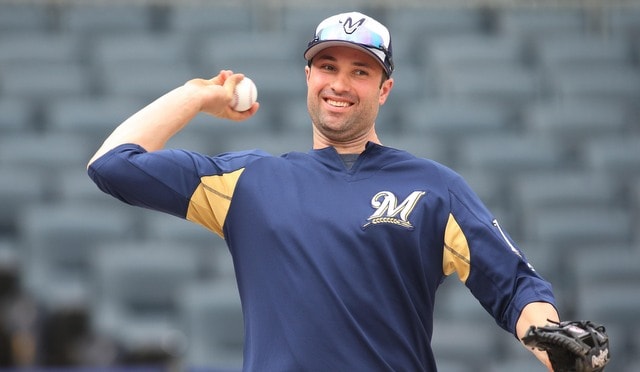 6. Speaking of Bird, Walker can now take over as the backup first baseman, meaning Tyler Austin and Adam Lind may be without a roster spot. (The Yankees have to add Lind to the roster by next Thursday to nullify his opt-out.) Austin Romine, Ronald Torreyes, and Jacoby Ellsbury will be on the bench to start the season (assuming Ellsbury is healthy, which doesn't seem like a safe assumption at this point). I keep seeing people say Torreyes won't make the team, but I don't get it. The Yankees have given zero indication Torreyes is in danger of losing his roster spot. They like him a lot as utility guy. Anyway, that fourth bench spot could still go to Austin or Lind, or the Yankees could opt for a more versatile piece, like Tyler Wade. Wade as a supersub who starts, say, four games a week and gets 400-something plate appearances this season could be a nice little player. He's versatile enough to play the outfield and he'd give all the regulars a little rest. That supersub job is not easy — coming to park every day and not knowing where you're going to play can't be easy — and the Yankees might not want to put that on Wade this early in his career. Long story short, the Yankees don't absolutely have to carry a backup first baseman on the bench. Walker can do it, potentially freeing up a bench spot for someone else.
7. Walker is a switch-hitter but he has historically been much more effective against right-handed pitchers. He hit .279/.376/.478 (127 wRC+) against righties and .214/.313/.298 (67 wRC+) against lefties last year. Over the last three seasons it's .274/.348/.455 (117 wRC+) against righties and .264/.331/.408 (99 wRC+) against lefties. The good news: Walker's good side is the heavy side of the platoon. He's going to face way more righties than lefties because that's baseball. It might not be a bad idea to platoon Walker against southpaws, however, especially with guys like Chris Sale and David Price in the division. Could that be a way to get Andujar or Torres into the lineup at some point? Maybe. My guess is it means more Torreyes at second base against lefties. Walker isn't completely useless against left-handed pitchers, but ideally, the Yankees would use their organizational depth to shelter him against southpaws, and give those at-bats to a lefty masher.
8. The Yankees reportedly had a deal in place for Walker at the trade deadline, but they backed out over medical concerns. Whatever they were, those concerns do not exist now, but Walker does have an injury history. He's played more than 140 games only twice in seven full big league seasons. Last year a partially torn hamstring limited him to 111 games, and two years ago back trouble limited him to 113 games. How are Andujar and Gleyber and Wade going to get in the lineup? Well, chances are Walker will miss time at some point, so that's how. The Yankees are deep enough right now that Walker doesn't have to play every single game. They can put him on the apparent Brett Gardner plan and treat him more like a 120-game player than a 150-game player, mostly by sitting him against lefties. That opens up playing time for the youngsters. Walker is a flawed player. No doubt. He's a switch-hitter who struggles against lefties and he has an injury history. His pros far outweigh his cons, however.
9. Jake Cave was designated for assignment to clear a 40-man roster spot for Walker and he seemed like the obvious one to go. Cave had a nice season last year, a breakout season really, but he's already 25 and he has a history of knee problems. The Yankees are loaded with outfielders and that made him expendable. Cave has been outrighted once before, meaning he can elect free agency if he clears waivers, which I imagine he would do given the lack of opportunity in New York. Chances are the Yankees will trade Cave for cash or a player to be named rather than lose him for nothing. Wherever he winds up, I hope he gets a chance to play. He's been grinding it out for a long time in the minors and he worked hard to come back from a very serious kneecap injury early in his career. Anyway, with Cave gone, Triple-A center field duties figure to fall to Jace Peterson and Shane Robinson. (Why did the Yankees sign Robinson? Probably because they knew Cave was first up on the 40-man chopping block, and they wanted a depth outfielder.) Maybe the Yankees aggressively promote Rashad Crawford or Jeff Hendrix to Scranton. Either way, someone needed to go to clear roster space for Walker, and Cave was most expendable among the fringe 40-man roster players.
10. Good gravy are baseball's economics broken. The Yankees traded Starlin Castro for Giancarlo Stanton because Stanton's former team decided they couldn't afford him, then the Yankees signed a comparable (or better) second baseman for less than half Castro's salary. Baseball's economics are broken and the Yankees took full advantage this offseason. Hard to believe they got Walker for $4M. A partial list of players who will make more than Walker in 2018: Erasmo Ramirez, Anthony Swarzak, Marc Rzepczynski, Tony Sipp, Daniel Hudson, Adeiny Hechavarria, Santiago Casilla, Jordy Mercer, and Erisbel Arruebarrena. Collusion or no collusion, all 30 teams simultaneously decided to not spend big on free agents this winter, and players are getting squeezed. Even at age 32 with an injury history, Walker is not a $4M player. His on-field value is considerably higher. I'm guessing more than a few teams are going to be kicking themselves for not beating this offer once the season gets underway.