Good start to the season? Good start to the season. The Yankees snapped their six-year Opening Day losing streak and gave Aaron Boone his first win as a manager Thursday afternoon, beating the Blue Jays 6-1. Giancarlo Stanton raked, Luis Severino dominated, and Giancarlo Stanton raked some more. I could get used to this. 162-0 here they come.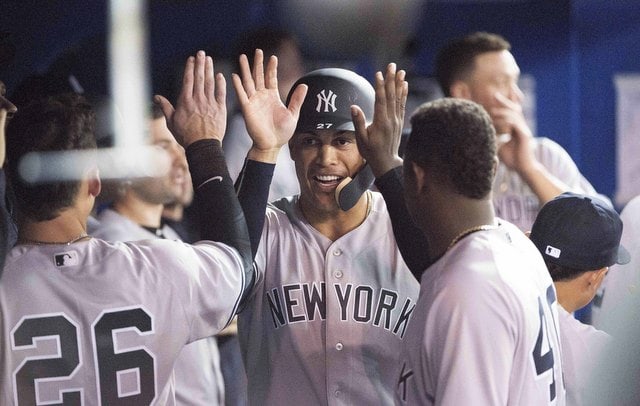 "I Feel Sorry For The Baseballs"
Couldn't have asked for a better start to the new season and Stanton's Yankees career. Brett Gardner led off the first inning of the first game of the new year with a little flare line drive to left field that Curtis Granderson inexplicably dropped. Clanked right off his glove. Granderson should've caught it and he knows it. Error on the first play of the new season ain't good. For the Yankees, it was a blessing.
J.A. Happ rebounded to strike out Aaron Judge for the first out of the game and the season, which brought Stanton to the plate. First pitch: Two-seamer at the knees for a called strike. Nice pitch. Can't do anything with it. Second pitch: Another two-seamer, this one a bit higher above the knees. Not an awful pitch, but a pitch Giancarlo could handle. He walloped a two-run home run out to right-center. To the very necessary video:
I needed a cigarette after that. Stanton hit that baseball 117.3 mph. Only seven home runs were hit harder all of last season, and all seven were hit by Stanton and Judge. Since Statcast became a thing in 2015, that is the hardest hit home run recorded at Rogers Centre — Judge held the previous record at 113.6 mph — and the hardest hit opposite field home run at any park. Exit velocity can be a bit of a bore, but man, that's nuts.
Anyway, two innings later, Judge smoked a two-out double into the left field corner, giving Stanton a chance to tack on another run. Alas, he flew out to center to end the inning. But! It shows why Judge and Stanton (and Gary Sanchez) should hit back-to-back-to-back. Break them up and Not Stanton is hitting there with two outs and a man on base. We all love Didi Gregorius. But yeah, we all want Stanton at the plate in that spot, not Didi.
Two innings later, Giancarlo got another chance with two outs. Judge worked a two-out walk to end Happ's afternoon — Blue Jays manager John Gibbons was not about to let him face Stanton a third time — and Stanton ripped a double into the left-center field gap against John Axford. Judge scored all the way from first for a 3-0 lead. Sanchez followed with a double of his own for a 4-0 lead. I'm telling you, just stack the big righty bats and let 'em eat.
But wait! Giancarlo was not done. In the top of the ninth, Stanton whacked his second home run of the game, this one into the second deck in dead center field. Old buddy Tyler Clippard was on the mound for that one. I guess the only surprise there is that the ball didn't disintegrate on contact. To the action footage:
Stanton's first game as a Yankee: 3-for-5 with a double and two home runs. Because I know you're wondering, that works out to a .600/.600/2.000 (589 wRC+) batting line. Sustainable! Stanton drove in four of his team's six runs. He is the first Yankee with two homers on Opening Day since Joe Pepitone in 1963. He's only the seventh Yankee ever to do it. Stanton, Pepitone, Roger Maris, Mickey Mantle, Russ Derry, Samuel Byrd, and Babe Ruth.
A Dominant Season Debut For Sevy
Do you know long it's been since a Yankees' starter had a scoreless outing on Opening Day? Fifteen years. Roger Clemens threw six shutout innings against, coincidentally enough, the Blue Jays at Rogers Centre in 2003. It has now been zero years since a Yankees' starter last had a scoreless outing on Opening Day. Severino manhandled the Blue Jays on Thursday, holding them to one hit and three walks in 5.2 scoreless innings.
The one hit was legit. Granderson lined a single to center in the fourth. Two of the walks came back-to-back with two outs in the first inning, and the other came with one out in the sixth inning. Between his second and third walks, Severino retired 13 of the 14 batters faced and allowed only three balls to be hit out of the infield. He struck out seven and generated eleven swings and misses with his 91 total pitches. Also: Seven ground ball outs and only three in the air. Severino's ground ball ability isn't appreciated enough (50.6% last year).
Back in the day Severino would've been left in at least to complete the sixth inning, if not sent back out for the seventh. Things are different nowadays. Boone pulled him with a man on first and two outs in the sixth, with a 4-0 lead. And I have no problem with it whatsoever, not after last year's workload, especially with the DeathPen looming. Ninety-one low-stress pitches, get Severino out of there feeling good about himself. Well done, Luis.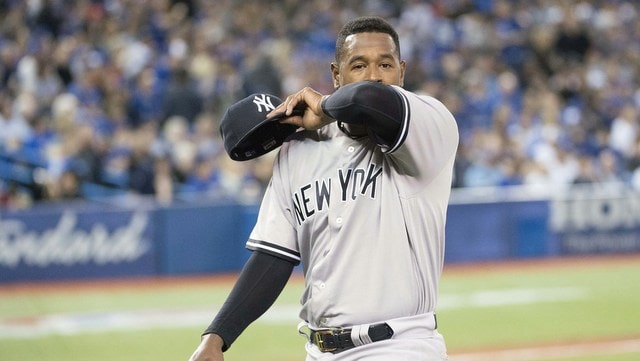 The Bullpen Closes The Door
Pretty much a perfect game for the 2018 Yankees. The big bats put runs on the board early, Severino dominated, and the bullpen made the lead stand up. Chad Green was the first man out of the bullpen and he did what Chad Green does, striking out three of four batters faced. That includes fanning Granderson to end the sixth inning, closing the book on Severino's outing. Glad to see 2018 Chad Green is still doing 2017 Chad Green things.
With a 5-0 lead in the eighth, Boone went to Dellin Betances, who promptly allowed a first pitch solo homer to Kevin Pillar. Go figure. Interesting inning for Dellin. First pitch homer, then defensive replacement Tyler Wade made a marvelous defensive play up the middle to take a base hit from Aledmys Diaz, then Devon Travis ripped a liner right at Neil Walker at first base. The third out was a routine pop-up to Walker in foul territory. Eventful! Aroldis Chapman struck out two in a perfect ninth. The bullpen: 3.1 IP, 1 H, 1 R, 0 BB, 5 K. That'll do.
Leftovers
Boone is 0-for-1 on challenges in his young managerial career. Josh Donaldson, who is so very obviously nursing some kind of injury, nearly pulled Justin Smoak off the first base bag with a lollipop throw on Tyler Austin's ground ball to end the sixth. The call on the field was out, Boone asked for a review — Neil Walker doubled earlier in the inning and came around to score on the Austin grounder — and the replay crew decided to uphold the call. Worth a shot. Didn't work. Try again tomorrow.
The Yankees did add an insurance run in the seventh inning on Gardner's solo home run to right. That turned a 4-0 lead into a 5-0 lead. Gardner had a weird day. He opened the game with the line drive Granderson dropped, then he ripped two line drives right at Smoak at first base for outs, and then he managed to get just enough on a high fly ball for the solo homer. Thirty pitches in five plate appearances for Gardner. Business as usual.
Judge's third inning double extended baseball's longest active hitting streak to 14 games. Who knew? That's regular season only, of course. Judge went 2-for-4 with a walk and two strikeouts. Aaron Hicks had two singles and Brandon Drury and Walker had one hit each. Drury singled, Walker doubled. Sanchez doubled and Gregorius walked too. Every Yankee reached base at least once except Austin, who went 0-for-3 before being removed for a defensive replacement.
And finally, the Yankees did not have a rookie on their Opening Day roster this year — Austin and Wade exceeded the rookie limits last year based on service time — but the Opening Day roster's average age was 28 years and 150 days. This is the club's youngest Opening Day roster since at least 1993, according to Bryan Hoch. Neat!
Box Score, WPA Graph & Standings
Head on over to MLB.com for the box score and video highlights, and if you must check out the standings this early in the season, go to ESPN. Here is the Opening Day win probability graph:

Source: FanGraphs
Up Next
Only 161 more games to go. The Yankees and Blue Jays will be back at it Friday night with a normal 7pm ET start. Masahiro Tanaka and Aaron Sanchez will be on the mound in a matchup of Comeback Player of the Year candidates. Sanchez's chances are better than Tanaka's, I think. Tanaka was just bad last year. Sanchez was hurt most of the year.