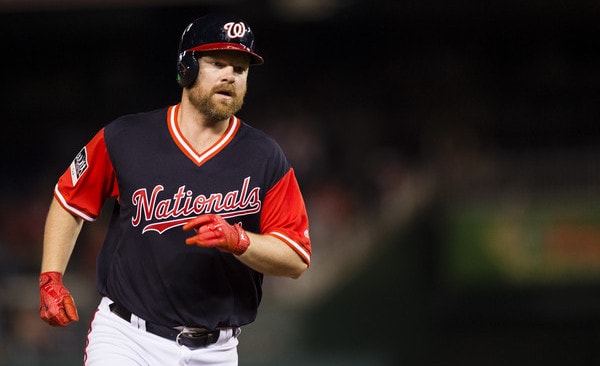 March 7th: Jon Heyman says Lind will earn $2M at the big league level with another $750,000 in available incentives. He can opt out of the deal on March 22nd, so two weeks from tomorrow. Also, given his service time, Lind will get a $100,000 retention bonus at the end of Spring Training if he agrees to go to Triple-A, and he has a June 1st opt-out date in his contract.
March 2nd: The Yankees have added some first base depth. The team has signed veteran slugger Adam Lind to a minor league contract with an invitation to Spring Training, it was announced this morning. Bryan Hoch says Lind, who participated in the MLBPA's free agent spring camp, can opt out of his deal at the end of Spring Training.
Lind, 34, spent last year as an extremely productive bench bat for the Nationals, hitting .303/.362/.513 (122 wRC+) with 14 homers and very good strikeout (15.6%) and walk (9.3%) rates in 301 plate appearances. His .371 expected wOBA suggests it was no fluke either (.375 actual wOBA). That said, he is a year removed from a .239/.286/.431 (92 wRC+) line with the Mariners, so he's not a lock to produce.
The Lind signing probably isn't good news for Tyler Austin, who had the inside track on the final bench spot as Greg Bird's backup. Lind and Bird are both left-handed hitters, so they can't work in a straight platoon like Bird and Austin could've, but I'm not sure Bird and Austin were going to platoon anyway. Lind will be able to take aim for the short porch, though he can the ball out of the park to any field. His last two seasons: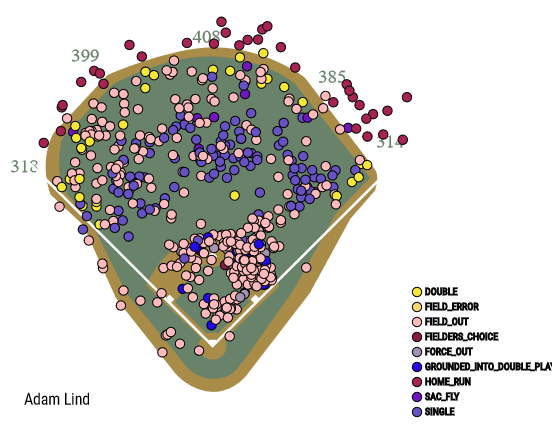 Earlier this offseason the Yankees tried to re-sign Ji-Man Choi — he eventually signed with the Brewers — which told us they were looking for a depth first baseman. The first base depth chart looks like this at the moment:
Greg Bird
Adam Lind
Tyler Austin
Austin Romine
Billy McKinney?
Ryan McBroom
Still not great, but better than it was before. Also, let's be frank here, Bird has had a lot of trouble staying on the field the last few seasons. If he goes down with an injury again, Lind is more than qualified to step into the lineup full-time. Lind did play a little outfield for Washington, but if the Yankees have to put him in the outfield at some point, something has gone horribly wrong.
There are still four weeks to go before Opening Day, we'll see what happens between now and then, but my gut feel is Lind was signed to be a bench piece, not Triple-A depth. Lind on the bench — he's someone who could pinch-hit for Brandon Drury or one of the kids against a tough righty reliever — with Austin stashed in Triple-A strikes me as the most likely outcome. Two first base only lefty hitters on the roster limits flexibility, but it is what it is.