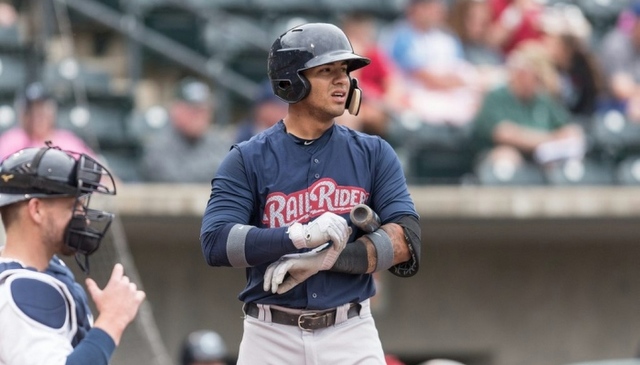 Thursday: High-A Tampa finally announced their roster this morning. The roster has been updated below with a quick little breakdown.
Wednesday: Thursday night, the 2018 minor league regular season begins all across the country. Triple-A Scranton begins their season Friday night for whatever reason. Double-A Trenton, High-A Tampa, and Low-A Charleston all start Thursday. Hooray for the return of minor league baseball.
In recent days the various affiliates have announced their preliminary Opening Day rosters. Key word: Preliminary. These rosters are subject to change, even in the short time between now and the first pitch of the season opener. Here are quick breakdowns of the preliminary Opening Day rosters as announced by the affiliates.
Triple-A Scranton/Wilkes-Barre RailRiders
Catchers (2): Kyle Higashioka, Erik Kratz
Infielders (4): Abi Avelino, Mike Ford, Jace Peterson, Gleyber Torres
Outfielders (2): Shane Robinson, Zack Zehner
Pitchers (13): RHP Chance Adams, LHP Daniel Camarena, RHP Cody Carroll, RHP Luis Cessa, RHP Cale Coshow, RHP Raynel Espinal, RHP J.P. Feyereisen, RHP Domingo German, RHP Anyelo Gomez, RHP David Hale, RHP Brody Koerner, LHP Oliver Perez, LHP Josh Rogers
There's a few things going on with the Triple-A roster. One, they have more position players coming. Cody Asche was added in a trade earlier today and apparently Trayce Thompson will join the RailRiders as well. Also, Ryan McBroom's Twitter account indicates he is with Scranton despite not being listed on the roster. And Miguel Andujar figures to rejoin them soon enough. So yeah, they have more bodies on the way.
Two, welcome back Daniel Camarena. He signed with the Cubs as a minor league free agent over the winter and Robert Pimpsner reports he has been reacquired for future considerations. Camarena being on the roster confirms the deal. And three, the rotation to start the season will be Adams, Cessa, Hale, German, and TBA in that order, according to Conor Foley. Manager Bobby Mitchell told Foley the TBA spot will likely go to Camarena, with Rogers being the long man. My guess is Rogers will wind up in the rotation before long.
The Yankees are said to be targeting April 24th as a day to bring up a spot sixth starter, and based on the Triple-A schedule, both Cessa and Hale would line up for that start. (I'd bet on Cessa over Hale.) That said, April 24th is still three weeks away, and it wouldn't take much effort to rejigger the rotation to have German make that April 24th start. The weather will probably throw a wrench into things before then anyway.
Double-A Trenton Thunder
Catchers (2): Chace Numata, Jorge Saez
Infielders (6): Mandy Alvarez, Vince Conde, Billy Fleming, Chris Gittens, Gosuke Katoh, Bruce Caldwell
Outfielders (4): Trey Amburgey, Rashad Crawford, Jhalan Jackson, Ben Ruta
Pitchers (14): RHP Domingo Acevedo, RHP Will Carter, RHP Jordan Foley, LHP Caleb Frare, RHP Joe Harvey, RHP Brian Keller, RHP Jose Mesa Jr., RHP Kaleb Ort, LHP James Reeves, RHP Andrew Schwaab, LHP Justus Sheffield, RHP Erik Swanson, LHP Stephen Tarpley, RHP Dillon Tate
Not much to see on the position player side in Trenton early this year. Gittens has serious pop, Amburgey is kinda interesting, and Crawford has tools to spare. That's about it. The pitching is where it's at. Acevedo will start Opening Day on Thursday and will be limited to 80-85 pitches, according to Matt Kardos. Not surprisingly, Acevedo confirmed he will be on an innings limit this year. He threw a career high 133 innings last season.
Kardos says the rotation behind Acevedo is likely to be Sheffield, Tate, Carter, and a Swanson/Keller piggyback in that order. I'm not surprised Sheffield will begin the season back with the Thunder. He's still only 21 and last year's oblique injury limited him to 17 starts and 93.1 innings at the level. Another few weeks in Trenton before a midseason promotion to Triple-A Scranton seems like the obvious plan for Sheffield.
Also, the Yankees apparently signed someone named Bruce Caldwell at some point. The 26-year-old is a former 15th round pick who spent his entire career with the Cardinals up to this point. He hit .242/.354/.410 (115 wRC+) with 14 homers in 105 games at Double-A and Triple-A last year, and signed with the Yankees as a minor league free agent. Caldwell seems like a candidate to wind up with the RailRiders if they don't find another infielder soon.
High-A Tampa Tarpons
Catchers (2): Francisco Diaz, Keith Skinner
Infielders (5): Angel Aguilar, Diego Castillo, Tim Lynch, Hoy Jun Park, Brandon Wagner
Outfielders (4): Estevan Florial, Isiah Gilliam, Alex Palma, Pablo Olivares
Pitchers (14): LHP Phil Diehl, RHP Matt Frawley, RHP Nick Green, RHP Hobie Harris, RHP Chase Hodson, LHP Justin Kamplain, RHP Mike King, LHP Trevor Lane, RHP Jonathan Loaisiga, RHP Christian Morris, RHP Freicer Perez, RHP Adonis Rosa, RHP David Sosebee, RHP Trevor Stephan
The rotation and the outfield are the highlights here. The Yankees are jumping Loaisiga over Low-A Charleston, which is fairly aggressive, but he is 23 and he is on the 40-man roster. As long as he's healthy, I expect Loaisiga to have little trouble with Single-A hitter. Perez and Stephan are two of the top lower level pitching prospects in the system. Especially Perez.
On the position player side, Florial returns to High-A Tampa after playing 19 games at the level last season. No brainer to me. His success will determine how quickly he gets bumped up to Double-A Trenton. Gilliam is a real nice under-the-radar prospect as a switch-hitter with power. Castillo and Park are two personal favorites. The numbers don't jump out at you, but both guys can really play.
Low-A Charleston RiverDogs
Catchers (2): Jason Lopez, Eduardo Navas
Infielders (5): Dalton Blaser, Oswaldo Cabrera, Wilkerman Garcia, Chris Hess, David Metzgar
Outfielders (4): Frederick Cuevas, Leonardo Molina, Steven Sensley, Dom Thompson-Williams
Pitchers (13): RHP Braden Bristo, RHP Luis Cedeno, LHP Dalton Lehnen, RHP Chad Martin, RHP Nick Nelson, RHP Glenn Otto, RHP Daniel Ramos, LHP JP Sears, LHP Anderson Severino, RHP Brian Trieglaff, RHP Garrett Whitlock, RHP Matt Wivinis, RHP Kyle Zurak
Interesting position player crop in Charleston this year. Cabrera is a breakout candidate and I'm curious to see how Sensley follows up last season's big pro debut, when he hit .292/.370/.584 (158 wRC+) with 13 homers in 50 games. Garcia, Cuevas, and Molina all have good tools. Garcia and Molina in particular will try again to establish themselves as bonafide prospects.
The pitching staff is a bit all over the place. Nelson and Otto are legitimate prospects despite not being in my top 30, and I assume they'll front the rotation. Severino (no relation to Luis) is a lefty who can run it up to 96 mph, according to Josh Norris. Sears was part of the Nick Rumbelow trade and Whitlock is a bit of a sleeper. He got an overslot $247,500 bonus as an 18th round pick last year. He might've been a top five rounds pick last year had he not missed time last spring with a back injury.
Injured Players
As always, several players will not be ready for the start of the season. Some we know about. Albert Abreu is still in Spring Training mode after having his appendix removed, otherwise he'd be with High-A Tampa. Thairo Estrada is still on the mend after being shot in the hip during a botched robbery in January. Gio Gallegos is out with a groin issue, prompting the Perez signing. Clarke Schmidt, last year's first round pick, is still rehabbing from Tommy John surgery.
Other injuries are new developments. Kardos reports both Kyle Holder and Jeff Hendrix are hurt and remain in Tampa rehabbing. Both played in Grapefruit League games, so they were hurt fairly recently. Not sure what's wrong with either or how long they'll be sidelined. Also, Mark Payton tore a meniscus in a spring game will be out 3-6 weeks, according to DJ Eberle, and Donny Sands will reportedly miss several weeks with a broken forearm. He was hit by a backswing during a Spring Training game. Sucks. Sands is arguably the top catching prospect in the system.
Extended Spring Training
If you're looking for a player and he's not on an Opening Day roster, it means one of three things: He'll start the season in ExST, he's injured, or he's been released. Young pitchers like Matt Sauer, Luis Medina, Roansy Contreras, and the Garcias (Rony and Deivi) are likely in ExST. Sauer, Medina, and Contreras will probably be there until the short season leagues begin in late June. I could see Rony and Deivi joining a full season affiliate within a few weeks.
Other notables not on Opening Day rosters include Dermis Garcia, Alex Vargas, Juan De Paula, Saul Torres, Juan Then, and Canaan Smith. Dermis could be headed for High-A Tampa, though that seems awfully aggressive for a guy with his swing-and-miss issues and only 30 games of experience with Low-A Charleston. Maybe he's hurt? Hope not. A few weeks in ExST for some swing work may be on tap.
Update: Josh Norris says Dermis is currently getting over a minor injury. He'll get some at-bats in ExST before joining an affiliate, presumably Low-A Charleston. So there you go.